On this day in 1804, military officer, lawyer, financier, political theorist, economist, philosopher, one of the Founding Fathers of the United States, 1st United States Secretary of the Treasury, Alexander Hamilton died from a gunshot wound suffered in a duel with Vice President Aaron Burr along the west bank of the Hudson River on a rocky ledge in Weehawken, New Jersey, in Greenwich Village at the age of either 47 or 49.  Born 11 January in 1755 or 1757 in  Charlestown, the capital of the island of Nevis, in the Caribbean Sea; Nevis was then one of the British West Indies.  I have been to Nevis.  It is of course beautiful.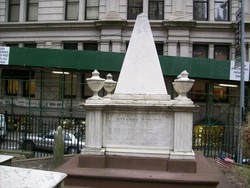 The Final Footprint – Hamilton is entombed in a marble tomb in the graveyard of Trinity Church at Wall Street and Broadway in Lower Manhattan.  His epitaph reads; The PATRIOT of incorruptible INTEGRITY.  The SOLDIER of approved VALOUR.  The STATESMAN of consummate WISDOM; Whose TALENTS and VIRTUES will be admired Grateful Posterity.  Long after this MARBLE shall have mouldered into DUST.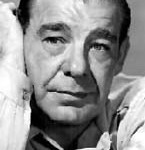 On this day in 1973, the son of famous silent film actor, Lon Chaney, actor Lon Chaney, Jr. died of heart failure at age 67 in San Clemente, California.  Born Creighton Tull Chaney on 10 February 1906 in Oklahoma City.  Perhaps best known for playing such characters as The Wolf Man, The Mummy, Frankenstein's Monster and Count Alucard for Universal.  He is also notable for portraying Lennie Small in Of Mice and Men.  From Warren Zevon's song "Werewolves of London";  Well, I saw Lon Chaney walking with the Queen, / Doing the Werewolves of London /  I saw Lon Chaney, Jr. walking with the Queen / Doing the Werewolves of London.  The Final Footprint – His body was donated for medical research.  Chaney's corpse was dissected by medical students, and the medical school kept his liver and lungs in jars as specimens of what extreme alcohol and tobacco abuse can do to human organs.  There is no grave to mark his final resting place.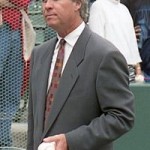 On this day in 2008, baseball player, 5x All-Star, New York Yankee, Bobby Murcer died from brain cancer, surrounded by his family at his home in Oklahoma City at the age of 62.  Born Bobby Ray Murcer on 20 May 1946 in Oklahoma City.  The Final Footprint – Yankees owner George Steinbrenner issued a statement following his death: "Bobby Murcer was a born Yankee, a great guy, very well-liked and a true friend of mine.  I extend my deepest sympathies to his wife Kay, their children and grandchildren.  I will really miss the guy."  Baseball commissioner Bud Selig eulogized, "All of Major League Baseball is saddened today by the passing of Bobby Murcer, particularly on the eve of this historic All-Star game at Yankee Stadium, a place he called home for so many years.  Bobby was a gentleman, a great ambassador for baseball, and a true leader both on and off the field.  He was a man of great heart and compassion."  The memorial service for Bobby was held in Edmond, OK on 6 August 2008, at the Memorial Road Church of Christ.  Among the some 2,000 attending the memorial were Reggie Jackson, Derek Jeter, Andy Pettitte and Joe Girardi. Also in attendance Diana Munson, widow of Yankee captain Thurman Munson.  The August 6 date was 29 years, to the day, since Murcer gave a eulogy at Munson's funeral and is also the 25th anniversary of Bobby Murcer Day at Yankee Stadium.  The uniform worn by Murcer at his final Yankee Stadium Old Timer's Day appearance in 2007 was presented to his spouse Kay.  Murcer is entombed in Rose Hill Mausoleum, in Oklahoma City, in the left side of the building.
Have you planned yours yet?
Follow TFF on twitter @RIPTFF