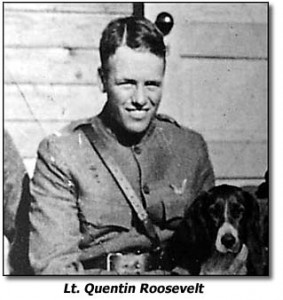 On this day in 1918, Bastille Day, the youngest son of Teddy Roosevelt, United States Army Second Lieutenant, 95th Aero Squadron, Quentin Roosevelt died when his plane, a Nieuport 28, was shot down during aerial combat with German fighter planes over France, at the age of 20.  Born on 19 November 1897 in Oyster Bay, New York.  He was a graduate of Harvard.  Lieutenant Roosevelt was engaged to Flora Payne Whitney, the great-granddaughter of Cornelius Vanderbilt, one of the country's richest men, and also an heiress to the Whitney family fortune.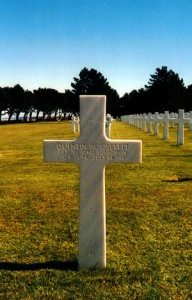 The Final Footprint – Lieutenant Roosevelt was interred by the Germans near Chamery, France where his plane crashed.  After his grave came under Allied control, thousands of American soldiers visited it to pay their respects.  Lieutenant Roosevelt's resting place became a shrine and an inspiration to his comrades in arms.  The French placed a headstone with the inscription:
Lieutenant Quentin Roosevelt Escadrille 95 Tombé glorieusement En combat aerien Le 14 Juillet 1918 Pour le droit Et la liberté  (Fell Gloriously In air combat For the right And freedom)
Later, his grave was marked with a full ledger marble marker with the epitaph; "He has outsoared the shadow of our night."  When the World War II Normandy American Cemetery and Memorial was established in France at Colleville-sur-Mer, Lieutenant Roosevelt's body was exhumed and moved there.  He is interred next to his brother Brigadier General Theodore Roosevelt, Jr., who had died of a heart attack in France shortly after leading his troops in landings on Utah Beach on D-Day as Assistant 4th Infantry Division Commander.  Lieutenant Roosevelt's grave is marked by an upright marble cross.  When Lieutenant Roosevelt was exhumed, his marble ledger was moved to Sagamore Hill, the Roosevelt home near Oyster Bay, which is now Sagamore Hill National Historic Site and also includes the Theodore Roosevelt Museum.  The Normandy American Cemetery is featured in the Steven Spielberg film Saving Private Ryan (1998) starring Tom Hanks, Tom Sizemore, Matt Damon and Vin Diesel.  The film's premise is possibly based on the Niland brothers, four American brothers (Frederick, Edward, Robert and Preston) from Tonawanda, New York, serving in the military during World War II.  Of the four, two survived the war, but for a time it was believed that only one, Frederick, had survived.  Preston and Robert are interred at the Normandy American Cemetery.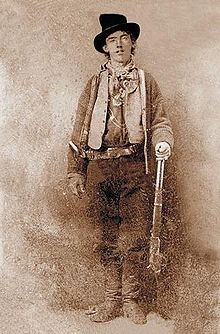 On this day in 1881, frontier outlaw, Henry Antrim, William H. Bonney, Billy the Kid died after being shot by Pat Garrett in Fort Sumner, New Mexico Territory at the age of 21.  Possibly born William Henry McCarty, Jr. on 23 November 1859 in New York City.  Very little is known of his early years.  It is known that his mother's name was Catherine and that she was Irish.  She married William Antrim in 1873 in Santa Fe and the family settled in Silver City.  Legend has The Kid killing 21 men but the actual tally is certainly far less.  The legend and The Kid's folk hero status were fueled by stories printed in the Las Vegas Gazette (Las Vegas, New Mexico) and the New York Sun.  In 1877, The Kid moved to Lincoln County where he met Doc Scurlock and Charlie Bowdre and became involved in the Lincoln County War with John Tunstall and Alexander McSween on one side and Lawrence Murphy and James Dolan on the other side.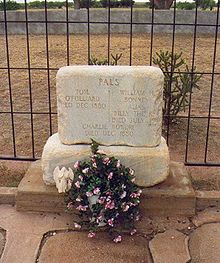 The Final Footprint – The Kid is interred in Old Fort Sumner Cemetery in Fort Sumner between his fellow outlaw companions, Tom O'Folliard and Bowdre.  Their graves are marked by an upright stone marker with the epitaph; PALS.  The gravesite is enclosed by a steel cage to prevent theft as their marker had been stolen twice.  The Kid has been the subject and inspiration for many books, films and songs including;
Anything for Billy (1998) novel by Larry McMurtry
The Outlaw (1943) film by Howard Hughes starring Jack Buetel as Billy and featuring Jane Russell in her breakthrough role as the Kid's fictional love interest
The Left Handed Gun (1958) film by Arthur Penn based on a Gore Vidal teleplay, starring Paul Newman as Billy and John Dehner as Garrett
Chisum (1970) film starring John Wayne as John Chisum, which deals with Billy the Kid's involvement in the Lincoln County War. Billy is portrayed by Geoffrey Deuel
Pat Garrett and Billy the Kid (1973) film by Sam Peckinpah with Kris Kristofferson as Billy, James Coburn as Pat Garrett, and with a soundtrack by Bob Dylan, who also appears in the movie
Young Guns (1988) film by Christopher Cain starring Emilio Estevez as Billy, John Wayne's son Patrick as Pat Garrett, Kiefer Sutherland as Doc Scurlock, Jack Palance as Lawrence Murphy, Lou Diamond Phillips as Chavez, Charlie Sheen as Richard Brewer, Brian Keith as Buckshot Roberts, Tom Cruise as an uncredited cowboy and Randy Travis as an uncredited Gatling gunner.
Gore Vidal's Billy the Kid (1989) film by Vidal starring Val Kilmer as Billy and Duncan Regehr as Pat Garrett
Billy the Kid, (1938) ballet by Aaron Copland
"The Ballad of Billy the Kid" song by Billy Joel from his album Piano Man (1973)
"Me and Billy the Kid" song by Joe Ely from his album Lord of the Highway (1987)
Pat Garrett and Billy the Kid (1973) soundtrack album by Bob Dylan
Have you planned yours yet?
Follow TFF on twitter @RIPTFF