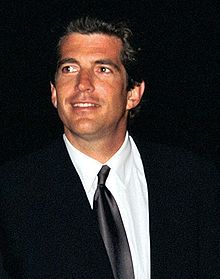 On this day in 1999, elder son of JFK and Jacqueline Lee Bouvier Kennedy Onassis, lawyer, magazine publisher, pilot, John F. Kennedy, Jr. died, along with his wife Caroline Bessette and his sister-in-law Lauren Bessette, when the Piper Saratoga plane he was piloting crashed in the Altantic Ocean off the coast of Martha's Vineyard.  JFK, Jr. was 38, Carolyn was 33 and Lauren was 35.  He was born on 25 November 1960 in Washington, D.C.  JFK was assassinated on 22 November 1963, three days before JFK, Jr.'s third birthday.  The funeral was held on his birthday and in a moment that became an iconic image, he stepped forward and saluted his father's flag-draped casket as it was carried out of St. Matthew's Cathedral.  JFK, Jr. graduated from Brown University and earned his JD degree from New York University School of Law.  Caroline Jeanne was born 7 January 1966 in White Plains, New York.  Lauren Gail was born 5 November 1964 also in White Plains.
The Final Footprint – After the crash, the bodies of Kennedy, his wife and his sister-in-law were finally located in the afternoon of July 21.  They were recovered from the ocean floor by Navy divers and taken by motorcade to the county medical examiner's office.  During a public memorial service for Kennedy, his paternal uncle, U.S. Senator Edward M. "Ted" Kennedy, stated:
| | | |
| --- | --- | --- |
| " | We dared to think, in that other Irish phrase, that this John Kennedy would live to comb gray hair, with his beloved Carolyn by his side. But, like his father, he had every gift but length of years. | " |
U.S. President Bill Clinton attended the public memorial service and ordered that the flag at the White House and in public areas across the country to be lowered to half-staff to honor the passing of Kennedy.  At President Clinton's orders, warships of the U.S. Navy had assisted in the search for the crashed plane.  Critics argued that this was a massive abuse of taxpayer dollars, as no ordinary citizen would receive similar treatment.  On the evening of July 21, autopsies revealed that the crash victims had died upon impact.  At the same time, the Kennedy and Bessette families announced their plans for memorial services.  In the late hours of July 21, the three bodies were taken from Hyannis to Duxbury where they were cremated in the Mayflower Cemetery crematorium.  On the morning of July 22, their ashes were scattered from the Navy ship USS Briscoe and into the Atlantic Ocean off the coast of Martha's Vineyard.  The ship was used for the public memorial service with the permission of U.S. Secretary of Defense William Cohen.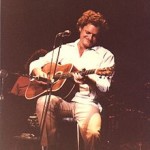 On this day in 1981, singer, songwriter Harry Chapin died from a heart attack either prior to, or as the result of an automobile accident on the Long Island Expressway in Jericho, New York, at the age of 38.  Born Harry Foster Chapin on 7 December 1942 in Brooklyn.  Perhaps best known for his folk rock songs including "Taxi," "W*O*L*D," "Flowers Are Red," and the No. 1 hit "Cat's in the Cradle."  Chapin was also a dedicated humanitarian who fought to end world hunger; he was a key participant in the creation of the Presidential Commission on World Hunger in 1977.  In 1987, Chapin was posthumously awarded the Congressional Gold Medal for his humanitarian work.  Chapin was married to Sandy Cashmore (née Gaston) (1968-1981 his death). They are the parents of singer Jen Chapin.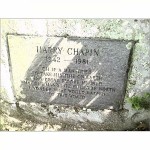 The Final Footprint – Chapin's remains were interred in the Huntington Rural Cemetery, Huntington, New York. His epitaph is taken from his song "I Wonder What Would Happen to this World":
Oh if a man tried / To take his time on Earth / And prove before he died / What one man's life could be worth / I wonder what would happen / to this world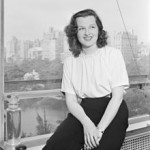 On this day in 2008, singer Jo Stafford died from congestive heart failure at the age of 90 in Century City, Los Angeles.  Born Jo Elizabeth Stafford on 12 November 1917 in Coalinga, California.  Her career spanned five decades from the late 1930s to the early 1980s.  Admired for the purity of her voice, she was considered one of the most versatile vocalists of the era.  Her 1952 version of the Pee Wee King, Chilton Price, and Redd Stewart song, "You Belong to Me" topped the charts in the United States and United Kingdom, and she became the first woman to reach number one on the UK Singles Chart.  The Final Footprint – Stafford was interred with her husband, Paul Weston, at the Holy Cross Cemetery in Culver City, California.  Other notable final footprints at Holy Cross include; actor John Candy, Bing Crosby, Jimmy Durante, John Ford, the voice of the Los Angeles Lakers Chick Hearn, Rita Hayworth, Bela Lugosi, Al Martino, actress Audrey Meadows, Ricardo Montalbán, actor Chris Penn, and Sharon Tate.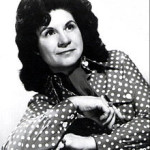 On this day in 2012, singer, songwriter, The Clock Stopper, The Queen of Country Music, Kitty Wells died in Madison, Tennessee, from complications of a stroke at the age of 92.  Born Ellen Muriel Deason on 30 August 1919 in Nashville, Tennessee.  Her 1952 hit recording version of the J. D. Miller song, "It Wasn't God Who Made Honky Tonk Angels", made her the first female country singer to top the U.S. country charts, and turned her into the first female country star.  Her Top 10 hits continued until the mid-1960s, inspiring a long list of female country singers who came to prominence in the 1960's.  In 1976, she was inducted into the Country Music Hall of Fame.  In 1991 she received the Grammy Lifetime Achievement Award.  Wells was married to singer, songwriter Johnnie Wright (1937-2011 his death).  The Final Footprint – Wells is interred with her husband in Spring Hill Cemetery in Nashville.  Other notable final footprints at Spring Hill include; Roy Acuff, Earl Scruggs, Hank Snow, and Keith Whitley.
Have you planned yours yet?
Follow TFF on twitter @RIPTFF.