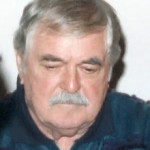 On this day in 2005, Royal Regiment of Canadian Artillery veteran, character and voice actor, James Doohan died at his home in Redmond, Washington from pneumonia and Alzheimers.  Born James Montgomery Doohan on 3 March 1920 in Vancouver, British Columbia.  His parents emigrated to Canada from Bangor, County Down, Northern Ireland.  Perhaps best known and loved for his portayal of Montgomery "Scotty" Scott in the television and film series Star Trek, created by Gene Roddenberry and also featuring William Shatner as James Tiberius Kirk, Leonard Nimoy as Spock, DeForest Kelley as Dr. Leonard H. "Bones" McCoy, Nichelle Nichols as Nyota Uhuru, George Takei as Hikaru Sulu and Walter Koenig as Pavel Andreievich Chekov.  Yes, I am an unabashed Trekkie!  Doohan married three times; Janet Young (divorced 1964), Anita Yagel (1967-1972 divorce) and Wende Braunberger (1974-2005 his death).  Beam me up Scotty!
The Final Footprint – Doohan was cremated.  On 28 April 2007, a portion of his cremains, along with those of astronaut Gordon Cooper, were launched into suborbital flight and then parachuted back to Earth.  This portion of Doohan's cremains were subsequently launched again on 3 August 2008 on a Falcon I rocket which failed two minutes after launch.  A portion of his cremains were scattered over Puget Sound in Washington.  On May 22, 2012, a small urn containing some of Doohan's cremains was flown into space aboard the Falcon 9 rocket as part of COTS Demo Flight 2.
On this day in 1923, prominent Mexican Revolutionary general, Pancho Villa was killed when a fusillade of over 40 gunshots hit the automobile he was riding in, in Parral, Mexico.  Villa was 45.  Born José Doroteo Arango Arámbula on 5 June 1878 in La Coyotada, San Juan del Río, Durango, Mexico.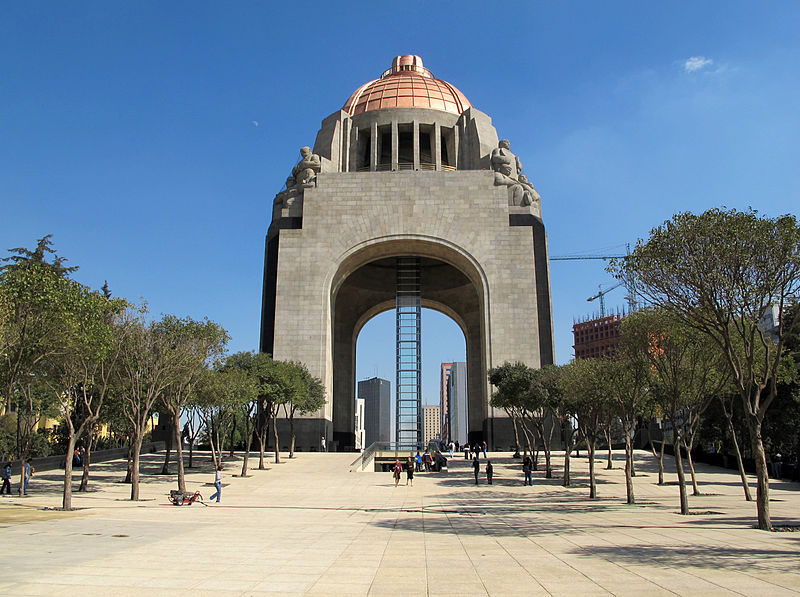 The Final Footprint – The next day, Villa's funeral was held and thousands of his grieving supporters in Parral followed his casket to his burial site.  Shortly after his death, two theories emerged about why he was killed.  One was that he was killed as an act of family revenge by Jesus Herrera, the last surviving son of Villa's former general Jose de la Luz Herrera.  The other theory that emerged was that Villa was killed for political reasons.  At the time of his death, Villa had taken an interest in running for President of Mexico and would have presented a significant challenge to his rival potential candidate Plutarco Elias Calles.  While it has never been completely proven who was responsible for the assassination, most historians attribute Villa's death to a well planned conspiracy, most likely initiated by Plutarco Elías Calles and Joaquin Amaro with at least tacit approval of the then president of Mexico, Obregon.  At the time, a state legislator from Durango, Jesus Salas Barraza, whom Villa once whipped during a quarrel over a woman, claimed sole responsibility for the plot.  Barraza admitted that he told his friend Gabriel Chavez, who worked as a dealer for General Motors, that he would kill Villa if he were paid 50,000 pesos.  Chavez, who wasn't wealthy and didn't have 50,000 pesos on hand, then collected money from enemies of Villa and managed to collect a total of 100,000 pesos for Barraza and his other co-conspirators.  Barraza also admitted that he and his co-conspirators watched Villa's daily car-rides and paid the pumpkinseed vendor at the scene of Villa's assassination to shout "Viva Villa!" either once if Villa was sitting in the front part of the car or twice if he was sitting in the back.  It was reported that before Barraza died of a stroke in his Mexico City home in 1951, his last words were "I'm not a murderer. I rid humanity of a monster."  Villa's purported death mask was hidden at the Radford School in El Paso, Texas, until the 1970s, when it was sent to the Historical Museum of the Mexican Revolution in Chihuahua; other museums have ceramic and bronze representations that do not match this mask.  Villa was buried in the city cemetery of Parral, Chihuahua.  Villa's skull was stolen from his grave in 1926.  His remains were reburied in the Monument to the Revolution in Mexico City in 1976.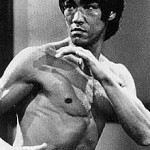 On this day in 1973, actor, martial arts instructor, philosopher, film director, film producer, screenwriter, founder of Jeet Kune Do, and the son of Cantonese opera actor Lee Hoi-Chuen, Bruce Lee died in Hong Kong at the age of 32.  After complaining of a headache, Lee took a painkiller, Equagesic, which contained both aspirin and the muscle relaxant meprobamate.  Lee took a nap and later could not woken up.  A doctor was summoned, who spent ten minutes attempting to revive him before sending him by ambulance to Queen Elizabeth Hospital.  Lee was dead by the time he reached the hospital.  There was no visible external injury; however, according to autopsy reports, his brain had swollen considerably.  The only substance found during the autopsy was Equagesic.  When the doctors announced Lee's death officially, it was ruled a "death by misadventure".  Donald Teare, a forensic scientist recommended by Scotland Yard who had overseen over 1,000 autopsies, was assigned to the Lee case.  His conclusion was "death by misadventure" caused by an acute cerebral edema due to a reaction to compounds present in the combination medication Equagesic.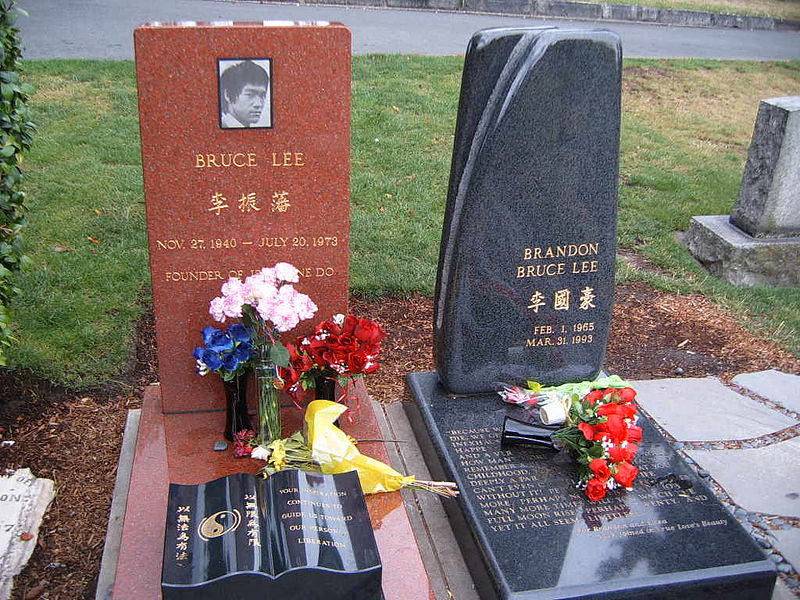 The Final Footprint –  Lee's wife Linda returned to her hometown of Seattle, and had him buried at lot 276 of Lakeview Cemetery.  Pallbearers at his funeral on 31 July 1973 included Taky Kimura, Steve McQueen, James Coburn, Chuck Norris, George Lazenby, Dan Inosanto, Peter Chin, and Lee's brother Robert.  Lee's iconic status and untimely demise fed many theories about his death, including murder involving the triads and a supposed curse on him and his family.  Black Belt magazine in 1985 carried the speculation that the death of Bruce Lee in 1973 may have been caused by "a delayed reaction to a Dim Mak strike he received several weeks prior to his collapse".  Born Lee Jun-fan on 27 November 1940 in San Francisco.
Have you planned yours yet?
Follow TFF on twitter @RIPTFF