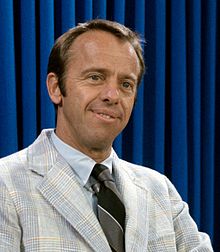 On this day in 1998, the 29th anniversary of the first moonwalk, United States Navy veteran, test pilot, flag officer, NASA astronaut, Alan Shepard died of leukemia near his home in Pebble Beach, California at the age of 74.  Born Alan Bartlett Shepard, Jr. on 18 November 1923 in Derry, New Hampshire.  The first American in space and the fifth person to walk on the moon.  Shepard was one of the original seven Mercury astronauts along with Virgil Ivan "Gus" Grissom, John Herschel Glenn, Jr., Malcolm Scott Carpenter, Walter Marty "Wally" Schirra, Jr., Leroy Gordon Cooper, Jr. and Donald Kent "Deke" Slayton.  Shepard married Louise Brewer (1945-1998 his death).  In the film The Right Stuff (1983) based on the book by Tom Wolfe, Shepard was portrayed by Scott Glenn.  The film also featured; Sam Shepard as Chuck Yeager, Ed Harris as John Glenn, Dennis Quaid as Gordon Cooper, Fred Ward as Gus Grissom, Scott Paulin as Deke Slayton, Charles Frank as Scott Carpenter and Lance Henriksen as Wally Shirra.  Wonderful movie and book; I highly recommend both.
The Final Footprint – Shepard was cremated and his cremains, and that of his wife's who would die five weeks later, were scattered from a Navy helicopter over Stillwater Cove near their Pebble Beach home.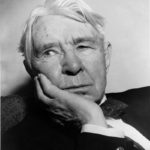 On this day in 1967, poet, writer, and editor, winner of three Pulitzer Prizes: two for his poetry and one for his biography of Abraham Lincoln, Carl Sandburg died of natural causes at the age of 89 in Flat Rock, North Carolina.  Born Carl August Sandburg on January 6, 1878 in a three-room cottage at 313 East Third Street in Galesburg, Illinois. During his lifetime, Sandburg was widely regarded as "a major figure in contemporary literature", especially for volumes of his collected verse, including Chicago Poems (1916), Cornhuskers (1918), and Smoke and Steel (1920). He enjoyed "unrivaled appeal as a poet in his day, perhaps because the breadth of his experiences connected him with so many strands of American life", and at his death in 1967, President Lyndon B. Johnson observed that "Carl Sandburg was more than the voice of America, more than the poet of its strength and genius. He was America." Sandburg met Lilian Steichen at the Social Democratic Party office in 1907, and they married the next year.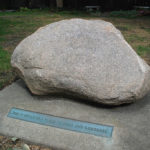 The Final Footprint – Sandburg was cremated and his cremains were interred under "Remembrance Rock", a granite boulder located behind his birth house. His epitaph: FOR IT COULD BE A GOOD PLACE TO COME AND REMEMBER
On this day in 2013, actor of film and television and former Chicago police officer Dennis Farina died in a hospital in Scottsdale, Arizona after suffering a blood clot in his lung, at the age of 69.  Born in Chicago, Illinois, to Sicilian-American parents Iolanda, a homemaker, and Joseph Farina, a Sicilian immigrant doctor, on 29 February 1944.  He was a character actor, often typecast as a mobster or police officer.  Perhaps his most known film roles are those of mobster Jimmy Serrano in the comedy Midnight Run and Ray "Bones" Barboni in Get Shorty.  He starred on television as Lieutenant Mike Torello on Crime Story and as Detective Joe Fontana on Law & Order.  He also hosted and narrated a revived version of Unsolved Mysteries.  His last major television role was in HBO's Luck, which premiered on 29 January 2012.  The Final Footprint – Farina is interred in Mount Carmel Cemetery in Hillside, Illinois.
Have you planned yours yet?
Follow TFF on twitter @RIPTFF