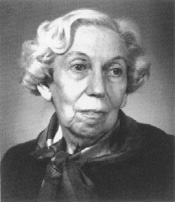 On this day in 2001, author of short stories and novels about the South, photographer, Pulitzer Prize recipient, Eudora Welty died at her home in Jackson, Mississippi at the age of 92.  Born Eudora Alice Welty on 13 April 1909 in Jackson.  One of my favorite writers.  Every year on her birthday I read some of her short stories.  Her work attracted the attention of author Katherine Anne Porter, who became a mentor to Welty and wrote the foreword to Welty's first short story collection, A Curtain of Green (1941).  I highly recommend The Collected Stories of Eudora Welty (1982) and her novels; The Robber Bridegroom (novella) (1942), Delta Wedding (1946), The Ponder Heart (1954), Losing Battles (1970) and The Optimist's Daughter (1972).  Welty never married.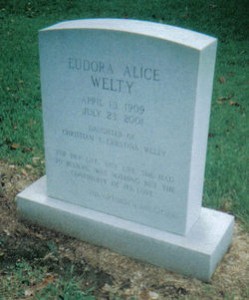 The Final Footprint – Welty is interred in Greenwood Cemetery in Jackson.  Her grave is marked by an individual upright granite marker.  Her epitaph reads; FOR HER LIFE, ANY LIFE, SHE HAD TO BELIEVE WAS NOTHING BUT THE CONTINUITY OF IT'S LOVE.  THE OPTIMIST'S DAUGHTER.  Her house in Jackson is a National Historic Landmark and open to the public as a museum.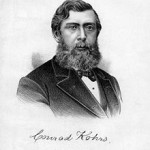 On this day in 1920, Montana cattle rancher, Montana's Cattle King, Conrad Kohrs died at his ranch near Dear Lodge, Montana.  Born Carsten Conrad Kohrs on 5 August 1835 in Holstein, a province that was ethnically and culturally German and part of the German Confederation but ruled at the time in personal union by Denmark.  The home ranch near Deer Lodge, Montana, was held by the family until 1972, when his grandson sold it to the National Park Service. It is now the Grant-Kohrs Ranch National Historic Site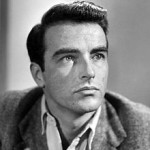 On this day in 1966, film and stage actor, 4x Academy Award nominee, Montgomery Clift died at his home in New York City from a heart attack at the age of 45.  Born Edward Montgomery Clift on 17 October 1920 in Omaha, Nebraska.  My favorite Clift roles include: Robert E. Lee Prewitt in From Here to Eternity (1953) with Burt Lancaster and Frank Sinatra, Perce Howland in John Huston's The Misfits (1961) with Marilyn Monroe and Clark Gable, Matt Garth in Howard Hawk's Red River (1948) with John Wayne.  The Final Footprint – Following a 15-minute ceremony at St. James Church attended by 150 guests including Lauren Bacall, Sinatra and Nancy Walker, Clift was buried in the Quaker Cemetery, Prospect Park, Brooklyn, New York City.  Elizabeth Taylor, who was in Paris, sent flowers, as did Roddy McDowall, Myrna Loy, and Lew Wasserman.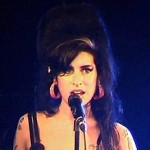 On this day in 2011, singer and songwriter, Amy Winehouse died at her home in Camden, London at the age of 27, thus becoming a member of the Forever 27 Club, which includes, bluesman Robert Johnson, Rolling Stone Brian Jones, Jimi Hendrix, Janis Joplin, Kurt Cobain and Jim Morrison.  A coroner's inquest reached a verdict of death by misadventure from alcohol poisoning.  Born Amy Jade Winehouse on 14 September 1983 in Southgate, London.  The Final Footprint – Family and friends attended Winehouse's funeral on 26 July 2011 at Edgwarebury Lane Cemetery in north London.  Her mother and father, Janis and Mitch Winehouse, close friend Kelly Osbourne, producer Mark Ronson and her boyfriend Reg Traviss were among those in attendance at the private service led by Rabbi Frank Hellner.  Her father delivered the eulogy, saying "Goodnight, my angel, sleep tight. Mummy and Daddy love you ever so much."  Carole King's "So Far Away" closed the service.  She was later cremated at Golders Green Crematorium.  Other notable cremations at GGC include; Kingsley Amis, Neville Chamberlain, T. S. Eliot, Sigmund Freud, Henry James, Rudyard Kipling, Vivien Leigh, Keith Moon, Peter Sellers, Bram Stoker, and H. G. Wells.
Have you planned yours yet?
Follow TFF on twitter @RIPTFF