On this day in 2006, U. S. Navy Master Diver Carl Brashear died of respiratory and heart failure at the Portsmouth Naval Medical Center, Portsmouth, Virginia at the age of 75.  Born Carl Maxie Brashear on 19 January 1931 in Tonieville, Kentucky.  Brashear was the first African-American to attend and graduate from the Diving & Salvage School, the first African-American U.S. Navy Diver and the first African-American U.S. Navy Master Diver.  After an accident aboard the U.S.S. Hoist, which resulted in the eventual amputation of his lower left leg, he became the first amputee diver to be certified or re-certified as a U.S. Navy diver.  Cuba Gooding, Jr. portrayed Brashear in the film based on his story, Men of Honor (2000) featuring Robert De Niro, Charlize Theron, Hal Holbrook, Powers Boothe and David Keith.  Brashear married three times; Junetta Wilcoxson (1952-1978 divorce), Hattie R. Elam (1980-1983 divorce) and Jeanette A. Brundage (1985-1987 divorce).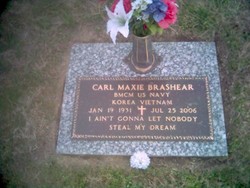 The Final Footprint – Brashear is interred in Woodlawn Memorial Gardens in Norfolk, Virginia.  His grave is marked by an individual VA, bronze on granite marker.  His epitaph; I AIN'T GONNA LET NOBODY STEAL MY DREAM.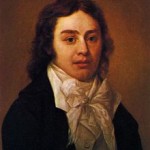 On this day in 1834, English poet, Romantic, literary critic and philosopher who, with his friend William Wordsworth, was a founder of the Romantic Movement in England and a member of the Lake Poets, Samuel Taylor Coleridge died at the home of the Gillman family, where he lived, in Highgate, London at the age of 61 as a result of heart failure compounded by an unknown lung disorder, possibly linked to his use of opium.  Born 21 October 1772 in in the country town of Ottery St Mary, Devon, England.  Perhaps best known for his poems The Rime of the Ancient Mariner and Kubla Khan, as well as his "Conversation poems".  His critical work, especially on Shakespeare, was highly influential, and he helped introduce German idealist philosophy to English-speaking culture.  He coined many familiar words and phrases, including the celebrated "suspension of disbelief".  He was a major influence on Emerson, and American transcendentalism.  Throughout his adult life, Coleridge suffered from crippling bouts of anxiety and depression; it has been speculated by some that he suffered from bipolar disorder, a condition not identified during his lifetime.  Coleridge suffered from poor health that may have stemmed from a bout of rheumatic fever and other childhood illnesses. He was treated for these concerns with laudanum, which fostered a lifelong opium addiction.  The Final Footprint – He is interred in Saint Michael Churchyard in Highgate.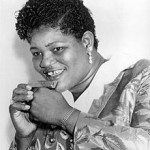 On this day in 1984, singer and songwriter Big Mama Thornton died of a heart attack in Los Angeles at age 57.  Born Willie Mae Thornton on 11 December 1926 in Ariton, Alabama.  She was the first to record Leiber and Stoller's "Hound Dog" in 1952, which became her biggest hit.  It spent seven weeks at number one on the Billboard R&B charts in 1953 and sold almost two million copies.  However, her success was overshadowed three years later, when Elvis Presley recorded his more popular rendition of "Hound Dog".  Similarly, Thornton's "Ball 'n' Chain", had a bigger impact when performed and recorded by Janis Joplin in the late 1960's.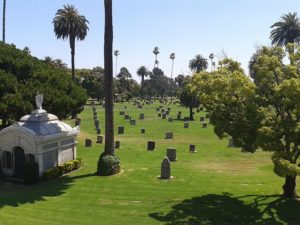 The Final Footprint – Thornton is interred in Inglewood Park Cemetery in Inglewood, California.  Other notable Final Footprints at Inglewood Park include; Ray Charles, Ella Fitzgerald, baseball player Curt Flood, actress Betty Grable, attorney Robert Kardashian (father of  Kim, Kourtney and  Khloé), soul musician Billy Preston and blues musician T-Bone Walker.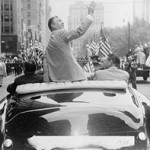 On this day in 1997, professional golfer, 9x major champion, winner of all four major championships (the Masters Tournament, the Open Championship, the U.S. Open, and the PGA Championship), The Hawk, Bantam Ben, The Wee Iceman, Ben Hogan died in Fort Worth, Texas at the age of 84.  Born William Ben Hogan on 13 August 1912 in Stephenville, Texas.  In my opinion, one of the greatest players in the history of the game.  Born within six months of two other acknowledged golf greats of the twentieth century, Sam Snead and Byron Nelson, Hogan is notable for his profound influence on the golf swing theory and his legendary ball-striking ability, for which he remains renowned among players and fans.  The Final Footprint –  Hogan is entombed in the mausoleum at Greenwood Memorial Park in Fort Worth.
Have you planned yours yet?
Follow TFF on twitter @RIPTFF