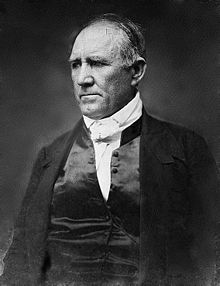 On this day in 1863, statesman, politician, soldier, 8th Governor of Tennessee, 1st and 3rd President of the Republic of Texas, United States Senator from Texas, 7th Governor of Texas, Sam Houston died from pneumonia at his home, Steamboat House in Huntsville, Texas at the age of 70.  Born Samuel Houston of Scots-Irish descent on 2 March 1793 in Rockbridge County, Virginia.  A leader of the Texas Revolution.  Sam Houston supported annexation by the United States.  When he assumed the governorship of Texas in 1859, Houston became the only person to have become the governor of two different U.S. states through direct, popular election, as well as the only state governor to have been a foreign head of state.  Houston was married to Eliza Allen (1829-1837), Tiana Rogers Gentry (under Cherokee law) and Margaret Moffette Lea (1840-1863 his death).  God bless Texas!  God bless Sam Houston!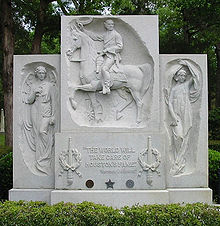 The Final Footprint – Houston is entombed in Oakwood Cemetery in Huntsville.  His last words were reportedly; "Texas!  Texas!  Margaret…"  His grave is marked by a large carved marble monument.  His epitaph; "THE WORLD WILL TAKE CARE OF HOUSTON'S FAME."  ANDREW JACKSON.  The inscription on his tomb;
A Brave Soldier. A Fearless Statesman. A Great Orator– A Pure Patriot. A Faithful Friend, A Loyal Citizen. A Devoted Husband and Father. A Consistent Christian– An Honest Man.
Namesake of the fourth largest city in the U.S., Houston's reputation was sufficiently large that he was honored in numerous ways after his death, among them: a memorial museum, four U.S. warships named USS Houston (AK-1, CA-80, CL81 and SSN-713), a U.S. Army base, a national forest, a historical park, a university and a prominent roadside statue outside of Huntsville.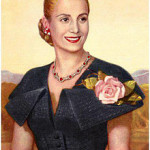 On this day in 1952, actress, the second wife of President Juan Perón (1895–1974), the First Lady of Argentina from 1946 until her death, Evita, Eva Perón died from cervical cancer in Buenos Aires at the age of 33.  Born María Eva Duarte on 7 May 1919 in the village of Los Toldos in rural Argentina.  Evita met Colonel Juan Perón on 22 January 1944, in Buenos Aires during a charity event at the Luna Park Stadium to benefit the victims of an earthquake in San Juan, Argentina.  The two were married the following year.  In 1946, Juan Perón was elected President of Argentina.  Over the course of the next six years, Evita became powerful within the pro-Peronist trade unions, primarily for speaking on behalf of labor rights. She also ran the Ministries of Labor and Health, founded and ran the charitable Eva Perón Foundation, championed women's suffrage in Argentina, and founded and ran the nation's first large-scale female political party, the Female Peronist Party.  In 1951, Evita announced her candidacy for the Peronist nomination for the office of Vice President of Argentina, receiving great support from the Peronist political base, low-income and working class Argentines who were referred to as descamisados or "shirtless ones".  However, opposition from the nation's military and bourgeoisie, coupled with her declining health, ultimately forced her to withdraw her candidacy.  In 1952, shortly before her death Evita was given the title of "Spiritual Leader of the Nation" by the Argentine Congress.  The Final Footprint – She was given a state funeral and a full Roman Catholic requiem mass.  The government suspended all official activities for two days, with all flags being flown at half-staff for ten days.  The crowd outside of the presidential residence grew dense, congesting the streets for ten blocks in each direction.  Later, while Evita's body was being moved, eight people were crushed to death in the throngs.  In the following 24 hours, over 2000 people were treated in city hospitals for injuries sustained in the rush to be near Evita as her body was being transported from the presidential residence to the Ministry of Labour building.  The streets of Buenos Aires overflowed with flowers that were stacked in huge piles, and within one day of Evita's death, all flower shops in Buenos Aires had run out of flowers.  Plans were made to construct a memorial in Evita's honor.  The monument, which was to be a statue of a man representing the "descamisados," was projected to be larger than the Statue of Liberty.  Evita's body was to be stored in the base of the monument and, in the tradition of Lenin's corpse, to be displayed for the public.  While waiting for the monument to be constructed, Evita's embalmed body was displayed in her former office at the CGT building for almost two years.  Before the monument to Evita was completed, Juan Perón was overthrown in a military coup, the Revolución Libertadora, in 1955.  Perón hastily fled the country and did not make arrangements to secure Evita's body.  A military dictatorship took power in Argentina.  The new authorities removed Evita's body from display and its whereabouts remained a mystery for 16 years.  In 1971 the military revealed that the body was entombed in a crypt in Milan, Italy, under the name "María Maggi."  In 1971, Evita's body was exhumed and flown to Spain, where Juan Perón maintained the corpse in his home.  Juan and his third wife, Isabel, decided to keep the corpse in their dining room on a platform near the table.  In 1973, Juan Perón came out of exile and returned to Argentina, where he became president for the third time.  Perón died in office in 1974.  His third wife, Isabel Perón, whom he had married on 15 November 1961, and who had been elected vice-president, succeeded him, thus becoming the first female president in the Western Hemisphere.  It was Isabel who had Evita's body returned to Argentina and (briefly) displayed beside Juan Perón's.  The body was later entombed in the Duarte family tomb in La Recoleta Cemetery, Buenos Aires.  Extensive measures were taken by the Argentine government to secure Evita's tomb.  There is a trapdoor in the tomb's marble floor, which leads to a compartment that contains two coffins.  Under the first compartment is a second trapdoor and a second compartment.  That is where Evita's coffin rests.  Biographers Marysa Navarro and Nicholas Fraser write that the claim is often made that Evita's tomb is so secure that it could withstand a nuclear attack.  "It reflects a fear," they write, "a fear that the body will disappear from the tomb and that the woman, or rather the myth of the woman, will reappear."  This cemetery, which is located in the northern part of barrio Recoleta, also holds the remains of many illustrious military generals, presidents, scientists, poets and other affluent Argentinians.  There is a saying in Argentina that it costs much more to die than it does to live.  Evita has become a part of international popular culture, most famously as the subject of the musical Evita (1976) by Andrew Lloyd Webber and Tim Rice, which was later made into a film starring Madonna as Evita.  Cristina Alvarez Rodriguez, Evita's great niece, claims that Evita has never left the collective consciousness of Argentines. Cristina Fernández de Kirchner, the first female elected President of Argentina, claims that women of her generation owe a debt to Evita for "her example of passion and combativeness".
Have you planned yours yet?
Follow TFF on twitter @RIPTFF