On this day in 1750, Baroque composer, organist, harpsichordist, violist, and violinist Johann Sebastian Bach died in Leipzig, Germany at the age of 65.  Born  in Eisenach, Saxe-Eisenach, in what is now Thuringia, Germany, on 21 March 1685.  The Baroque period of Classical music begins after the Renaissance and was followed by the Classical era.  The word "baroque" came from the Portuguese word barroco, meaning "misshapen pearl".  Baroque music forms a major portion of the classical music canon and is associated with composers such as Bach, George Frideric Handel, Alessandro Scarlatti, Antonio Vivaldi (see below), Claudio Monteverdi and Henry Purcell.  Most importantly to me, it was during this period that opera became established as a musical genre.  My favorite Bach works include; the Brandenburg Concertos, the Goldberg Variations, The Well-Tempered Clavier, the Mass in B minor, the St Matthew Passion, the St John Passion, and the Magnificat.  Beethoven described him as the "Urvater der Harmonie", "original father of harmony".  Bach married twice; his second cousin, Maria Barbara Bach (1706-1720 her death) and Anna Magdalena Wilcke (1721-1750 his death).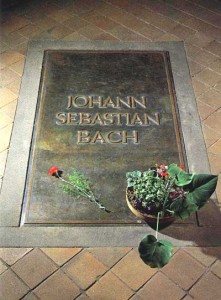 The Final Footprint – Bach was originally buried at Old St. John's Cemetery in Leipzig.  His grave went unmarked for nearly 150 years.  In 1894 his coffin was finally discovered and reburied in a vault within St. John's Church.  This building was destroyed by Allied bombing during World War II, and in 1950 Bach's remains were taken to their present resting place in an underground vault in Leipzig's Church of St. Thomas.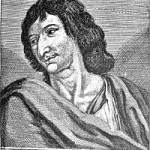 On this day in 1655, French dramatist and duelist, Cyrano de Bergerac died aged 36, at the house of his cousin, Pierre De Cyrano, in Sannois, France, or, he died from effects of tertiary syphilis in an asylum, in which he was confined by his own brother Abel de Cyrano.  Born Hercule-Savinien de Cyrano de Bergerac on 6 March 1619 in Paris.  In fictional works about his life he is featured with an overly large nose, which people would travel from miles around to see.  Portraits suggest that he did have a big nose, though not nearly as large as described in works about him.  Cyrano's work furnished models and ideas for subsequent writers.  The Final Footprint – He was buried in a church in Sannois.  In 1897, the French poet Edmond Rostand published a play, Cyrano de Bergerac, on the subject of Cyrano's life.  This play, by far Rostand's most successful work, concentrates on Cyrano's love for the beautiful Roxane, whom he is obliged to woo on behalf of a more conventionally handsome but less articulate friend, Christian de Neuvillette.  The play was adapted for cinema in 1990 with Gérard Depardieu in the title role.  The dialogue is in French with subtitles written by Anthony Burgess in rhymed couplets, mirroring the form of the dialogue in the original play.  The most famous film version in English is the 1950 film, with José Ferrer in the title role, a performance for which he won the Academy Award for Best Actor.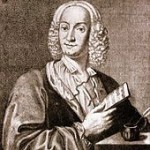 On this day in 1741, il Prete Rosso ("The Red Priest"), Italian Baroque composer, Catholic priest, and virtuoso violinist, Antonio Vivaldi died aged 63, in a house owned by the widow of a Viennese saddlemaker in Vienna.  Born Antonio Lucio Vivaldi on 4 March 1678 in Venice.  Recognized as one of the greatest Baroque composers, his influence during his lifetime was widespread over Europe.  Vivaldi is known mainly for composing instrumental concertos, especially for the violin, as well as sacred choral works and over forty operas.  His best known work is a series of violin concertos known as The Four Seasons.  Many of his compositions were written for the female music ensemble of the Ospedale della Pietà, a home for abandoned children where Vivaldi had been employed from 1703 to 1715 and from 1723 to 1740.  Vivaldi also had some success with stagings of his operas in Venice, Mantua and Vienna.  Though Vivaldi's music was well received during his lifetime, it later declined in popularity until its vigorous revival in the first half of the 20th century.  Today, Vivaldi ranks among the most popular and widely recorded of Baroque composers.  The Final Footprint – On 28 July Vivaldi was buried in a simple grave in a burial ground that was owned by the public hospital fund.  Vivaldi's funeral took place at St. Stephen's Cathedral.
Have you planned yours yet?
Follow TFF on twitter @RIPTFF