On this day in 1890, Dutch post-Impressionist painter Vincent van Gogh died from complications of a self-inflicted gunshot to the chest in Auvers-sur-Oise, France at the age of 37.  Born Vincent Willem van Gogh on 30 March 1853 in Zundert, Netherlands.  Perhaps my favorite artist.  In my opinion, his work has had a far-reaching influence on art as a result of its vivid colors and emotional impact.  Between his move to Paris and his discovery of the French Impressionists and his stay in Arles (accompanied for awhile by Paul Gauguin) he developed his highly recognizable style.  Van Gogh never married.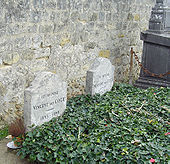 The Final Footprint – Van Gogh is interred in Auvers-sur-Oise Town Cemetery.  His brother Theo apparently reported that van Gogh's last words were, "The sadness will last forever."  Theo would die six months later.  The brothers rest side-by-side.
Have you planned yours yet?
Follow TFF on twitter @RIPTFF
Gallery:
The Starry Night, June 1889, The Museum of Modern Art, New York
The Old Mill, 1888, Albright-Knox Art Gallery, Buffalo, NY.
Starry Night Over the Rhone, 1888, Musée d'Orsay, Paris.
Olive Trees with the Alpilles in the Background, 1889, Museum of Modern Art, New York.