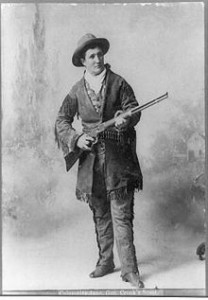 On this day in 1903, frontierswoman and scout Calamity Jane died in the Calloway Hotel in Terry, South Dakota at the age of 51.  Born Martha Jane Cannary on 1 May 1852 in Princeton, Missouri.  Perhaps best know for being an acquaintance of Wild Bill Hickok.  She evidently claimed to have been married to Hickok.  In 1893, Calamity Jane started to appear in Buffalo Bill's Wild West Show as a horse rider and a trick shooter.  She married Texan Clinton Burke.  Did she love Hickok?  Did Hickok have no use for her?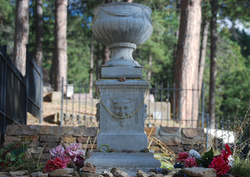 The Final Footprint – Calamity Jane is interred next to Hickok in Mount Moriah Cemetery on Mount Moriah in Deadwood, South Dakota.  Her grave is marked by an upright granite urn monument.  In addition, a memorial plaque was installed with her name on the wall above Hickok's grave.  Calamity Jane has been a popular character in books and films.  My favorites include: in Larry McMurty's novel Buffalo Girls (1990); she appears in Thomas Berger's novel Little Big Man (1964); as played by Jean Arthur in the film The Plainsman (1936) with Gary Cooper as Hickok; as played by Jane Russell in the film The Paleface (1948); as played by Doris Day in the film Calamity Jane (1953) with Howard Keel as Hickok; as played by Anjelica Huston in the television film Buffalo Girls (1995) based on McMurtry's novel and featuring Sam Elliott as Hickok; as played by Ellen Barkin in the film Wild Bill (1995) with Jeff Bridges as Hickok and John Hurt as Charley Prince, Diane Lane as Susannah Moore, Keith Carradine as Buffalo Bill Cody, David Arquette as Jack McCall,  Christina Applegate as Lurline Newcomb, Bruce Dern as Will Plummer.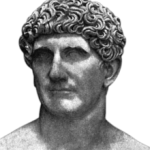 On this day in 30 BC, Roman politician and general, Cleopatra's lover, Mark Antony died at the age of 53 from a self inflicted stab wound in the arms of Cleopatra at her monument in Eqypt.  Born Marcus Antonius most likely on 14 January 83 BC in Rome.  As a military commander and administrator, he was an important supporter and loyal friend of his mother's cousin Julius Caesar.  After Caesar's assassination, Antony formed an official political alliance with Octavian (the future Augustus) and Lepidus, known to historians today as the Second Triumvirate.  The triumvirate broke up in 33 BC.  Disagreement between Octavian and Antony erupted into civil war, the Final War of the Roman Republic, in 31 BC.  Antony was defeated by Octavian at the naval Battle of Actium, and in a brief land battle at Alexandria.  He and Cleopatra committed suicide shortly thereafter. His career and defeat are significant in Rome's transformation from Republic to Empire.  The Final Footprint – The site of Antony and Cleopatra's mausoleum is uncertain, though the Egyptian Antiquities Service believes it is in or near the temple of Taposiris Magna, southwest of Alexandria.  Artistic portrayals in which the character of Mark Antony plays a central role include:
William Shakespeare's Julius Caesar and Antony and Cleopatra, and the films made from these two plays (played by Marlon Brando and Charlton Heston, respectively).
The 1963 film Cleopatra (played by Richard Burton)
The HBO/BBC TV series Rome (played by James Purefoy)
The 1999 film Cleopatra (played by Billy Zane)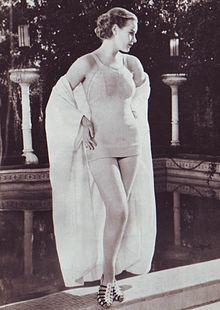 On this day in 1970, stage and screen actress, Frances Farmer died at the age of 56 from esophageal cancer.  Born Frances Elena Farmer on 19 September 1913 in Seattle.  Perhaps best known for sensationalized and fictional accounts of her life, and her involuntary commitment to a mental hospital.  The Final Footprint – She is interred at Oaklawn Memorial Gardens Cemetery in Fishers, Indiana.  Farmer has been the subject of three films, three books, and numerous songs and magazine articles.  She was portayed in the film Frances (1982) by Jessica Lange.  The Nirvana song "Frances Farmer Will Have Her Revenge on Seattle", written by fellow Washington native Kurt Cobain, appears on the band's 1993 In Utero album.  Farmer portrayed Calamity Jane (see above) in the film Badlands of Dakota (1941).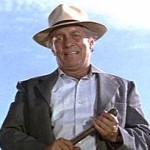 On this day in 1980, actor Strother Martin died of a heart attack at the age of 61.  Born Strother Martin, Jr. on 26 March 1919 in Kokomo, Indiana.  Perhaps best known as the Captain in the 1967 film Cool Hand Luke, with Paul Newman, in which he uttered the line, "What we've got here is…failure to communicate."  Martin's distinctive, reedy voice and menacing demeanor made him ideal for villainous roles in many of the best-known westerns of the 1950s and 1960s, including The Horse Soldiers (1959) and The Man Who Shot Liberty Valance (1962), both directed by John Ford and starring John Wayne.  His lunatic turn in the latter film as Lee Marvin's character's insanely sadistic henchman, gleefully giggling in anticipation of each horrendous atrocity, remains a particularly memorable performance.  Martin also excelled in comedy, playing an incompetent "Indian agent" in the Wayne film, McClintock (1963).  By the late 1960s, Martin was almost as well-known a figure as many top-billed stars.  Martin appeared in all three of the classic Westerns released in 1969: Sam Peckinpah's The Wild Bunch (as Coffer, a bloodthirsty bounty hunter); George Roy Hill's Butch Cassidy and the Sundance Kid (as Percy Garris, the "colorful" Bolivian mine boss who hires the two title characters); and Henry Hathaway's True Grit (as Colonel Stonehill, a horse dealer).  He appeared six times each with both Wayne and Newman.  The Final Footprint – His widow, Helen Meisels-Martin, died in 1997, and her ashes were interred with Martin's in Court of Remembrance, Columbarium of Radiant Dawn, at Hollywood Hills Forest Lawn, in North Hollywood, California.  Other notable final footprints at Hollywood Hills include Gene Autry, Bobby Fuller and Ricky Nelson.
Have you planned yours yet?
Follow TFF on twitter @RIPTFF