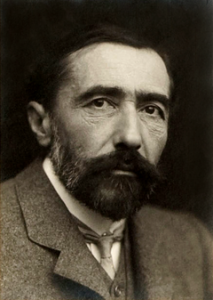 On this day in 1924 novelist Joseph Conrad died of a heart attack in Bishopsbourne, England at the age of 66.  Born Józef Teodor Konrad Korzeniowski on 3 December 1857 in  Berdichev (Polish: Berdyczów), Kiev Governorate (now Berdychiv, Ukraine).  In my opionion, one of the great novelists in English.  His stories and novels feature predominantly nautical or seaboard settings and depict trials of the human spirit that plumb the depths of the human soul.  I like that some of his works have a strain of romanticism.  Perhaps his best known works are Lord Jim (1899-1900) and Heart of Darkness (1902).  Conrad married Jessie George (1896-1924 his death).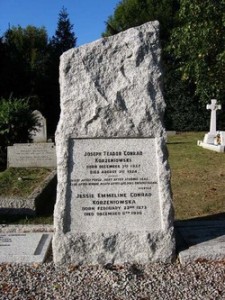 The Final Footprint – Conrad is interred in Canterbury City Cemetery in Canterbury, Kent, England.  Jessie was interred next to him after her death on 3 December 1936.  Their graves are marked with a large upright companion granite marker with the epitaph by the English poet Edmund Spenser; SLEEP AFTER TOYLE, PORT AFTER STORMIE SEAS, EASE AFTER WARRE, DEATH AFTER LIFE, DOES GREATLY PLEASE.  SPENSER
Several films have been adapted from or inspired by Conrad's works.  My favorite is Francis Ford Coppola's adaptation of Heart of Darkness, Apocalypse Now (1979) with Marlon Brando as Colonel Kurtz, Martin Sheen as Captain Willard, Robert Duvall as Lieutenant Colonel Kilgore and Dennis Hopper as an American photojournalist.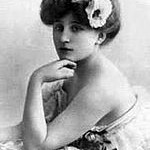 On this day in 1954, French novelist and performer, Colette died in Paris at the age of 81.  Born Sidonie-Gabrielle Colette on 28 January 1873 in Saint-Sauveur-en-Puisaye, Yonne, in the Burgundy Region of France.  Perhpaps best known for her novel Gigi, upon which Lerner and Loewe based the stage and film musical comedies of the same title.  Colette is directly credited with the discovery of a young, nascent Audrey Hepburn, who she chose on sight to play the eponymous Broadway lead in Gigi.  She was the first woman given a state funeral in France, although she was refused Roman Catholic rites because of her divorces.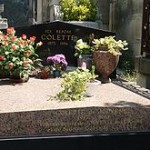 The Final Footprint – Colette is interred in Père Lachaise Cemetery in Paris.  Other notable Final Footprints at Père Lachaise include; Georges Bizet, Honoré de Balzac, Jean-Dominique Bauby, Maria Callas, Frédéric Chopin, Auguste Comte, Jean-Baptiste-Camille Corot, Molière, Jim Morrison, Édith Piaf, Camille Pissarro, Marcel Proust, Sully Prudhomme, Gioachino Rossini, Georges-Pierre Seurat, Gertrude Stein, Alice B. Toklas,  Oscar Wilde, and Richard Wright.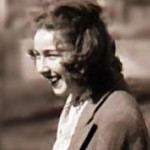 On this day in 1964, writer and important voice in American literature, Flannery O'Connor died at the age of 39, of complications from lupus, at Baldwin County Hospital in Milledgeville, Georgia.  Born Mary Flannery O'Connor on 25 March 1925 in Savannah, Georgia.  Her two novels were Wise Blood (1952) and The Violent Bear It Away (1960).  She also published two books of short stories: A Good Man Is Hard to Find (1955) and Everything That Rises Must Converge (published posthumously in 1965).  She was a Southern writer who often wrote in a Southern Gothic style and relied heavily on regional settings and grotesque characters.  O'Connor's writing also reflected her own Roman Catholic faith, and frequently examined questions of morality and ethics.  One of my very favorite writers.  Each year on her birthday I read one of her short stories.  The Final Footprint – O'Connor was interred in Milledgeville, at Memory Hill Cemetery.
Have you planned yours yet?
Follow TFF on twitter @RIPTFF