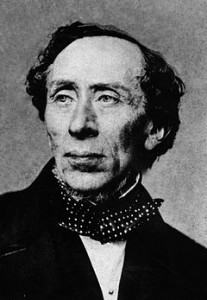 On this day in 1875, author and poet Hans Christian Andersen died in a house called Rolighed (calmness), near Copenhagen, the home of his close friend Moritz Melchior, at the age of 70.  Born on 2 April 1805 in Odense, Denmark.  Perhaps best known for his children's stories including; "The Princess and the Pea" (1835), "Thumbelina" (1835), "The Little Mermaid" (1836), "The Emperor's New Clothes" (1837), "The Steadfast Tin Soldier" (1838), "The Nightingale" (1844), "The Snow Queen" (1844), "The Ugly Duckling" (1844) and "The Little Match Girl" (1848).  Andersen was apparently frustrated in love and may have channeled his romantic grief into his stories.  At one point he wrote in his diary: "Almighty God, thee only have I; thou steerest my fate, I must give myself up to thee! Give me a livelihood! Give me a bride! My blood wants love, as my heart does!"  His unrequited loves included a girl named Riborg Voigt from his youth, Sophie Ørsted, Louise Collin and the opera soprano Jenny Lind, the inspiration for his story "The Nightingale".  Andersen never married.  I have read many of his stories to my children.  Thank you HCA.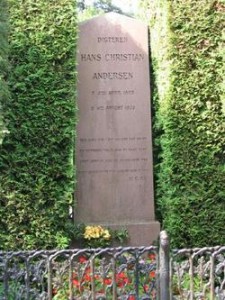 The Final Footprint – Andersen is interred in Assistens Cemetery in Copenhagen.  His grave is marked by a large upright individual stone monument.  Inscribed at the the top of the monument is the word DIGTEREN (poet).  At the bottom is inscribed the last lines of Andersen's poem "Oldingen" (The Old Man);
The soul which God in his image created,  Is incorruptible, can not be lost.  Our life on earth is the seed of eternity,   Our body dies, but the soul can not die!  
His stories have inspired many films, plays and ballets.  In the Copenhagen harbor there is a statue of The Little Mermaid, placed in honor of Andersen.  April 2, Andersen's birthday, is celebrated as International Children's Book Day.  In the United States, statues of Andersen may be found in Central Park, New York, and in Solvang, California.  The city of Bratislava, Slovakia features a statue of Andersen in memory of his visit in 1841.  The city of Funabashi, Japan has a children's theme park named after Andersen.  A theme park based on Andersen's tales and life opened in Shanghai at the end of 2006.
Have you planned yours yet?
Follow TFF on twitter @RIPTFF