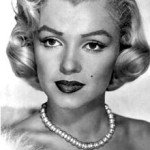 On this day in 1962, actress, singer and model, American Icon, Marilyn Monroe was found dead at her Brentwood, Los Angeles home at the age of 36.  She apparently died from acute barbiturate poisoning.  Theories abound about how the drugs got in her system.  Born Norma Jeane Mortenson on 1 June 1926 in Los Angeles.  She was baptized and raised as Norma Jeane Baker.  Remembered and loved for her beauty, charm and personality.  My favorite Monore film roles include: as Lorelei Lee in Howard Hawks' Gentleman Prefer Blondes (1953) with Jane Russell and Charles Coburn; as Evelyn Keyes in Billy Wilder's The Seven Year Itch (1955); as Sugar Kane in Wilder's Some Like It Hot (1959) with Tony Curtis and Jack Lemmon; as Roslyn Tabor in John Huston's The Misfits (1961) with Clark Gable, Montgomery Clift and Eli Wallach.  The Misfits would prove to be the final film for both Monroe and Gable.  Her picture appeared on the cover of the first issue of Playboy magazine in December 1953.  Monroe married three times; James Dougherty (1942-1946 divorce), Joe DiMaggio (1954-1954 divorce) and Arthur Miller (1956-1961 divorce).  She may have had affairs with Marlon Brando, Tony Curtis, JFK and RFK.  More questions than answers surround Monroe.  Was her death accidental, suicide or homicide?  Was JFK the last person she talked to?  Was she in love with him?  Was RFK the last person she saw?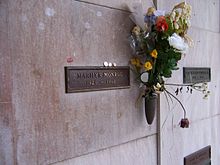 The Final Footprint – Monroe is entombed in Westwood Memorial Park (a Dignity Memorial property) in Los Angeles.  Notice how her marble crypt front is discolored compared to the surrounding crypts.  This is caused by the many people who visit her crypt and touch the marble.  Also note the lipstick kisses.  DiMaggio had a half-dozen red roses delivered three times a week to her crypt for 20 years.  A memorial bench is located near her crypt dedicated to her In Loving Memory.  Other notable final footprints at Westwood include; Ray Bradbury, Sammy Cahn, Truman Capote, James Coburn, Rodney Dangerfield, Janet Leigh, Farrah Fawcett, Brian Keith, Don Knotts, Burt Lancaster, Peter Lawford, Peggy Lee, Jack Lemmon, Karl Malden, Dean Martin, Walter Mathau, Carroll O'Connor, Roy Orbison, George C. Scott, Dorothy Stratten, Natalie Wood and Frank Zappa.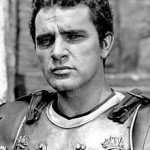 On this day in 1984, actor, 7x Academy Award nominee, Richard Burton died at age 58 from a brain haemorrhage at his home in Céligny, Switzerland.  Born Richard Walter Jenkins in the village of Pontrhydyfen, Neath Port Talbot, Wales on 10 November 1925.  Although never trained as an actor, Burton was at one time the highest-paid actor in Hollywood.  Burton remains closely associated in the public consciousness with his second wife, actress Elizabeth Taylor. The couple's turbulent relationship was rarely out of the news.  Burton was married five times; Welsh actress/producer Sybil Williams (1949 – 1963 divorce), Taylor twice, consecutively from 15 March 1964 to 26 June 1974 and from 10 October 1975 to 29 July 1976, Susan Hunt (1976 – 1982 divorce) and Sally Hay (1983 – 1984 his death).  Burton reportedly once said about himself, "I rather like my reputation, actually, that of a spoiled genius from the Welsh gutter, a drunk, a womanizer; it's rather an attractive image."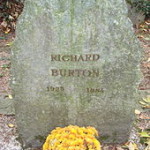 The Final Footprint – Burton is interred in Vieux Cemetery, Celigny, Switzerland, in a red suit, a tribute to his Welsh roots, and with a copy of Dylan Thomas' poems. He and Taylor had discussed being buried together. His widow Sally purchased the plot next to Burton's to ensure she would be buried next to him.
Have you planned yours yet?
Follow TFF on twitter @RIPTFF