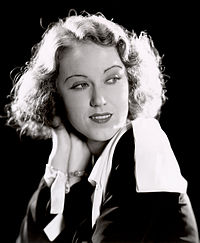 On this day in 2004, actress Fay Wray died in her Manhattan apartment at the age of 96.  Born Vina Fay Wray on 15 September 1907 on a ranch near Cardston, Alberta, Canada.  Perhaps best remembered for her role as Ann Darrow in the film King Kong (1933).  Wray married three times; John Monk Saunders (1928-1939 divorce), Robert Riskin (1942-1955 his death) and Sanford Rothenberg (1971-1991 his death).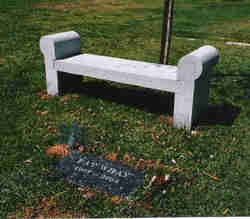 The Final Footprint – Wray is interred in Hollywood Forever Cemetery in Hollywood.  Her grave is marked by an individual engraved flat granite marker near a memorial bench.  The marker is engraved with her name and her birth and death years.  Two days after her death, the lights of the Empire State Building were extinguished for 15 minutes in her memory.  For her contribution to the motion picture industry, Wray was honored with a star on the Hollywood Walk of Fame at 6349 Hollywood Blvd.  She received a star posthumously on Canada's Walk of Fame in Toronto on June 5, 2005.  A park near Lee's Creek on Main Street in Cardston was named "Fay Wray Park" in her honor.  The sign at the edge of the park on Main Street has a silhouette of King Kong on it.  A large oil portrait of Wray by Alberta artist Neil Boyle is on display in the Empress Theatre in Fort Macleod, Alberta.  Other notable Final Footprints at Hollywood Forever include; Mel Blanc, director/producer Cecil B. DeMille, director Victor Fleming, Judy Garland, actress Joan Hackett, director John Huston, actress Hattie McDaniel's cenotaph, Jayne Mansfield's cenotaph, mobster Bugsy Siegel, and actor Rudolph Valentino.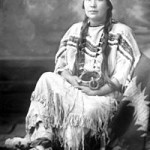 On this day in 1936, Native American author, Mourning Dove died at the state hospital in Medical Lake, Washington at the approximate age of 48. Perhaps best known for her novel Cogewea the Half-Blood: A Depiction of the Great Montana Cattle Range (1927).  Born Hum-isha-ma "in the Moon of Leaves" (April) 1888 in a canoe on the Kootenai River near Bonners Ferry, Idaho , her name was later changed to Christal Quintasket.  The Final Footprint – She is interred in Omak Memorial Cemetery in Omak, Washington.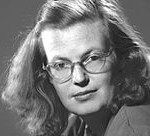 On this day in 1965, writer, novelist, Shirley Jackson died of heart failure in her sleep at her home in North Bennington, Vermont at the age of 48.  Born Shirley Hardie Jackson on 14 December 1916 in San Francisco.  Perhaps best known for the short story "The Lottery" (1948), which suggests a secret, sinister underside to bucolic small-town America.  She is also well known for the 1959 novel The Haunting of Hill House.  The Final Footprint – Jackson was cremated.
Have you planned yours yet?
Follow TFF on twitter @RIPTFF