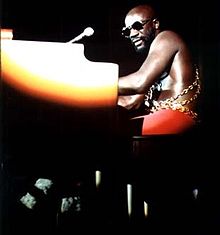 On this day in 2008, humanitarian, songwriter, musician, singer and actor, Academy Award-winner, Grammy Award-winner, Isaac Hayes died at his home near Memphis from a stroke at the age of 65.  Born Isaac Lee Hayes on 20 August 1942 in Covington, Tennessee.  My favorite songs written or co-written by Hayes include; "Soul Man" co-written with David Porter, "Hold On I'm Comin'" co-written with Porter, "I Thank You" co-written with Porter, and "Theme from Shaft" which Hayes won an Academy Award for Best Original Song.  Hayes was married four times.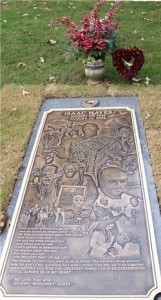 The Final Footprint – Hayes is interred in Memorial Park Cemetery in Memphis.  His grave is marked by a full ledger flat bronze on granite marker.  The inscription is as follows:  God looked around his garden And he found an empty place He then looked down upon this earth And found your star He put his arms around you And lifted you to rest God's garden is beautiful now He always takes the best But when you left THE BIGGEST PART OF ME LEFT But thanks for leaving a part of us in KOJO The hardest thing always was for you to say goodbye So I won't either One day we'll be together again LOVING YOU WAS THE GREATEST THING I'VE EVER EXPERIENCED YOU'LL ALWAYS BE IN MY HEART My Love, Your wife ADJOWA "MARGARET" HAYES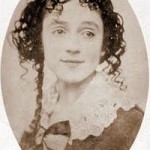 On this day in 1868, actress, painter and poet, said by some to be the "first American Jewish superstar", the Menken, Adah Isaacs Menken died in Paris at the age of 33 from of peritonitis and tuberculosis.  She died after having just written a friend:
"I am lost to art and life. Yet, when all is said and done, have I not at my age tasted more of life than most women who live to be a hundred? It is fair, then, that I should go where old people go."
Accounts of Menken's early life and origins vary considerably.  In her autobiographical "Some Notes of Her Life in Her Own Hand," published in the New York Times in 1868, Menken said she was born Marie Rachel Adelaide de Vere Spenser in Bordeaux, France and lived in Cuba as a child before her family settled in New Orleans.  In 1865 she wrote that her birth name was Dolores Adios Los Fiertes, and that she was the daughter of a French woman from New Orleans and a Jewish man from Spain.  About 1940, the consensus of scholars was that her parents were Auguste Théodore, a free black, and Marie, a mixed-race Creole, and Ada was raised as a Catholic.  Ed James, a journalist friend, wrote after her death that her real name was Adelaide McCord, and she was born at Milneburg, near New Orleans, on 15 June 1835.  The Menken was best known for her performance in the melodrama Mazeppa, which featured her apparently nude, and riding a horse on stage.  A celebrity who created sensational performances in the United States and Europe, she married six times and was known for her affairs.  The Final Footprint – The Menken's final resting place is in Cimetière de Montparnasse in Paris.  Other notable Final Footprints at Montparnasse include; Charles Baudelaire, Samuel Beckett, Simone de Beauvoir, Emmanuel Chabrier, Guy de Maupassant, Camille Saint-Saëns, Jean-Paul Sartre,  Jean Seberg, and  and Susan Sontag.
Have you planned yours yet?
Follow TFF on twitter @RIPTFF