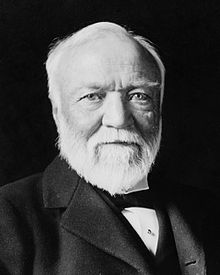 On this day in 1919 Scottish-American industrialist, businessman, entrepreneur and philanthropist, Andrew Carnegie died in Lenox, Massachusetts of bronchial pneumonia at the age of 83.  Born on 25 November 1835 in Dunfermline, Fife, Scotland.  Carnegie led the enormous expansion of the American steel industry in the late 19th century and he was one of the most important philanthropists of his era.  Carnegie founded Pittsburgh's Carnegie Steel Company and built it into one of the largest and most profitable companies in the world.  Carnegie sold the company in 1901 for $480 million to J.P. Morgan, who created U.S. Steel.  Carnegie built Carnegie Hall and established many libraries, schools and universities.  Carnegie is often regarded as the second-richest man in history after John D. Rockefeller.  Carnegie married once to Louise Whitfield.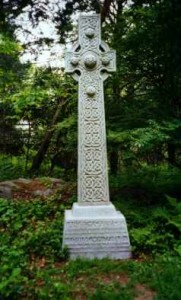 The Final Footprint – Carnegie is interred in Sleepy Hollow Cemetery in Sleepy Hollow, New York.  His grave is marked by a large stone cross.  His wife Louise was interred next to him upon her death in 1945.  The Rockefeller family estate, Kykuit, whose grounds abut Sleepy Hollow Cemetery, contains the private Rockefeller cemetery.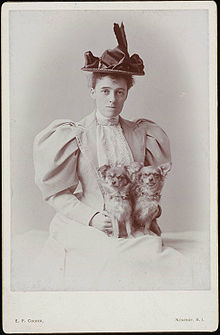 On this day in 1937 novelist, short story writer, designer, Pulitzer Prize recipient, Edith Wharton died of a stroke at the domaine Le Pavillon Colombe, her 18th-century house on Rue de Montmorency in Saint-Brice-sous-Forêt.  The street is today called rue Edith Wharton.  Born Edith Newbold Jones on 24 January 1862 in New York City.  Many of Wharton's novels are characterized by a subtle use of dramatic irony.  Having grown up in upper-class turn-of-the-century society, Wharton became one of its most astute critics, in such works as The House of Mirth (1905) and The Age of Innocence (1920).  In addition to writing several more respected novels, Wharton produced a wealth of short stories and is particularly well regarded for her ghost stories.  The Final Footprint – Wharton's final resting place is in the Cimetière des Gonards, the largest cemetery in Versailles on the outskirts of Paris.  It began operations in 1879.  The cemetery covers an area of 130,000 m² and contains more than 12,000 graves.  Another notable final footprint at Gonards is that of poet Robert de Montesquiou.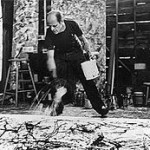 On this day in 1956, artist, Jackson Pollock died at the age of 44 in a single-car crash in his Oldsmobile convertible while driving under the influence of alcohol in Springs, New York.  One of the passengers, Edith Metzger, was also killed in the accident, which occurred less than a mile from Pollock's home.  The other passenger, muse, artist, author, and Pollock's mistress, Ruth Kligman, survived.  Born Paul Jackson Pollock on 28 January 1912 in Cody, Wyoming.  A major figure in the abstract expressionist movement.  He was well known for his unique style of drip painting.  During his lifetime, Pollock enjoyed considerable fame and notoriety, a major artist of his generation.  Regarded as reclusive, he had a volatile personality, and struggled with alcoholism for most of his life.  In 1945, he married the artist Lee Krasner, who became an important influence on his career and on his legacy.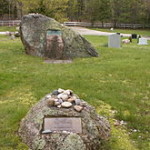 The Final Footprint – Pollock is interred in Green River Cemetery in Springs with a large boulder marking his grave and a smaller one marking Krasner's who was interred next to Pollock upon her death in 1984.  Pollock was given a memorial retrospective exhibition at the Museum of Modern Art (MoMA) in New York City.  A larger, more comprehensive exhibition of his work was held there in 1967.  In 1998 and 1999, his work was honored with large-scale retrospective exhibitions at MoMA and at The Tate in London.  In 2000, Pollock was the subject of the film Pollock, directed by and starring Ed Harris.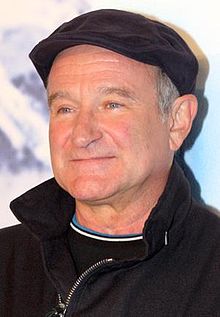 On this day in 2014, actor and comedian Robin Williams committed suicide at his home in Paradise Cay, California at the age of 63.  Born Robin McLaurin Williams at St. Luke's Hospital in Chicago, Illinois on 21 July 1951.  Starting as a stand-up comedian in San Francisco and Los Angeles in the mid-1970s, he is credited with leading San Francisco's comedy renaissance.  After starring as Mork in the sitcom Mork & Mindy (1978–82), he went on to establish a career in both stand-up comedy and feature film acting.  He was perhaps best known for his improvisational skills.
Williams starred or co-starred in widely acclaimed films, including; The World According to Garp (1982), Good Morning, Vietnam (1987), Dead Poets Society (1989), Awakenings (1990), The Fisher King (1991), Aladdin (1992), Good Will Hunting (1997), One Hour Photo (2002), Hook (1991), Mrs. Doubtfire (1993), Jumanji (1995), The Birdcage (1996), and Night at the Museum (2006).
In 1986, Williams teamed up with Whoopi Goldberg and Billy Crystal to found Comic Relief USA, an annual HBO television benefit devoted to the homeless, which has raised $80 million, as of 2014.
In 1998, Williams won the Academy Award for Best Supporting Actor for his performance as Dr. Sean Maguire in Good Will Hunting.  He also received two Primetime Emmy Awards, six Golden Globe Awards, two Screen Actors Guild Awards, and four Grammy Awards throughout his career.  Williams committed suicide by hanging himself.  It was revealed shortly after his death that Williams had been suffering from severe depression, Parkinson's disease, and diffuse Lewy body dementia.
Williams married three times: Valerie Velardi (1978 – 1988 divorce), Marcia Garces (1989 – 2010 divorce) and Susan Schneider (2011 – 2014 his death).
The Final Footprint – His body was cremated and his ashes were spread in San Francisco Bay on August 21.  Broadway theaters in New York dimmed their lights for one minute in his honor.  Broadway's Aladdin cast honored Williams by having the audience join them in a sing-along of "Friend Like Me", the Oscar-nominated song originally sung by Williams in the 1992 film.  Fans of Williams created makeshift memorials at his star on the Hollywood Walk of Fame and at locations from his television and film career, such as the bench in Boston's Public Garden featured in Good Will Hunting; the Pacific Heights, San Francisco, home used in Mrs. Doubtfire; and the Boulder, Colorado, home used for Mork & Mindy.  During the 66th Primetime Emmy Awards on 25 August 2014, Billy Crystal presented a tribute to Williams, referring to him as "the brightest star in our comedy galaxy."
Have you planned yours yet?
Follow TFF on twitter @RIPTFF