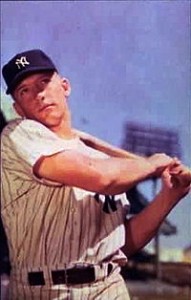 On this day in 1995, baseball Hall of Famer, 20x All-

Star, 7x World Series Champion, 3x AL MVP, The Mick, Mickey Mantle died at Baylor University Medical Center in Dallas, Texas at the age of 63.  Born Mickey Charles Mantle on 20 October 1931 in Spavinaw, Oklahoma.  Perhaps the greatest switch-hitter in the history of baseball and, in my opinion, one the the greatest players.  On Mickey Mantle Day, 8 June 1969, the Yankees retired his uniform Number 7.  Mantle was married to Merlyn Johnson (1951-1995 his death).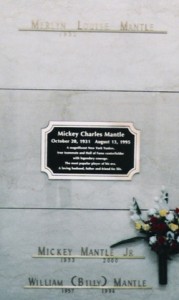 The Final Footprint – Mantle is entombed in the mausoelum, St. Matthew, above the crypt where his sons Mickey, Jr. and Billy are entombed, at Sparkman-Hillcrest Memorial Park, a Dignity Memorial property in Dallas.  His bronze crypt plate has the inscription; "A magnificent New York Yankee, true teammate and Hall of Fame centerfielder with legendary courage.  The most popular player of his era.  A loving husband, father and friend for life."  The Yankees added a monument to Monument Park at Yankee Stadium to honor Mantle.  Monument Park is an open-air museum containing a collection of monuments, plaques, and retired numbers honoring distinguished members of the Yankees.  Other notable Yankees whose final footprints include memorialization in Monument Park include; Lou Gehrig, Babe Ruth, Joe DiMaggio, George Steinbrenner, Casey Stengel, Thurman Munson, Roger Maris, Phil Rizzuto (see below), Billy Martin, Mel Allen and Bob Sheppard.  Other notable final footprints at Sparkman-Hillcrest include businessman H.L. Hunt and Tom Landry.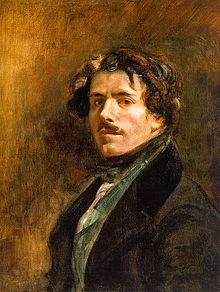 On this day in 1863, artist Eugène Delacroix died in Paris at the age of 65.  Born Ferdinand Victor Eugène Delacroix on 26 April 1798 at Charenton-Saint-Maurice in Île-de-France, near Paris.  Generally regarded from the outset of his career as the leader of the French Romantic school.  Delacroix's use of expressive brushstrokes and his study of the optical effects of colour profoundly appear to have shaped the work of the Impressionists, while his passion for the exotic may have inspired the artists of the Symbolist movement.  Delacroix may have taken for his inspiration the art of Rubens and painters of the Venetian Renaissance, with an emphasis on colour and movement rather than clarity of outline and carefully modelled form.  Dramatic and romantic content characterized the central themes of his maturity, and led him not to the classical models of Greek and Roman art, but to travel in North Africa, in search of the exotic.  Friend and spiritual heir to Théodore Géricault, Delacroix was also apparently inspired by Lord Byron, with whom he shared a strong identification with the "forces of the sublime", of nature in often violent action.  Yet, it appears that Delacroix was not sentimental and his Romanticism was that of an individualist.  In the words of Baudelaire, "Delacroix was passionately in love with passion, but coldly determined to express passion as clearly as possible."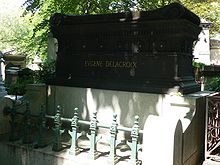 The Final Footprint -Delacroix was entombed in Père Lachaise.  Père Lachaise is in the 20th arrondissement and is notable for being the first garden cemetery, as well as the first municipal cemetery.  It is also the site of three World War I memorials.  The cemetery is on Boulevard de Ménilmontant.  The Paris Métro station Philippe Auguste on line 2 is next to the main entrance, while the station called Père Lachaise, on both lines 2 and 3, is 500 metres away near a side entrance.  Many tourists prefer the Gambetta station on line 3, as it allows them to enter near the tomb of Oscar Wilde and then walk downhill to visit the rest of the cemetery.  Other notable Final Footprints at Père Lachaise include; Georges Bizet, Honoré de Balzac, Jean-Dominique Bauby, Maria Callas, Frédéric Chopin, Colette, Auguste Comte, Jean-Baptiste-Camille Corot, Molière, Jim Morrison, Édith Piaf, Camille Pissarro, Marcel Proust, Sully Prudhomme, Gioachino Rossini, Georges-Pierre Seurat, Gertrude Stein, Alice B. Toklas,  Oscar Wilde, and Richard Wright.
Gallery
Mademoiselle Rose, 1817–1824, the Louvre

The Barque of Dante, 1822, the Louvre

Orphan Girl at the Cemetery, 1823

Louis of Orléans Unveiling his Mistress, c1825–26, Thyssen-Bornemisza Collection, Madrid

Charles Étienne Raymond Victor de Verninac, the painter's nephew, c. 1825-26

The Combat of the Giaour and Hassan, 1826, Art Institute of Chicago

Lithograph, Mephistopheles flying over Wittenberg, 1828

A Young Tiger Playing with its Mother, 1830

Portrait of Dr. François-Marie Desmaisons, 1832–33, oil on canvas, Detroit Institute of Arts

The Women of Algiers, 1834, the Louvre

The Natchez, 1835, Metropolitan Museum of Art, New York

Delacroix, Salon du Roi, Palais Bourbon, Paris, 1833–37

Frédéric Chopin, 1838, the Louvre

George Sand, 1838, Ordrupgaard-Museum, Copenhagen, Denmark

Columbus and His Son at La Rábida, 1838, National Gallery of Art

Jewish Wedding in Morocco, c1839, the Louvre

Hamlet with Horatio, (the gravedigger scene), 1839, the Louvre

Entry of the Crusaders in Constantinople, 1840, the Louvre

Lithograph, Hamlet with Guildenstern (Act III, Scene II), 1835–43

Last Words of the Emperor Marcus Aurelius, 1844, Musée des Beaux-Arts de Lyon

Sultan of Morocco, 1845, Musée des Augustins, Toulouse

Apollo slaying Python, 1851, the Louvre

Desdemona Cursed by her Father (Desdemona maudite par son père) (ca. 1850–54), Brooklyn Museum

Christ on the Sea of Galilee, 1854

1855, Moroccan Saddles His Horse, Hermitage Museum

Jerusalem Delivered / Clorinda Rescues Olindo and Sophronia, 1856

The Bride of Abydos, 1857

The Death of Desdemona, 1858

The Justice of Trajan, 1858, oil on canvas, Honolulu Museum of Art

Ovid among the Scythians, oil on cavas, 1859

Arab Horses Fighting in a Stable, 1860

Lion Hunt, 1861, Art Institute of Chicago

Ovid among the Scythians, oil on wood, 1862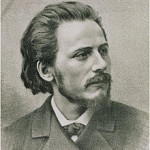 On this day in 1912, French composer best known for his operas, Jules Massenet died in Paris at the age of 70, after suffering from cancer.  Born Jules Émile Frédéric Massenet on 12 May 1842 in Montaud, then an outlying hamlet and now a part of the city of Saint-Étienne, in the Loire.  His compositions were very popular in the late 19th and early 20th centuries, and he ranks as one of the greatest melodists of his era.  Soon after his death, Massenet's style went out of fashion, and many of his operas fell into almost total oblivion.  Apart from Manon and Werther, his works were rarely performed.  However, since the mid-1970s, many operas of his such as Thaïs and Esclarmonde have undergone periodic revivals.  The Final Footprint – He is interred in the Cimetiere d'Egreville Seine-et-Marne, Ile-de-France Region, France.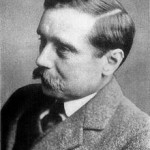 On this day in 1946, writer, "The Father of Science Fiction", H. G. Wells died of unspecified causes at his home at 13 Hanover Terrace, Regent's Park, London, aged 79.  Some reports also say he died of a heart attack at the flat of a friend in London.  Born Herbert George Wells at Atlas House, 46 High Street, Bromley, in the county of Kent, on 21 September 1866.  Perhaps best known for his work in the science fiction genre, he was also a prolific writer in many other genres, including contemporary novels, history, politics and social commentary, even writing textbooks and rules for war games.  His most notable science fiction works include The War of the Worlds (1898), The Time Machine (1895), The Invisible Man (1897) and The Island of Doctor Moreau (1896).  In 1891, Wells married his cousin Isabel Mary Wells; the couple agreed to separate in 1894 when he fell in love with one of his students, Amy Catherine "Jane" Robbins whom he married in 1895.  The marriage lasted until her death in 1927.  With Jane's consent, Wells had affairs with a number of women, including the American birth control activist Margaret Sanger and novelist Elizabeth von Arnim.  In 1909 he had a daughter with the writer Amber Reeves, and in 1914, a son (Anthony West) by the novelist and feminist Rebecca West.  In Experiment in Autobiography (1934), Wells wrote: "I was never a great amorist, though I have loved several people very deeply."  The Final Footprint – Wells was cremated at Golders Green Crematorium on 16 August 1946, his ashes scattered at sea.  GGC was the first crematorium to be opened in London, and one of the oldest crematoria in Britain.  The crematorium, the Philipson Family mausoleum, designed by Edwin Lutyens, the wall, along with memorials and gates, the Martin Smith Mausoleum, and Into The Silent Land statue are all Grade II listed buildings.  The gardens are included in the National Register of Historic Parks and Gardens.  GGC is in Hoop Lane, off Finchley Road, Golders Green, London NW11, ten minutes' walk from Golders Green tube station. It is directly opposite the Golders Green Jewish Cemetery.  The crematorium is secular, accepts all faiths and non-believers; clients may arrange their own type of service or remembrance event and choose whatever music they wish.  Other notable cremations at GGC include; Kingsley Amis, Neville Chamberlain, T. S. Eliot, Sigmund Freud, Henry James, Rudyard Kipling, Vivien Leigh, Keith Moon, Peter Sellers, Bram Stoker, and Amy Winehouse.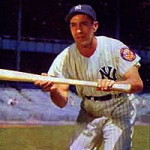 On this day in 2007, baseball player,

shortstop, New York Yankee, 5x All-Star, 7x World Series Champion, AL MVP, #10 retired, Member of the National Baseball Hall of Fame, radio and television sports announcer for the Yankees, the Scooter, Phil Rizzuto died in his sleep , three days short of the 51st anniversary of his last game as a Yankee.  Born Philip Francis Rizzuto on 25 September 1917 in Brooklyn.  He had been in declining health for several years and was living at a nursing home in West Orange, New Jersey for the last months of his life.  At the time of his death, Rizzuto was the oldest living member of Baseball's Hall of Fame, at 89.  The Final Footprint – Rizzuto was cremated.  The Yankees added a monument to Monument Park at Yankee Stadium to honor Mantle.  Monument Park is an open-air museum containing a collection of monuments, plaques, and retired numbers honoring distinguished members of the Yankees.  Other notable Yankees whose final footprints include memorialization in Monument Park include; Lou Gehrig, Babe Ruth, Joe DiMaggio, George Steinbrenner, Casey Stengel, Thurman Munson, Roger Maris, Mickey Mantle, Billy Martin, Mel Allen and Bob Sheppard.
Have you planned yours yet?