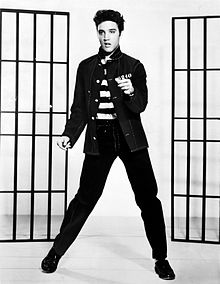 On this day in 1977, singer, actor, American icon, the King of Rock and Roll, the King, Elvis Presley died from a heart attack, that may have been brought on by prescription drug abuse, at his Graceland home in Memphis at the age of 42.  Or if you prefer, he went away on that day.  One of my daughters likes to quote a line from the film Men in Black (1997), starring Tommy Lee Jones and Will Smith; "No, Elivs is not dead, he just went home."  Born Elvis Aaron Presley on 8 January 1935 in Tupelo, Mississippi.  What can be said that has not already been said?  Certainly he is one of my favorite singers.  In my opinion, Elvis has to be considered as one of the most important figures of 20th-century popular culture.  My favorite songs sung by Elvis include; "Heartbreak Hotel", "Hound Dog", "Hard Headed Woman", "Suspicious Minds", "Way Down", "Guitar Man", "A Little Less Conversation", "Burning Love", "Viva Las Vegas", and "Promised Land".  My favorite movies featuring Elvis inlcude; Love Me Tender (1956) and King Creole (1958).  Elvis married Priscilla Ann Beaulieu on 1 May 1967 in the Aladdin Hotel in Las Vegas.  Their divorce was finalized on 9 October 1973.  Questions surround Elvis:  Did Colonel Tom Parker's tight control derail Elvis' acting career?  Was Elvis his own worst enemy?  Did those around him enable and encourage his destructive tendencies?  Did he really die that day or was the whole thing staged so he could finally get away?  Upon learning of Elvis' death, did Parker really say. "This changes nothing!"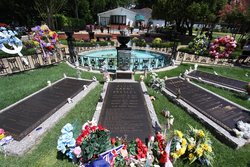 The Final Footprint – Elvis was initially entombed in a private room, in a crypt next to his mother, in the mausoleum at Forest Hill Cemetery Midtown, Memphis.  Following an attempt to steal the singer's body, the remains of both Elvis and his mother were reburied in Graceland's Meditation Garden.  His grave is marked by a full ledger flat bronze on granite marker.  The inscriptions reads:  HE WAS A PRECIOUS GIFT FROM GOD WE CHERISHED AND LOVED DEARLY.  HE HAD A GOD-GIVEN TALENT THAT HE SHARED WITH THE WORLD AND WITHOUT A DOUBT, MOST WIDELY ACCLAIMED, CAPTURING THE HEARTS OF YOUNG AND OLD ALIKE.  HE WAS ADMIRED NOT ONLY AS AN ENTERTAINER BUT AS THE GREAT HUMANITARIAN THAT HE WAS, FOR HIS GENEROSITY AND HIS KIND FEELINGS FOR HIS FELLOW MAN.  HE REVOLUTIONIZED THE THE FIELD OF MUSIC AND RECEIVED ITS' HIGHEST AWARDS.  HE BECAME A LIVING LEGEND IN HIS OWN TIME, EARNING THE RESPECT AND LOVE OF MILLIONS.  GOD SAW THAT HE NEEDED SOME REST AND CALLED HIM HOME TO BE WITH HIM.  WE MISS YOU, SON AND DADDY.  I THANK GOD HE GAVE US YOU AS OUR SON.  His father and his paternal grandmother were interred at Graceland upon their deaths.  Elvis has inspired many artistic and cultural works.  He has been portrayed in films by many including: Kurt Russell as the voice of Elvis in the film Forrest Gump (1994) based on the Winston Groom novel and featuring Tom Hanks, Robin Wright and Gary Sinise; and Val Kilmer as the Ghost of Elvis, the mentor, in Quentin Tarrantino's True Romance (1993) with Christian Slater, Patricia Arquette, Christopher Walken, Dennis Hopper, Gary Oldman, Chris Penn, Tom Sizemore, Samuel L. Jackson, James Gandolfini and Brad Pitt.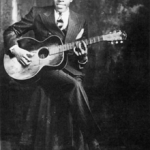 On this day in 1938, blues singer, songwriter and musician, Robert Johnson died near Greenwood, Mississippi of an unknown cause at the age of 27, thus becoming a member of the 27 Club or Forever 27 Club, a term used to refer to popular musicians who have died at the age of 27 and includes, Rolling Stone Brian Jones, Jimi Hendrix, Janis Joplin, Kurt Cobain, Jim Morrison and Amy Winehouse.  Born Robert Leroy Johnson in Hazlehurst, Mississippi possibly on 8 May 1911.  His landmark recordings from 1936–37 display a combination of singing, guitar skills, and songwriting talent that has influenced later generations of musicians.  Johnson's shadowy, poorly documented life and untimely death have given rise to much legend, including the Faustian myth that he sold his soul at a crossroads to achieve success.  As an itinerant performer who played mostly on street corners, in juke joints, and at Saturday night dances, Johnson had little commercial success or public recognition in his lifetime and his records sold poorly during his lifetime.  It was only after the reissue of his recordings in 1961 on the LP King of the Delta Blues Singers that his work reached a wider audience.  Johnson is now recognized as a master of the blues, particularly of the Mississippi Delta blues style.  He is credited by many rock musicians as an important influence; Eric Clapton has called Johnson "the most important blues singer that ever lived."  Johnson was inducted into the Rock and Roll Hall of Fame as an "Early Influence" in their first induction ceremony in 1986.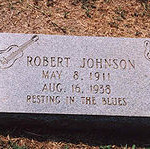 The Final Footprint –  The exact location of his grave is officially unknown.  Johnson may have been buried in the graveyard of the Mount Zion Missionary Baptist Church near Morgan City, not far from Greenwood, in an unmarked grave.  A one-ton cenotaph in the shape of an obelisk, listing all of Johnson's song titles, with a central inscription by Peter Guralnick, was placed at this location in 1990, paid for by Columbia Records and numerous smaller contributions made through the Mt. Zion Memorial Fund.  In 1990 a small marker with the epitaph "Resting in the Blues" was placed in the cemetery of Payne Chapel near Quito by an Atlanta rock group named the Tombstones, after they saw a photograph in Living Blues magazine of an unmarked spot alleged by one of Johnson's ex-girlfriends to be Johnson's burial site.  More recent research by Stephen LaVere (including statements from Rosie Eskridge, the wife of the supposed gravedigger) indicates that the actual grave site is under a big pecan tree in the cemetery of the Little Zion Church, north of Greenwood along Money Road.  Sony Music has placed a marker at this site.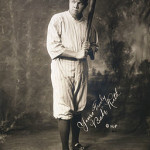 On this day in 1948, baseball player, 2x All-Star, 7x World Series Champion, AL MVP, New York Yankees #3 retired, home run king, baseball Hall of Famer, the Bambino, the Sultan of Swat, American Icon, Babe Ruth died in New York City at age 53 from cancer. Born George Herman Ruth on 6 February 1895 in Baltimore, Maryland.  He was a Major League Baseball (MLB) pitcher and outfielder who played for 22 seasons on three teams, from 1914 through 1935.  He was known for his hitting brilliance setting career records in his time for home runs (714, since broken), slugging percentage (.690), runs batted in (RBI) (2,213, since broken), bases on balls (2,062, since broken), and on-base plus slugging (OPS) (1.164).  Ruth originally entered the major leagues with the Boston Red Sox as a starting pitcher, but after he was sold to the New York Yankees in 1919, he converted to a full-time right fielder. He subsequently became one of the American League's most prolific hitters and with his home run hitting prowess, he helped the Yankees win seven pennants and four World Series titles.  Ruth retired in 1935 after a short stint with the Boston Braves, and the following year, he became one of the first five players to be elected into the National Baseball Hall of Fame.  Ruth was the first player to hit 60 home runs in one season (1927), a mark not surpassed until another Yankee right fielder, Roger Maris, hit 61 in 1961.  Ruth's lifetime record of 714 home runs stood until 1974, when it was surpassed by Hank Aaron.  Unlike many power hitters, Ruth also hit for a high batting average: his .342 lifetime average is the tenth highest in baseball history, and in one season (1923) he batted .393, a Yankee record.  Ruth dominated the era in which he played.  He led the league in home runs during a season twelve times, slugging percentage and OPS thirteen times each, runs scored eight times, and RBIs six times.  Ruth is credited with changing baseball itself.  The popularity of the game exploded in the 1920s, largely due to his influence.  Ruth ushered in the "live-ball era", as his big swing led to escalating home run totals that not only excited fans, but helped baseball evolve from a low-scoring, speed-dominated game to a high-scoring power game.  He has since become regarded as one of the greatest sports heroes in American culture.  Ruth's legendary power and charismatic personality made him a larger than life figure in the "Roaring Twenties" and one of the first sports celebrity superstars whose fame transcended sports.  Off the field, he was famous for his charity contributions which included helping children to learn and play baseball, and for his often reckless lifestyle.  Perhaps the greatest baseball player and hitter of all time.  Ruth married two times; Margaret Helen Woodford (1914 – 1929 her death) and Clara Mae "Claire" Merritt Hodgson (1928 – 1948 his death).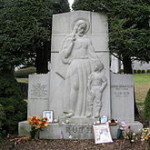 The Final Footprint – His body lay in repose in Yankee Stadium.  An estimated 77,000 people filed past to pay him tribute.  His funeral was two days later at St. Patrick's Cathedral, New York, outside of which a crowd estimated at 75,000 waited.  Ruth was then buried in the Cemetery of the Gate of Heaven in Hawthorne, New York.  At his death, the New York Times called Babe Ruth, "a figure unprecedented in American life. A born showman off the field and a marvelous performer on it, he had an amazing flair for doing the spectacular at the most dramatic moment."  The Yankees added a monument to Monument Park at Yankee Stadium to honor Ruth.  Monument Park is an open-air museum containing a collection of monuments, plaques, and retired numbers honoring distinguished members of the Yankees.  Other notable Yankees whose final footprints include memorialization in Monument Park; Lou Gehrig, Joe DiMaggio, George Steinbrenner, Casey Stengel, Thurman Munson, Mickey Mantle, Roger Maris, Phil Rizzuto, Billy Martin, Mel Allen and Bob Sheppard.  Other notable final footprints at Gate of Heaven include; James Cagney, Billy Martin, Sal Mineo, and Dutch Schultz.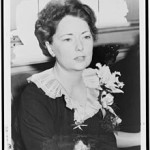 On this day in 1949, author of Gone with the Wind (1936), Pulitzer Prize recipient, Margaret Mitchell died at Grady Hospital five days after being struck by a speeding automobile as she crossed Peachtree Street at 13th Street in Atlanta with her husband, John Marsh, while on her way to see a movie.  She was 48.  Born Margaret Munnerlyn Mitchell on 8 November 1900 in Atlanta.  Mitchell began writing Gone with the Wind in 1926 to pass the time while recovering from an auto-crash injury that refused to heal.  In April 1935, Harold Latham of Macmillan, an editor who was looking for new fiction, read what she had written and saw that it could be a best-seller.  After Latham agreed to publish the book, Mitchell worked for another six months checking the historical references, and rewrote the opening chapter several times.  Mitchell and her husband John Marsh, a copy editor by trade, edited the final version of the novel.  Mitchell wrote the book's final moments first, and then wrote the events that led up to it.  The story is set in Clayton County, Georgia, and Atlanta during the American Civil War and Reconstruction.  It depicts the experiences of Rhett Butler and Scarlett O'Hara, the spoiled daughter of a well-to-do plantation owner, Gerald O'Hara, who must use every means at her disposal to come out of the poverty she finds herself in after the war.  On 15 December 1939 an estimated one million people came to Atlanta for the premiere of David O. Selznick's epic film based on Mitchell's novel.  The film was immensely popular, becoming the highest-earning film made up to that point and has become ingrained in popular culture.  It has placed in the top ten of the American Film Institute's list of top 100 American films since the list's inception in 1998, and in 1989, Gone with the Wind was selected to be preserved by the National Film Registry.  The Final Footprint – Mitchell is interred in Oakland Cemetery in Atlanta.  GWTW ranked as the second most favorite book by American readers, just behind the Bible, according to a 2008 Harris Poll.  As of 2010, more than 30 million copies have been printed in the United States and abroad.  The book routinely appears on best English-Language novels lists.  Another notable final footprint at Oakland is that of Bobby Jones.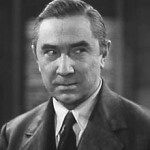 On this day in 1956, actor Béla Lugosi died of a heart attack while lying on a couch in his Los Angeles home, at the age of 73.  Born Béla Ferenc Dezső Blaskó in Lugos, Kingdom of Hungary (now Lugoj, Romania) on 20 October 1882.  Lugosi is famous for starring in the first talking film version of Dracula and for his roles in various other horror films.  He had been playing small parts on the stage in his native Hungary before making his first film in 1917, but had to leave the country after the failed Hungarian Revolution, and arrived in America as a seaman on a merchant ship.  In 1927, he appeared as Count Dracula in a Broadway adaptation of Bram Stoker's novel.  He would appear in the classic 1931 Dracula film by Universal Pictures.  Lugosi married five times; Ilona Szmick (1917 – 1920 divorce), Ilona von Montagh (1921 – 1924 divorce), Beatrice Weeks (1929 – 1929 divorce), Lillian Arch (1933 – 1953 divorce), Hope Lininger (1955 – 1956 his death).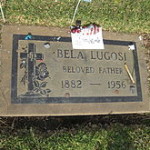 The Final Footprint – Lugosi was interred wearing one of the Dracula Cape costumes in the Holy Cross Cemetery in Culver City, California.  Holy Cross Cemetery is a Roman Catholic cemetery at 5835 West Slauson Avenue in Culver City, operated by the Roman Catholic Archdiocese of Los Angeles.  Other notable final footprints at Holy Cross include; actor John Candy, Bing Crosby, Jimmy Durante, John Ford, the voice of the Los Angeles Lakers Chick Hearn, Rita Hayworth, Al Martino, actress Audrey Meadows, Ricardo Montalbán, actor Chris Penn, Jo Stafford, and Sharon Tate.
Have you planned yours yet?
Follow TFF on twitter @RIPTFF