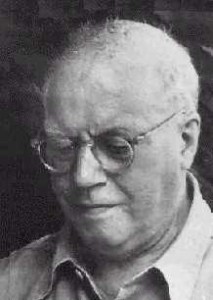 On this day in 1973 novelist and poet, Pulitzer Prize recipient, Poet Laureate, Conrad Aiken died in Savannah, Georgia at the age of 84.  Born Conrad Potter Aiken on 5 August 1889 in Savannah.  A good source for information on Aiken's life is his autobiographical novel Ushant (1952).  In this book he writes of his various affairs and marriages, his attempted suicide and fear of insanity, and his friendships with T.S. Eliot (who appears in the book as The Tsetse), Ezra Pound (Rabbi Ben Ezra), and others.  He was a graduate of Harvard.  Aiken married three times; Jessie McDonald (1912-1929 divorce), Clarissa Lorenz (1930) and Mary Hoover (1937-1973 his death).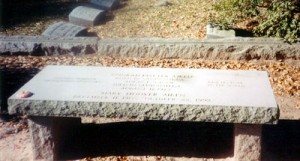 The Final Footprint – Aiken is interred in Bonaventure Cemetery in Savannah.  His wife Mary was interred next to him upon her death in 1992.  Their graves are marked with an engraved granite bench with two epitaphs; GIVE MY LOVE TO THE WORLD and COSMOS MARINER DESTINATION UNKNOWN.  The grave was made famous by its mention in John Berendt's non-fiction book, Midnight in the Garden of Good and Evil (1994), one of my favorite books.  The book was subsequently made into a 1997 movie, directed by Clint Eastwood and based loosely on Berendt's story.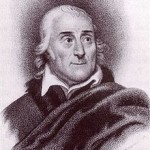 On this day in 1838, Venetian opera librettist and poet Lorenzo Da Ponte died in New York at the age of 89.  Born Emanuele Conegliano in Ceneda, in the Republic of Venice (now Vittorio Veneto, Italy) on 10 March 1749.  He was Jewish by birth, the eldest of three sons.  In 1764, his father, the widower Geronimo Conegliano, converted himself and his family to Roman Catholicism in order to remarry.  Emanuele, as was the custom, took the name of Lorenzo Da Ponte from the Bishop of Ceneda who baptised him.  He wrote the librettos for 28 operas by 11 composers, including three of Mozart's greatest operas, Don Giovanni, The Marriage of Figaro and Così fan tutte.  The Final Footprint – An enormous funeral ceremony was held in New York's old St. Patrick's Cathedral on Mulberry Street.  Some sources state that Da Ponte is buried in Calvary Cemetery in Queens, but that cemetery did not exist before 1848.  Other sources say Da Ponte was buried in Green-Wood Cemetery, as a rural cemetery in Kings County, New York.  Calvary Cemetery does contain a stone marker to serve as a memorial to Da Ponte.  Other notable final footprints at Green-Wood include; Leonard Bernstein, Charles Ebbets, and Louis Comfort Tiffany.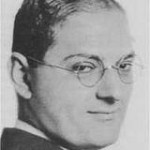 On this day in 1983, lyricist, Academy Award nominee, Pulitzer Prize recipient, Ira Gershwin died in Beverly Hills, California, at the age of 86.  Born Israel Gershowitz on 6 December 1896 in New York City.  He collaborated with his younger brother, composer George Gershwin, to create some of the most memorable songs of the 20th century.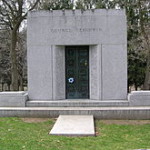 The Final Footprint – He is entombed in the George Gershwin Private Mausoleum at Westchester Hills Cemetery in Hastings-on-Hudson, New York with his brother George.  Notable songs he wrote lyrics for include:
"But Not For Me"
"Embraceable You"
"I Can't Get Started"
"I Got Rhythm"
"Nice Work if You Can Get It"
"The Man I Love"
"They Can't Take That Away From Me"
"Someone to Watch Over Me"
"'S Wonderful"
"The Man That Got Away"
"Strike Up the Band"
Have you planned yours yet?
Follow TFF on twitter @RIPTFF