On this day in 1850 French novelist and playwright Honoré de Balzac died in Paris at the age of 51.  Born 20 May 1799 in Tours, Indre-et-Loire, France.  Perhaps best for known for his sequence of short stories and novels collectively entitled La Comédie humaine, which presents a panorama of French life in the years after the 1815 fall of Napoleon.  Balzac influenced the writers and popular culture of his time and beyond.  Balzac might be as well-known for his literary legacy as he is for his tumultuous love life.  At twenty-three, he fell for Mme. Berny, a woman nearly twice his age known as "la Dilecta," whose creative and intellectual influence on Balzac had a profound impact on shaping his budding voice.  When the two split up in 1832, he entered a troubled relationship with the Marquise de Castries, whom he later portrayed rather unflatteringly in The Duchesse of Langeais.  That year, he received a fan letter from Countess Ewelina Hańska, a married Polish noblewoman to whom he came to refer to as "The Foreigner."  They embarked upon an intense correspondence, which quickly escalated into a passionate bond, which lasted seventeen years.  The two met twice, once in Switzerland the following year, and once in Vienna in 1835, and the two vowed to marry once Ewelina's husband died.  Though the Count passed away in 1842, Balzac's poor finances prevented the couple from marrying.  In March of 1850, when he was already fatally ill, the two finally wed, five months before Balzac died in Paris.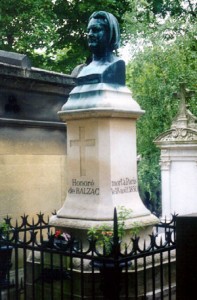 The Final Footprint – Balzac is interred at the Cimetière du Père Lachaise in Paris.  Victor Hugo served as a pallbearer and eulogist and Alexandre Dumas attended the funeral.  His grave is marked by a large stone monument topped by a bronze bust of Balzac.  He became the subject of a monumental statue by the French sculptor Auguste Rodin, which stands near the intersection of Boulevard Raspail and Boulevard Montparnasse.  Other notable Final Footprints at Père Lachaise include; Georges Bizet, Jean-Dominique Bauby, Maria Callas, Frédéric Chopin, Colette, Auguste Comte, Jean-Baptiste-Camille Corot, Eugène Delacroix, Molière, Jim Morrison, Édith Piaf, Camille Pissarro, Marcel Proust, Sully Prudhomme, Gioachino Rossini, Georges-Pierre Seurat, Gertrude Stein, Alice B. Toklas,  Oscar Wilde, and Richard Wright.
Have you planned yours yet?
Follow TFF on twitter @RIPTFF