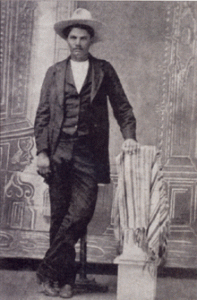 On this day in 1895, outlaw, gambler and gunfighter John Wesley Hardin died in El Paso, Texas at the age of 42.  He was shot in the back of the head by John Selman.  Born on 26 May 1853 in Bonham, Texas.  Hardin was apparently acquainted with Wild Bill Hickok.  Hardin married twice; Jane Bowen and Carolyn Jane "Callie" Lewis.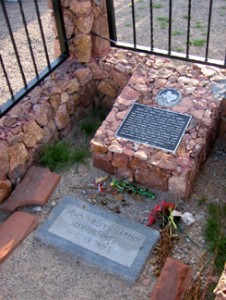 The Final Footprint – Hardin is interred in Concordia Cemetery in El Paso.  His grave is enclosed by a wrought iron fence and marked by a flat granite marker and a Texas state historical marker.  Hardin's legacy as an outlaw has made him a colorful character and subject in books, films and music including: in Larry McMurty's novel Streets of Laredo (1993); as portrayed by Rock Hudson in The Lawless Breed (1953); as portrayed by Randy Quaid in the television mini-series adaptation of McMurtry's Streets of Laredo (1995); Johnny Cash wrote and recorded a song called "Hardin Wouldn't Run"; Bob Dylan recorded an album called John Wesley Harding (1967) with a title track of the same name, both misspelled; and Hardin is mentioned in Michael Martin Murphey's song "Rhymes of the Renegades".
Have you planned yours yet?
Follow TFF on twitter @RIPTFF