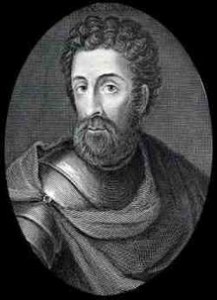 On this day in .  Born circa 1270 at Elderslie, Renfrewshire, Scotland.  Little is known of the details of Wallace's life.  Most of what we know of him comes from the fifteenth-century ballad "The Wallace" by the anti-English bard Blind Harry.  From the year 1296 Wallace fought valiantly for Scotland's freedom.  Along with Andrew Moray, Wallace defeated an English army at the Battle of Stirling Bridge in 1297.  In July 1298, however, Wallace lost to Edward I's, Longshanks, forces at Falkirk.  In the years that followed, Wallace would try to rally support for the Scottish cause; but these efforts met with little success.  He was captured in 1305 and executed in London in August of that year.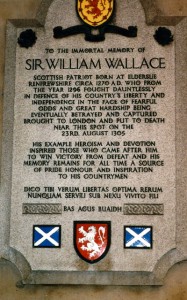 The Final Footprint – Wallace was beheaded and his body quartered and the parts were scattered across England and Scotland.  The left upper quarter of his body is entombed in the wall of Saint Machars Cathedral in Aberdeen.  In 1869 the Wallace Monument was erected, very close to the site of his victory at Stirling Bridge.  In 1995, actor/director Mel Gibson made the Academy Award winning film Braveheart, which was inspired by Wallace's story.  Though some of the movie is fabrication, Braveheart renewed interest in Wallace and stimulated resurgent Scottish separatist sentiment.  A placque was erected in a wall of St. Bartholomew's Hospital near the site of his execution that reads:  "To the immortal memory of Sir William Wallace, Scottish Patriot born at Elderslie. Renfrewshire circa 1270 A.D who from 1296 fought dauntlessly in defence of his country's liberty and independence in the face of fearful odds and great hardship being eventually betrayed and captured brought to London and put to death near this spot on 23 August 1305.  His example heroism and devotion inspired those who came after him to win victory from defeat and his memory remains for all time a source of pride honour and inspiration to his countrymen.  Dico tibi verum libertas optima rerum nunquam servili sub nexu vivito fili.  Bas agus Buaidh.  (Death and Victory)"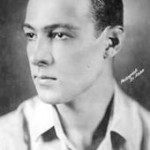 On this day, 23 August in 1926, actor, "The Latin Lover", Rudolph Valentino died in New York City from peritonitis and pleuresy at the age of 31.  Born Rodolfo Alfonso Raffaello Pierre Filibert Guglielmi di Valentina D'Antonguolla on 6 May 1895 in Castellaneta, Puglia, Kingdom of Italy.  He starred in several well known silent films including The Four Horsemen of the Apocalypse, The Sheik, Blood and Sand, The Eagle and Son of the Sheik.  His sudden death at age 31 caused mass hysteria among his female fans, propelling him into icon status.  Though his films are not as well known today, his name is still widely known.  Valentino was married twice; Jean Acker (1919-1923 divorce) and Natacha Rambova (1923-1926 his death).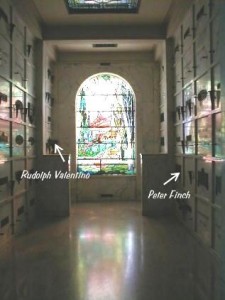 The Final Footprint – Valentino is entombed in the Cathedral Mausoleum at Hollywood Forever Cemetery in Hollywood.  An estimated 100,000 people lined the streets of New York City to pay their respects at his funeral, handled by the Frank E. Campbell Funeral Home, a Dignity Memorial location.  Other notable funerals at Frank E. Campbell include; Aaliyah, Irving Berlin, Lord Buckley, James Cagney, Oleg Cassini, Montgomery Clift, Frank Costello, Joan Crawford, Malcolm Forbes, Greta Garbo, Judy Garland, George Gershwin, Jim Henson, Peter Jennings, Jacqueline Kennedy Onassis, Heath Ledger, John Lennon, Norman Mailer, Bat Masterson, Notorious B.I.G., Les Paul, Ayn Rand, Igor Stravinsky, Ed Sullivan, Arturo Toscanini, Luther Vandross and Tennessee Williams.  Other notable Final Footprints at Hollywood Forever include voice actor Mel Blanc (yes, his epitaph is "That's All Folks!"), director/producer Cecil B. DeMille, director Victor Fleming, actress Judy Garland, actress Joan Hackett, director John Huston, actress Hattie McDaniel's cenotaph, actress Jayne Mansfield's cenotaph, mobster Bugsy Siegel, and actress Fay Wray.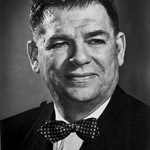 On this day in 1960 Tony and Academy Award-winning lyricist Oscar Hammerstein II died of stomach cancer at his home Highland Farm in Doylestown, Pennsylvania at the age of 65.  Hammerstein won eight Tony Awards and two Academy Awards for Best Original Song. Many of his songs are standard repertoire for singers and jazz musicians.  He co-wrote 850 songs.  Hammerstein was the lyricist and playwright in his partnerships; his collaborators wrote the music.  Hammerstein collaborated with composers Jerome Kern (Showboat), Vincent Youmans, Rudolf Friml, Richard A. Whiting and Sigmund Romberg.  But perhaps his most famous collaboration was with Richard Rodgers (Oklahoma!, Carousel, South Pacific, The King And I, The Sound of Music).  Born Oscar Greeley Clendenning Hammerstein II on 12 July 1895 in New York City.  The Final Footprint –   The lights of Times Square were turned off for one minute, and London's West End lights were dimmed in recognition of his contributions.  He was cremated and his cremains are interred at Ferncliff Cemetery in Hartsdale, New York.  A memorial plaque was unveiled at Southwark Cathedral, England, on 24 May 1961.  Other notable Final Footprints at Ferncliff include:  Aaliyah, Joan Crawford, Thelonious Monk, and Jerome Kern.  John Lennon and Nelson Rockefeller were cremated at Ferncliff.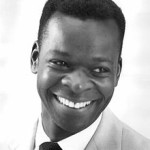 And on this day in 2005 actor Brock Peters died in Los Angeles from pancreatic cancer at the age of 78. Born George Fisher on 2 July 1927 in New York City.  Fondly remembered for his portrayal of Tom Robinson in the film To Kill A Mockingbird (1962) and for his portrayal of Admiral Cartwright in the Star Trek motion pictures series.  The Final Footprint – He is interred in Forest Lawn Memorial Park Hollywood Hills in Los Angeles.  Other notable final footprints at Hollywood Hills include Gene Autry, Bobby Fuller, Strother Martin, and Ricky Nelson.
Have you planned yours yet?
Follow TFF on twitter @RIPTFF