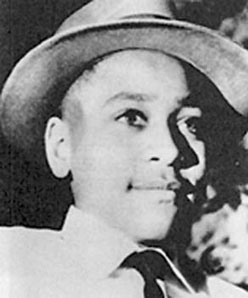 On this day in 1955 "Bobo", Emmett Till was murdered near Money, Mississippi at the age of 14.  Born Emmett Louis Till on 25 July 1941 in Chicago.  Till's murder is noted as one of the leading events that motivated the African-American Civil Rights Movement.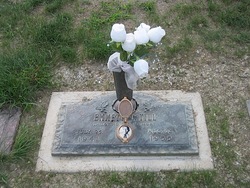 The Final Footprint – Till is interred in Burr Oak Cemetery in Alsip, Illinois.  His grave is marked by an individual flat bronze on concrete marker with a cameo photo.  His mother, Mamie Carthan, insisted on a public funeral service with an open casket to show the world the brutality of the killing.  Images of his mutilated body were published in black magazines and newspapers, rallying popular black support and white sympathy across the U.S.  A statue was unveiled in Denver in 1976 (since moved to Pueblo, Colorado) featuring Till with Martin Luther King, Jr.  Till was included among the forty names of people who had died in the Civil Rights Movement (listed as martyrs) on the granite sculpture of the Civil Rights Memorial in Montgomery, Alabama, dedicated in 1989.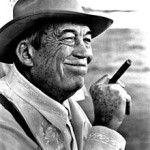 On this day in 1987, film director, screenwriter and actor, John Huston, died in Middletown, Rhode Island from pneumonia as a complication of lung disease in his rented home at the age of 81.  Born John Marcellus Huston on 5 August 1906, in Nevada, Missouri.  He wrote the screenplays for most of the 37 feature films he directed, many of which are today considered classics: The Maltese Falcon (1941), The Treasure of the Sierra Madre (1948), Key Largo (1948), The Asphalt Jungle (1950), The African Queen (1951), Moulin Rouge (1952), The Misfits (1961), and The Man Who Would Be King (1975).  During his 46-year career, Huston received 15 Oscar nominations, won twice, and directed both his father, Walter Huston, and daughter, Anjelica Huston, to Oscar wins in different films.  Huston was known to direct with the vision of an artist, having studied and worked as a fine art painter in Paris in his early years.  He continued to explore the visual aspects of his films throughout his career: sketching each scene on paper beforehand, then carefully framing his characters during the shooting.  In addition, while most directors rely on post-production editing to shape their final work, Huston instead created his films while they were being shot, making his films both more economical and more cerebral, with little editing needed.  Before becoming a Hollywood filmmaker, he had been an amateur boxer, reporter, short-story writer, portrait artist in Paris, a cavalry rider in Mexico, and a documentary filmmaker during World War II.  Huston has been referred to as "a titan", "a rebel" and a "renaissance man", in the Hollywood film industry.  Author Ian Freer describes him as "cinema's Ernest Hemingway"—a filmmaker who was "never afraid to tackle tough issues head on."  Besides sports and adventure, Huston enjoyed hard liquor and relationships with women of all types — one of the reasons he was married five times; Dorothy Harvey (1925–1926; divorce), Lesley Black (1937–1945; divorce), actress Evelyn Keyes (Suellen O'Hara in Gone with the Wind) (1946–1950; divorce), Enrica Soma (mother of Anjelica) (1950–1969; her death), and Celeste Shane (1972–1977; divorce).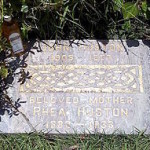 The Final Footprint – Huston is interred next to his mother in the Hollywood Forever Cemetery in Hollywood.  Other notable Final Footprints at Hollywood Forever include voice actor Mel Blanc (yes, his epitaph is "That's All Folks!"), director/producer Cecil B. DeMille, director Victor Fleming, Judy Garland, actress Joan Hackett, actress Hattie McDaniel's cenotaph, actress Jayne Mansfield's cenotaph, mobster Bugsy Siegel, Rudolph Valentino, and actress Fay Wray.
Have you planned yours yet?
Follow TFF on twitter @RIPTFF