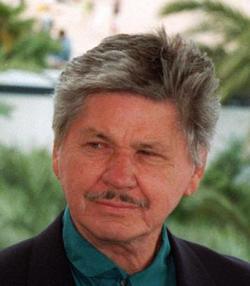 On this day in 2003 actor Charles Bronson died of pneumonia at Cedars-Sinai Medical Center in Los Angeles at the age of 81.  Born Charles Dennis Buchinski 3 November 1921 in Ehrenfeld, Pennsylvania.  My favorite Bronson movies inlcude: John Sturges' The Magnificent Seven (1960) with Yul Brynner, Steve McQueen, James Coburn, Robert Vaughn and Eli Wallach and filmscore by Elmer Bernstein; The Dirty Dozen (1967) with Lee Marvin, Ernest Borgnine, Telly Savalas, and Jim Brown; Sergio Leone's Once Upon a Time in the West (1968) with Claudia Cardinale, Henry Fonda and Jason Robards; as Wild Bill Hickok in The White Buffalo (1977) with Kim Novak, Jack Warden, Slim Pickens and Will Sampson; as Albert Johnson in Death Hunt (1981) with Lee Marvin, Angie Dickinson and Carl Weathers.  Bronson was married three times; Harriet Tendler (1949-1967 divorce), actress Jill Ireland (1968-1990 her death) and Kim Weeks (1998-2003 his death).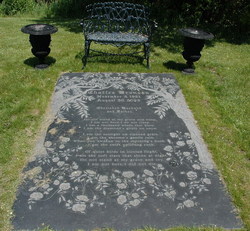 The Final Footprint – Bronson is buried in Brownsville Cemetery in West Windsor, Vermont.  His grave is marked with a full ledger engraved granite marker.  It is engraved with the term of endearment, Cherished Husband and Father and with the following popular bereavement poem by Mary Elizabeth Frye:
Do not stand at my grave and weep.
I am not here.  I do not sleep.
I am a thousand winds that blow.
I am the diamond's glints on snow.
I am the sunlight on ripened grain.
I am the autumns' gentle rain.
When you awaken in the morning's rush,
I am the swift uplifting rush,
Of quiet birds in circled flight.
I am the soft stars that shine at night.
Do not stand at my grave and cry.
I am not here, I did not die
On this day in 1970, the man who unexpectedly filmed the assassination of JFK, Abraham Zapruder died of stomach cancer in Dallas at the age of 65.  Born into a Russian-Jewish family in the city of Kovel in Ukraine on 15 May 1905.  The Final Footprint – Zapruder is interred in Emanu-El Cemetery in Dallas.  His wife was interred next to him after her death in 1993.  Their graves are marked by a companion engraved flat granite marker.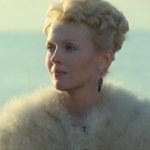 On this day in 1979, actress Jean Seberg died at the age of 40 from an apparent intentional overdose of barbiturates in the back seat of her Renault, which was parked close to her Paris apartment in the 16th arrondissement.  Born Jean Dorothy Seberg on 13 November 1938 in Marshalltown, Iowa.  She starred in 37 films in Hollywood and in Europe, including Bonjour Tristesse (1958), À bout de soufflé (Breathless) (1960), the musical Paint Your Wagon (1969), and the disaster film Airport (1970).  Seberg is also one of the best-known targets of the FBI COINTELPRO project.  Her victimization was rendered as a well-documented retaliation for her support of civil rights and activist groups in the 1960s.  Seberg married François Moreuil (1958 – 1960 divorce), Romain Gary (1963 – 1970 divorce) and Dennis Berry (1972 – 1979 separated, her death).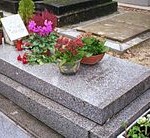 The Final Footprint – Seberg was interred in the Cimetière du Montparnasse, Paris.  Montparnasse Cemetery is the eternal home of many of France's intellectual and artistic elite as well as publishers and others who promoted the works of authors and artists.  There are also monuments to police and firefighters killed in the line of duty in the city of Paris.  There are also many graves of foreigners who have made France their home.  The cemetery is divided by Rue Émile Richard. The small section is usually referred to as the small cemetery (petit cimetière) and the large section as the big cemetery (grand cimetière).  Other notable Final Footprints at Montparnasse include; Charles Baudelaire, Samuel Beckett, Simone de Beauvoir, Emmanuel Chabrier, Guy de Maupassant, Adah Isaacs Menken, Camille Saint-Saëns, Jean-Paul Sartre, and  and Susan Sontag.
Have you planned yours yet?
Follow us on twitter @RIPTFF