On this day in 1207, Provençal troubadour, poet, knight Raimbaut de Vaqueiras or Vaqueyras died in an ambush in Greece by Bulgarian insurgents.  His body was lost or destroyed.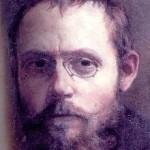 On this day in 1914, French poet, essayist, and editor Charles Péguy died in battle, shot in the forehead, in Villeroy, Seine-et-Marne during World War I, on the day before the beginning of the Battle of the Marne.  Born on 7 January 1873 in Orléans.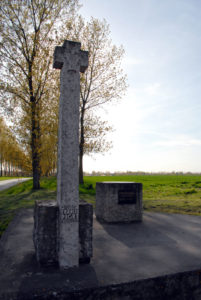 The Final Footprint – He is interred in a communal grave in the Grande Tombe de Villeroy, Seine-et-Marne, Ile-de-France, France.  Péguy wrote: "There will be things that I do that no one will be left to understand."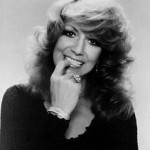 On this day in 1991, singer and songwriter Dottie West died at the age of 58 from injuries sustained in a car accident at the Opryland exit on Briley Parkway in Nashville.  Born Dorothy Marie Marsh outside McMinnville, Tennessee on 11 October 1932.  In my opinion, West is one of country music's most influential and groundbreaking female artists.  Her career started in the early 1960s, with her Top 10 hit, "Here Comes My Baby Back Again," which won her the first Grammy Award for Best Female Country Vocal Performance in 1965.  In the 1960s, West was one of the few female country singers working in what was then a male-dominated industry.  Throughout the 1960s, West had country hits within the Top 10 and 20.  In the early 1970s, West wrote a popular commercial for the Coca-Cola company, titled "Country Sunshine".  She teamed up with country-pop superstar, Kenny Rogers for a series of duets earning Platinum selling albums and No. 1 records.  Her duet recordings with Rogers, like "Every Time Two Fools Collide," "All I Ever Need Is You," and "What Are We Doin' In Love," eventually became country-pop standards.  Her image and music came to the peak of her popularity as a solo act, and reaching No. 1 for the very first time on her own, in 1980 with her version of the Randy Goodrum and Brent Haher song, "A Lesson in Leavin'.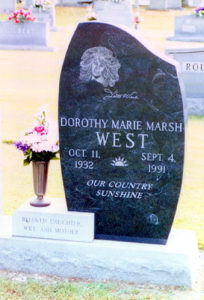 The Final Footprint – Her funeral was held at Christ Church on Old Hickory Boulevard.  There were 600 friends and family attendees, including Emmylou Harris, Connie Smith, Johnny Cash and June Carter Cash and Larry Gatlin.  Her friend and fellow artist, Steve Wariner, whom she had helped make it to Nashville as a young man, sang "Amazing Grace".  West is interred in Mount View Cemetery in McMinnville.  Her grave is marked by an individual upright granite marker with the term of endearment; Beloved Daughter, Wife and Monther and Our Country Sunshine.  On the back is the following; I was born a country girl I will die a country girl.  My world is made of blue skies and sunshine, green fields and butterflies.  I'm so glad I'm a country girl.  McMinnville dedicated Highway 56 to her memory, naming it the Dottie West Memorial Highway.  In 1995, actress Michele Lee, with the help of West's daughter Shelly, produced and starred in the made-for-TV biopic Big Dreams and Broken Hearts: The Dottie West Story. 
Have you planned yours yet?
Follow TFF on twitter @RIPTFF