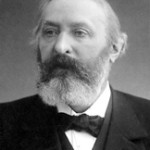 On this day in 1907, French poet and essayist, recipient of the first Nobel Prize in Literature, Sully Prudhomme died at Châtenay-Malabry, at the age of 68.  Born René François Armand Prudhomme on 16 March 1839 in Paris.  The first ever winner of the Nobel Prize in Literature, in 1901.  Prudhomme originally studied to be an engineer, but turned to philosophy and later to poetry; he declared it as his intent to create scientific poetry for modern times. In character sincere and melancholic, he was linked to the Parnassus school, although his work displays characteristics of its own.  The Final Footprint – Prudhomme is interred at Père-Lachaise Cemetery in Paris.  Other notable Final Footprints at Père Lachaise include; Honoré de Balzac, Georges Bizet, Jean-Dominique Bauby, Maria Callas, Frédéric Chopin, Colette, Auguste Comte, Jean-Baptiste-Camille Corot, Molière, Jim Morrison, Édith Piaf, Camille Pissarro, Marcel Proust, Gioachino Rossini, Georges-Pierre Seurat, Gertrude Stein, Alice B. Toklas, Oscar Wilde, and Richard Wright.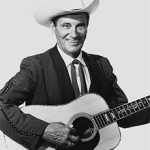 On this day in 1984, singer songwriter, The Texas Troubadour, the original E.T., Ernest Tubb died from emphysema in Nashville at the age of 70.  Born Ernest Dale Tubb on 9 February 1914 in Ellis County Texas.  One of the pioneers of country music, his biggest career hit song, "Walking the Floor Over You" (1941), marked the rise of the honky tonk style of music.  In 1948, he was the first singer to record a hit version of "Blue Christmas".  Another well-known Tubb hit was "Waltz Across Texas" (1965), which became one of his most requested songs and is often used in dance halls throughout Texas during waltz lessons.  Tubb recorded duets with the then up-and-coming Loretta Lynn in the early 1960s, including their hit "Sweet Thang".  Tubb is a member of the Country Music Hall of Fame.  My favorite E.T. song is Waltz across Texas.  The Final Footprint – Tubb was buried at Hermitage Memorial Gardens, a Dignity Memorial property, in Old Hickory, Tennessee.  His grave is marked by a large custom flat bronze on granite memorial.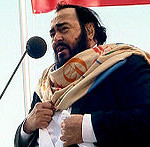 On this day in 2007, one of the greatest opera tenors, The King of the High C's, Luciano Pavarotti, died of kidney failure brought on by pancreatic cancer, at his home in Modena, Italy.  Born 12 October 1935 in Modena.  One of the most commercially successful tenors of all time.  He made numerous recordings of complete operas and individual arias, gaining worldwide fame for the brilliance and beauty of his tone, especially into the upper register, and eventually established himself as one of the finest tenors of the 20th century.  As one of The Three Tenors, Pavarotti became well known for his televised concerts and media appearances.  From the beginning of his professional career as a tenor in 1961 in Italy to his final performance of "Nessun dorma" at the 2006 Winter Olympics in Turin, Pavarotti was at his best in bel operas, pre-Aida Verdi roles and Puccini works such as La bohème, Tosca, and Madama Butterfly.  Pavarotti was also noted for his charity work on behalf of refugees and the Red Cross, amongst others.  He made his opera debut in April 1961, in the role of Rudolfo in the opera La bohème.  In 1963, he made his international debut in the same role at London's Royal Opera House.  He became the first tenor in opera history to hit all nine high C notes in the aria Quel Destin in the opera The Daughter of the Regiment by Gaetano Donizetti.  The Final Footprint – Pavarotti's funeral was held in Modena Cathedral.  Romano Prodi and Kofi Annan attended.  The Frecce Tricolori, the aerobatic demonstration team of the Italian Air Force, flew overhead, leaving green-white-red smoke trails.  After a funeral procession through the centre of Modena, Pavarotti's coffin was taken the final ten kilometres to Montale Rangone, a village part of Castelnuovo Rangone, and was entombed in the Pavarotti family crypt.  The funeral, in its entirety, was also telecast live on CNN.  The Vienna State Opera and the Salzburg Festival Hall flew black flags in mourning.  Tributes were published by many opera houses, such as London's Royal Opera House.  The Italian football giant Juventus F.C., of which Pavarotti was a lifelong fan, was represented at the funeral and posted a farewell message on its website which said: "Ciao Luciano, black-and-white heart" referring to the team's famous stripes when they play on their home ground.  Luciano Pavarotti:  Bravo!
Have you planned yours yet?
Follow TFF on twitter @RIPTFF