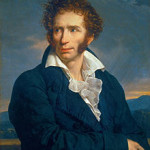 On this day in 1827,  Italian writer, revolutionary and poet Ugo Foscolo died  at Turnham Green, England.  Born Niccolò Ugo Foscolo on the Ionian island of Zakynthos, Republic of Venice, on 6 February 1778.  The Final Footprint – Foscolo was entombed in Old Chiswick Cemetery, in Chiswick, England.  Forty-four years after his death, on 7 June 1871, his remains were brought to Florence, and with all the pride, pomp and circumstance of a great national mourning, found their final resting-place beside the monuments of Machiavelli and Alfieri, of Michelangelo and Galileo, in the church of Santa Croce, the pantheon of Italian glory he had celebrated in Dei sepolcri.  His tomb in the cemetery of St. Nicholas parish church, Chiswick, in West London has recently been restored, it refers to him as the "wearied citizen poet" and incorrectly states his age as 50.
On this day in 1931, Sicilian organized crime figure, early Cosa Nostra boss in the United States, capo di tutti capi, boss of bosses, Salvatore Maranzano died inside his office on the 9th floor of The Helmsley Building in Midtown Manhattan, from multiple gunshot and stab wounds, at the age of 45.  Born on 31 July 1886 in Castellammare del Golfo, Sicily.  He instigated the Castellammarese War to seize control of the American Mafia operations, and briefly became the Mafia's "Boss of Bosses".  He was assassinated by a younger faction led by Lucky Luciano, who established a power-sharing arrangement rather than a "boss of bosses" to prevent future wars.  The Final Footprint – Maranzano and his wife Elisabetta (who died in 1964) are buried in Saint John's Cemetery, Queens, located in New York City.  Maranzano plays a small fictionalized role in Mario Puzo's The Godfather.  Maranzano refused Don Vito Corleone's proposal to share his monopoly on gambling in New York City, in exchange for police and political contacts and expansion into Brooklyn and the Bronx.  Maranzano arranged for two of Al Capone's gunmen to come to New York and finish Corleone.  Through his contacts in Chicago, Corleone found out, and sent Luca Brasi to murder the gunmen.  With Capone out of the picture, the great mob war of 1933 had begun.  Desperate for peace, Maranzano agreed to a sit down in a restaurant in Brooklyn, where he was killed by Salvatore Tessio and his men.  Afterwards, Corleone called a meeting to reorganize the American Mafia, something that the real life Maranzano did.  Other notable, and infamous, final footprints at Saint John's include Joe Colombo, Carlo Gambino, John Gotti, Luciano and Vito Genovese.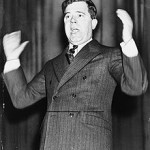 On this day in 1935, the 40th Governor of Louisiana, United States Senator, The Kingfish, Huey Long died from gunshot wounds he sustained at the Louisiana State Capitol building in Baton Rouge during a confrontation with Dr. Carl Weiss.  Born Huey Pierce Long, Jr. 0n 30 August 1893 in Winnfield, Louisiana.  A Democrat, he was an outspoken populist, partially inspired by sansepolcrista Italian fascism.  During his tenure, he commanded large networks of supporters and was willing to take forceful action, influencing claims that he was a political boss.  He established the political prominence of the Long political family.  Long is best known for his Share Our Wealth program, created in 1934 under the motto "Every Man a King."  It proposed new wealth redistribution measures in the form of a net asset tax on corporations and individuals to curb the poverty and homelessness endemic nationwide during the Great Depression.  To stimulate the economy, Long advocated federal spending on public works, schools and colleges, and old age pensions.  He was an ardent critic of the policies of the Federal Reserve System.  A supporter of Franklin D. Roosevelt in the 1932 presidential election, Long split with Roosevelt in June 1933 to plan his own presidential bid for 1936 in alliance with the influential Catholic priest and radio commentator Charles Coughlin.  Under Long's leadership, hospitals and educational institutions were expanded, a system of charity hospitals was set up that provided health care for the poor, massive highway construction and free bridges brought an end to rural isolationism, and free textbooks for schoolchildren were introduced to tackle illiteracy.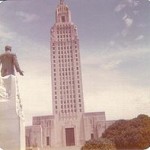 The Final Footprint – Long's body was dressed in a tuxedo and his open double casket (made of bronze with a copper inner liner covered with a glass lid) was placed in the State Capitol rotunda.  An estimated 200,000 people flooded Baton Rouge to witness the event.  Tens of thousands of Louisianans crowded in front of the Capitol on September 12, 1935, for the 4 p.m. funeral handled by Merle Welsh of Rabenhorst Funeral Home.  Welsh remembered that flowers came from all over the world and extended from the House of Representatives to the Senate chamber.  Airline Highway between New Orleans and Baton Rouge was jammed bumper-to-bumper. Newsreel cameras clicked while airplanes circled overhead to record the service for posterity.  Long was buried on the grounds of the State Capitol in Baton Rouge.  A large bronze statue on top of a marble column marks the site of his grave.  A plaque marks the site of the assassination inside the capitol.  Also, a bronze statue of Long is located in Statuary Hall of the U. S. Capitol.  Long's assassination put an end to his national movement, but his legacy continued in Louisiana through his wife, Senator Rose McConnell Long, and his son, Senator Russell B. Long.  The character Willie Stark from the novel All the King's Men by Robert Penn Warren appears to be loosely based on Long.  This is perhaps my all time favorite book.  The book has inspired two movies; the Oscar-winning 1949 version and a 2006 version starring Sean Penn.
Have you planned yours yet?
Follow TFF on twitter @RIPTFF