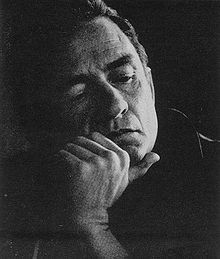 On this day in 2003, legendary county music singer and songwriter, member of The Highwaymen, the Man in Black, Johnny Cash died at the age of 71 at Baptist Hospital in Nashville from complications from diabetes.  Born J. R. Cash on 26 February 1932 in Kingsland, Arkansas.  In my opinion, one of the most influential musicians of the 20th century.  His songs and sound spanned genres from rock and roll and rockabilly to country, blues, folk, and gospel.  This crossover appeal won Cash the rare honor of induction in the Country Music Hall of Fame, the Rock and Roll Hall of Fame, and the Gospel Music Hall of Fame.  Cash was known for his deep, distinctive bass-baritone voice; a rebelliousness, coupled with an increasingly somber and humble demeanor; for providing free concerts inside prison walls; and for his dark performance clothing, which earned him the nickname "The Man in Black".  He traditionally began his concerts with the phrase "Hello, I'm Johnny Cash," followed by his standard "Folsom Prison Blues".   Much of Cash's music echoed themes of sorrow, moral tribulation and redemption, especially in the later stages of his career.  His best-known songs included "I Walk the Line", "Folsom Prison Blues", "Ring of Fire", "Get Rhythm", "Man in Black", "One Piece at a Time" and "A Boy Named Sue"; a duet with his future wife, June Carter, called "Jackson"; and railroad songs including "Hey, Porter" and "Rock Island Line".  The supergroup The Highwaymen included Cash, Willie Nelson, Waylon Jennings and Kris Kristofferson.  He died about four months after his wife June Carter Cash.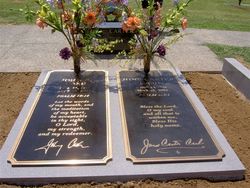 The Final Footprint – Cash is buried next to June in Hendersonville Memory Gardens in Hendersonville, Tennessee.  Their graves are marked with twin full ledger bronze markers on a companion piece of granite.  The name on his is John R. Cash and it includes the words to Psalm 19:14:  Let the words of my mouth, and the meditation of my heart, be acceptable in thy sight, O Lord, my strength, and my redeemer.  Also, his signature, Johnny Cash, is on the marker.  A memorial bench is located at the head of the markers.  In November 2005, Walk the Line, a biopic about Cash's life, was released in the United States to considerable commercial success and critical acclaim.  The film featured Joaquin Phoenix as cash (for which he was nominated for the Academy Award for Best Actor) and Reese Witherspoon as June (for which she won the Academy Award for Best Actress).  Phoenix and Witherspoon also won the Golden Globe for Best Actor in a Musical or Comedy and Best Actress in a Musical or Comedy, respectively.  They both performed their own vocals in the film, and Phoenix learned to play guitar for the role.  Phoenix received a Grammy Award for his contributions to the soundtrack.  John Carter Cash, the first child of Johnny and June, served as an executive producer.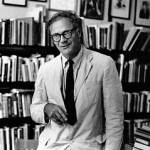 On this day in 1977, poet, 2x Pulitzer Prize recipient, Robert Lowell died having suffered a heart attack in a cab in New York City on his way to see his ex-wife, Elizabeth Hardwick.  Born Robert Traill Spence Lowell IV on 1 March 1917 into a Boston Brahmin family.  Lowell stated, "The poets who most directly influenced me … were Allen Tate, Elizabeth Bishop, and William Carlos Williams. An unlikely combination!….. but you can see that Bishop is a sort of bridge between Tate's formalism and Williams's informal art."  After the publication of his 1959 book Life Studies, which won the 1960 National Book Award, which featured uninhibited discussions of personal, family, and psychological struggles, he was considered an important part of the confessional poetry movement.  Lowell worked in a number of distinctive stylistic modes and forms over the course of his career.  He was appointed the sixth Poet Laureate Consultant in Poetry to the Library of Congress, where he served from 1947 until 1948.  In addition to winning the National Book Award, he won the Pulitzer Prize for Poetry in 1947 and 1974, the National Book Critics Circle Award in 1977, and a National Institute of Arts and Letters Award in 1947.  In my opinion, he is one of the most important American poets of the postwar era.  His biographer Paul Mariani called him "the poet-historian of our time" and "the last of [America's] influential public poets."  Lowell married three times: Jean Stafford (1940 – 1948 divorce), Hardwick (1949 – 1972 divorce) and Caroline Blackwood (1972 – 1977 his death).  Final Footprint – Lowell is buried in Stark Cemetery, Dunbarton, New Hampshire.
Have you planned yours yet?
Follow TFF on twitter @RIPTFF