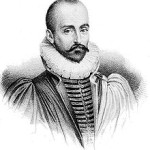 On this day in 1592, French essayist, one of the most influential writers of the French Renaissance, the father of Modern Skepticism, Michel de Montaigne died of quinsy at the age of 59, at his family estate Château de Montaigne.  Remaining in possession of all his other faculties, he requested mass, and died during the celebration of that mass.  Born Michel Eyquem de Montaigne on 28 February 1533 in the Aquitaine region of France, on the family estate Château de Montaigne, in a town now called Saint-Michel-de-Montaigne, not far from Bordeaux.  In my opinion, one of the most influential writers of the French Renaissance, known for popularizing the essay as a literary genre, and commonly thought of as the father of modern skepticism.  He became famous for his effortless ability to merge serious intellectual exercises with casual anecdotes and autobiography.  His massive volume Essais (translated literally as "Attempts" or "Trials") contains, to this day, some of the most widely influential essays ever written.  In his own time, Montaigne was admired more as a statesman than as an author.  The tendency in his essays to digress into anecdotes and personal ruminations was seen as detrimental to proper style rather than as an innovation, and his declaration that, 'I am myself the matter of my book', was viewed by his contemporaries as self-indulgent.  In time, however, Montaigne would be recognized as embodying, perhaps better than any other author of his time, the spirit of freely entertaining doubt which began to emerge at that time.  Perhaps most famously known for his skeptical remark, 'Que sçay-je?' ('What do I know?' in Middle French; modern French Que sais-je?).  Remarkably modern even to readers today, Montaigne's attempt to examine the world through the lens of the only thing he can depend on implicitly, his own judgment, makes him more accessible to modern readers than any other author of the Renaissance.  Much of modern literary non-fiction has found inspiration in Montaigne and writers of all kinds continue to read him for his masterful balance of intellectual knowledge and personal story-telling.  The Final Footprint – Montaigne was interred  near Château de Montaigne.  Later his remains were moved to the church of Saint Antoine at Bordeaux.  The church no longer exists (it became the Convent des Feuillants, which has also disappeared).  The Bordeaux Tourist Office says that Montaigne is buried at the Musée Aquitaine, Faculté des Lettres, Université Bordeaux 3 Michel de Montaigne, Pessac.  His heart is preserved in the parish church of Saint-Michel-de-Montaigne.  Selected Montaigne quotes:
Wherever your life ends, it is all there. The advantage of living is not measured by length, but by use; some men have lived long, and lived little; attend to it while you are in it. It lies in your will, not in the number of years, for you to have lived enough.
Obsession is the wellspring of genius and madness.
Everyone calls barbarity what he is not accustomed to.
If you belittle yourself, you are believed; if you praise yourself, you are disbelieved.
When I play with my cat, how do I know that she is not playing with me rather than I with her?
Life in itself is neither good nor evil, it is the place of good and evil, according to what you make it.
The continuous work of our life is to build death.
If you press me to say why I loved him, I can say no more than because it was he, because it was I.
Kings and philosophers defecate, and so do ladies.
I enter into discussion and argument with great freedom and ease, inasmuch as opinion finds me in a bad soil to penetrate and take deep root in. No propositions astonish me, no belief offends me, whatever contrast it offers to my own. There is no fancy so frivolous and so extravagant that it does not seem to me quite suitable to the production of the human mind.
Our religion is made to eradicate vices, instead it encourages them, covers them, and nurtures them.
Human understanding is marvellously enlightened by daily conversation with men, for we are, otherwise, compressed and heaped up in ourselves, and have our sight limited to the length of our own noses.
Not being able to govern events, I govern myself.
The clatter of arms drowns the voice of law.
No matter that we may mount on stilts, we still must walk on our own legs. And on the highest throne in the world, we still sit only on our own bottom.
Nothing is so firmly believed as that which least is known.
Man cannot make a worm, yet he will make gods by the dozen.
I have gathered a garland of other men's flowers, and nothing is mine but the cord that binds them.
No man is a hero to his own valet.
The only thing certain is nothing is certain.
The greater part of the world's troubles are due to questions of grammar.
Whether the events in our life are good or bad greatly depends on the way we perceive them.
I believe it to be true that dreams are the true interpreters of our inclinations; but there is art required to sort and understand them.
On this day in 1894, French Romantic composer and pianist Emmanuel Chabrier died in Paris at the age of 53.  Born Alexis-Emmanuel Chabrier on 18 January 1841 in Ambert (Puy-de-Dôme), a town in the Auvergne region of central France.   Although known primarily for two of his orchestral works, España and Joyeuse marche, he left an important corpus of operas (including the increasingly popular L'étoile), songs, and piano music as well.  The Final Footprint – Although he had asked to be entombed near the tomb of Eduard Manet in the Passy Cemetery, he was laid to rest in the Cimetière de Montparnasse in Paris.  Other notable Final Footprints at Montparnasse include; Charles Baudelaire, Samuel Beckett, Simone de Beauvoir, Guy de Maupassant, Adah Isaacs Menken, Camille Saint-Saëns, Jean-Paul Sartre,  Jean Seberg, and  and Susan Sontag.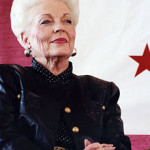 On this day in 2006, the 45th Governor of Texas, Ann Richards, died at the age of 73 from esophageal cancer at her home in Austin, surrounded by her family.  Born Dorothy Ann Willis on 1 September 1933 in Lakeview, Texas.  She was governor for one term from 1991 to 1995.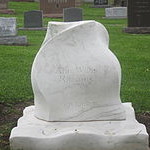 The Final Footprint – Richards is buried at Texas State Cemetery in Austin.  Her grave is marked by an upright white marble monument.  On the front it says: Ann Willis Richards Governor.  On the back is an excerpt from her inaugural address delivered 15 January 1991:  Today we have a vision of a Texas where opportunity knows no race, no gender, no color – a glimpse of what can happen in government if we simply open the doors and let the people in.
Have you planned yours yet?
Follow TFF on twitter @RIPTFF