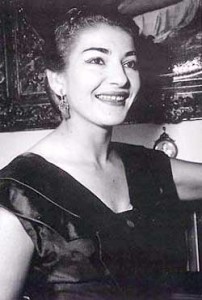 On this day in 1977, beautiful, temperamental, tragic, turbulent opera soprano, La Divina, Maria Callas died at the age of 53 in her Paris apartment from a heart attack.  Born Sophia Cecelia Kalos in Manhattan on 2 December 1923 to Greek parents.  She was christened Maria Anna Sophia Kalogeropoulou.  Callas married wealthy Italian industrialist Giovanni Battista Meneghini, who was about 30 years older than her.  She made her official debut at La Scala in Verdi's I vespri siciliani.  In my opionion, Callas is one of the most renowned and influential opera singers of the 20th century.  Critics praised her bel canto technique, wide-ranging voice and dramatic gifts.  Her repertoire ranged from classical opera seria to the bel canto operas of Donizetti, Bellini and Rossini; further, to the works of Verdi and Puccini; and, in her early career, to the music dramas of Wagner.  Her musical and dramatic talents led to her being hailed as La Divina.  In 1957, she met Aristotle Onassis at a party.  They began an affair which resulted in Callas leaving her husband and lasted for nine years until Onassis left Callas for Jacqueline Kennedy.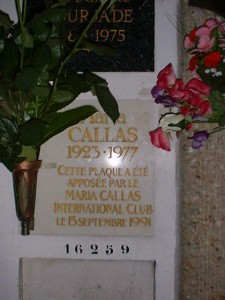 The Final Footprint – Callas was cremated and her ashes were placed in a niche in the cemetery of Pere Lachaise in Paris until 1979 when the ashes were removed and scattered over the Aegean Sea off the coast of Greece in accordance with her wishes.  A niche plaque remains at Pere Lachaise to memorialize Callas.  Père Lachaise is the largest cemetery in Paris and one of the most visited cemeteries in the world.  Other notable Final Footprints at Père Lachaise include; Honoré de Balzac, Georges Bizet, Jean-Dominique Bauby, Frédéric Chopin, Colette, Auguste Comte, Jean-Baptiste-Camille Corot, Molière, Jim Morrison, Édith Piaf, Camille Pissarro, Marcel Proust, Sully Prudhomme, Gioachino Rossini, Georges-Pierre Seurat, Gertrude Stein, Alice B. Toklas, Oscar Wilde, and Richard Wright.
Have you planned yours yet?
Follow us on twitter @RIPTFF