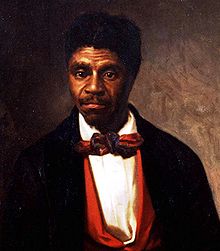 On this day in 1858, African-American former slave, Dred Scott died in St. Louis from tuberculosis at the age of about 59.  Born about 1799 in Southampton County, Virginia into slavery.  He unsuccessfully sued for his freedom in the Supreme Court case Dred Scott v. Sandford of 1857.  He was formally freed by Henry Taylor Blow on 26 May 1857, about three months after the court decision.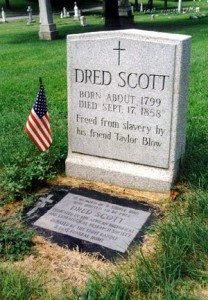 The Final Footprint – Scott is buried in Calvary Cemetery in Saint Louis.  His grave is marked by an upright granite marker and a flat granite marker.  Along with his name and the birth and death dates, the upright monument is inscribed; Freed from slavery by his friend Taylor Blow.  The flat granite marker inscription includes; In memory of a simple man who wanted to be free.  Another notable Final Footprint at Calvary is Tennessee Williams.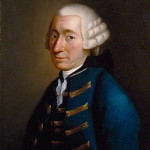 On this day in 1771, Scottish poet and author Tobias Smollett died in Livorno, Italy at the age of 50.  Born Tobias George Smollett on 19 March 1721 in Dalquhurn, now part of Renton, in present-day West Dunbartonshire, Scotland.  He is best known for his picaresque novels, such as The Adventures of Roderick Random (1748) and The Adventures of Peregrine Pickle (1751), which influenced later novelists such as Charles Dickens.  The Final Footprint – He is interred in the English Cimitero in Livorno.  There is a monument to his memory beside Renton Primary School, Dunbartonshire, Scotland, on which there is a Latin inscription composed by Samuel Johnson.  The area around the monument was improved in 2002, with an explanatory plaque.  There is also a plaque to his temporary residence in Edinburgh just off the Royal Mile at the head of St John's Street.  This states that he resided here in the house of his sister, Mrs. Telfer, for the summer of 1766.  A second plaque (dating the building at 1758, making it relatively new at that time) states that he "stayed here occasionally".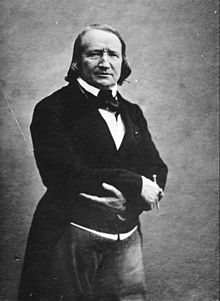 On this day in 1863, French poet, playwright, and novelist Alfred de Vigny died in Paris at the age of 66.  Born in Loches, a commune in the Indre-et-Loire department in central France.  He was a major figure in the French Romantic movement.  Vigny married Lydia Bunbury, in Pau in 1825.  He had an affair with the great actress Marie Dorval.  After the death of his mother in 1838 he inherited the property of Maine-Giraud, near Angoulême, where he wrote some of his most famous poems, including La Mort du loup and La Maison du berger.  (Apparently Proust regarded La Maison du berger as the greatest French poem of the 19th century.)  In 1845, after several unsuccessful attempts to be elected, Vigny became a member of the Académie française.  In his later years he spent much time preparing the posthumous collection of poems now known as Les Destinées (though Vigny's intended title was Poèmes philosophiques) which concludes with Vigny's final message to the world, L'Esprit pur.  The Final Footprint – Vigny is entombed beside his wife in the Cimetière de Montmartre in Paris.  Other notable final footprints at Montmartre include composer Hector Berlioz, singer Dalida, artist Edgar Degas, author Alexandre Dumas, fils, poet Théophile Gautier and composer Jacques Offenbach.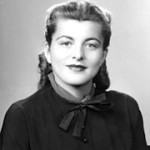 On this day in 2006, socialite, the sixth of nine children of Joseph P. Kennedy, Sr. and Rose Fitzgerald, sister to President John F. Kennedy, Senators Robert F. Kennedy and Edward M. Kennedy, wife of Peter Lawford, Patricia "Pat" Kennedy Lawford died at the age of 82 in her Manhattan home from pneumonia.  Born on 6 May 1924 in Brookline, Massachusetts.  The Final Footprint – She was survived by her four children and 10 grandchildren, as well as, at the time, her sisters Eunice and Jean, and her brother Edward.  She was buried in Southampton Cemetery in Southampton, New York.
Have you planned yours yet?
Follow TFF on twitter @RIPTFF