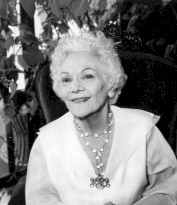 On this day in 1980, journalist, essayist, author, poet and Pulitzer Prize recipient, Katherine Anne Porter died in Silver Spring, Maryland at the age of 90.  Born Callie Russell Porter on 15 May 1890 in Indian Creek, Texas.  Her 1962 novel Ship of Fools was the best-selling novel in America that year, but her short stories received more critical acclaim.  She is known for her penetrating insight.  Her work deals with dark themes such as betrayal, death and the origin of human evil.  She was married and divorced four times and never had any children.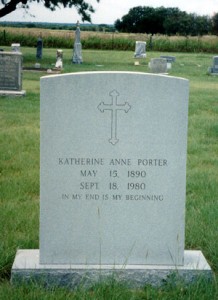 The Final Footprint – Porter was cremated and her ashes were buried next to her mothers in the Indian Creek Cemetery in Indian Creek.  Her grave is marked by an upright granite marker.  In addition to her name and birth and death dates, the monument inscription reads; IN MY END IS MY BEGINNING.  One of my favorite writers, I commemorate her birthday every year by reading some of her short stories.  In 1990, Recorded Texas Historic Landmark number 2905 was placed in Brown County, Texas to honor the life and career of Porter.  One of my very favorite writers.  Each year on her birthday I read some of her short stories.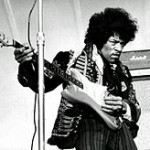 On this day in 1970, musician, singer, songwriter, one of the greatest electric guitar players, member of the Forever 27 Club, Jimi Hendrix died in London in the flat of his girlfriend Monika Dannemann in the Samarkand Hotel, 22 Lansdowne Crescent, Notting Hill, apparently from an accidental overdose of prescription medication, at the age of 27.  Born Johnny Allen Hendrix on 27 November 1942 in Seattle, Washington.  In 1946 his parents changed his name to James Marshall Hendrix, in honor of his father, James Allen Ross, and his late brother Leon Marshall.  Despite a limited mainstream exposure of four years, he is widely considered one of the most influential electric guitarists in the history of popular music and one of the most celebrated musicians of the 20th century.  In 1964, he earned a spot in the Isley Brothers' backing band and later that year he found work with Little Richard, with whom he continued to play through mid-1965.  He then joined Curtis Knight and the Squires before moving to England in late 1966.  In 1967, Hendrix earned three UK top ten hits with the Jimi Hendrix Experience: "Hey Joe", "Purple Haze", and "The Wind Cries Mary".  Later that year, he achieved fame in the US after his performance at the Monterey Pop Festival.  The world's highest paid performer, he headlined the Woodstock Festival in 1969 and the Isle of Wight Festival in 1970.  Inspired musically by American rock and roll and electric blues, Hendrix favored overdriven amplifiers with high volume and gain, and was instrumental in developing the previously undesirable technique of guitar amplifier feedback.  He helped to popularize the use of a wah-wah pedal in mainstream rock, and pioneered experimentation with stereophonic phasing effects in music recordings.  Hendrix was the recipient of several music awards during his lifetime and posthumously; the Jimi Hendrix Experience was inducted into the Rock and Roll Hall of Fame in 1992 and the UK Music Hall of Fame in 2005.  Rolling Stone ranked his three non-posthumous studio albums, Are You Experienced, Axis: Bold as Love, and Electric Ladyland among the 100 greatest albums of all time and they ranked Hendrix as the greatest guitarist.  Other members of the Forever 27 Club include; Kurt Cobain, Rolling Stone Brian Jones, Robert Johnson, Janis Joplin, Jim Morrison, Alan Wilson and Amy Winehouse.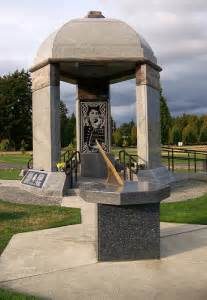 The Final Footprint – On 29 September, Hendrix's body was returned to Seattle.  After a service at Dunlop Baptist Church on 1 October, he was interred in Greenwood Memorial Park (a Dignity Memorial property), Renton, Washington , the location of his mother's gravesite.  Hendrix's family and friends traveled in twenty-four limousines.  More than two hundred people attended the funeral, including several notable musicians such as original Experience members Mitch Mitchell and Noel Redding, as well as Miles Davis, John Hammond and Johnny Winter.  As the popularity of Hendrix and his music grew over the decades following his death, concerns began to mount over fans damaging the adjoining graves at Greenwood, and the growing, extended Hendrix family further prompted his father to create an expanded memorial site separate from other burial sites in the park.  The memorial was announced in late 1999, but Al's deteriorating health led to delays and he died two months before its scheduled completion in 2002.  Later that year, the remains of Hendrix, his father Al, and grandmother Nora Rose Moore Hendrix were moved to the new site.  The headstone contains a depiction of a Fender Stratocaster guitar, the instrument he was most famous for using, although the guitar is shown right-side up, rather than the way Hendrix played it, upside down (left-handed).  The memorial is a granite dome supported by three pillars under which Jimi Hendrix and other family members are interred.  Hendrix's autograph is inscribed at the base of each pillar, while two stepped entrances and one ramped entrance provide access to the dome's center where the original Stratocaster adorned headstone has been incorporated into a statue pedestal.  A granite sundial complete with brass gnomon adjoins the dome, along with over 50 family plots that surround the central structure, half of which are currently adorned with raised granite headstones.
Have you planned yours yet?
Follow TFF on twitter @RIPTFF