On this day in 1832, Scottish novelist, playwright and poet, Sir Walter Scott died, under unexplained circumstances, at the age of 61 at his home Abbotsford House near Melrose in the Scottish borders.  Scott was the first English-language author to have a truly international career in his lifetime, with many contemporary readers in Europe, Australia, and North America.  His novels and poetry are still read, and many of his works remain classics of both English-language literature and of Scottish literature.  His best known works include the novels, Ivanhoe, Rob Roy, Waverley, The Heart of Midlothian and The Bride of Lammermoor and his poem The Lady of the Lake.  Scott married Charlotte Genevieve Charpentier (or Carpenter), daughter of Jean Charpentier of Lyon, France.  Born on 15 August 1771 in College Wynd in the Old Town of Edinburgh.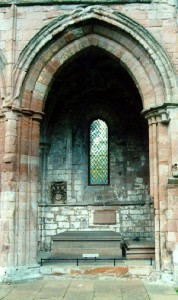 The Final Footprint – Scott is buried in a pillared side chapel of the Dryburgh Abbery ruins in Melrose.  During his lifetime, Scott's portrait was painted by Sir Edwin Landseer and fellow-Scots Sir Henry Raeburn and James Eckford Lauder.  In Edinburgh, the 61.1 metre tall Victorian Gothic spire of the Scott Monument was designed by George Meikle Kemp.  It was completed in 1844, 12 years after Scott's death, and dominates the south side of Princes Street.  Scott is also commemorated on a stone slab in Makars' Court, outside The Writers' Museum, Lawnmarket, Edinburgh, along with other prominent Scottish writers; quotes from his work are also visible on the Canongate Wall of the Scottish Parliament building in Holyrood. There is a tower dedicated to his memory on Corstorphine Hill in the west of the city and as mentioned previous Edinburgh's Waverley railway station takes the name of one of his novels.  In Glasgow, Walter Scott's Monument dominates the centre of George Square, the main public square in the city.  Designed by David Rhind in 1838, the monument features a large column topped by a statue of Scott.  There is a statue of Scott in New York City's Central Park.  The annual Walter Scott Prize for Historical Fiction was created in 2010 by the Duke and Duchess of Buccleuch, whose ancestors were closely linked to Sir Walter Scott.  At £25,000 it is one of the largest prizes in British literature.  The award has been presented at Scott's historic home Abbotsford House.
In My Defens God Me Defend!

Have you planned yours yet?
Follow TFF on twitter @RIPTFF