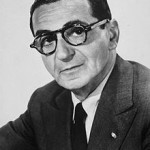 On this day in 1989, Tony and Grammy winner, songwriter, composer, lyricist Irving Berlin died in New York City at the age of 101.  Born Israel Isidore Baline on 11 May 1888 in Tyumen, Russia, now Belarus.  In my opinion, one of the greatest songwriters.  Among the many songs he wrote; God Bless America, White Christmas, Alexander's Ragtime Band, There's no Business like Show Business, Blue Skies, Puttin' on the Ritz.  Composer Douglas Moore sets Berlin apart from all other contemporary songwriters, and includes him instead with Stephen Foster, Walt Whitman, and Carl Sandburg, as a "great American minstrel"—someone who has "caught and immortalized in his songs what we say, what we think about, and what we believe."  George Gershwin called him "the greatest songwriter that has ever lived", and Jerome Kern concluded that "Irving Berlin has no place in American music—he is American music."  In 1912, he married Dorothy Goetz.  She died six months later of typhoid fever, which she contracted during their honeymoon in Havana.  The song he wrote to express his grief, "When I Lost You," was his first ballad.  In 1925 he married Ellin Mackay.  Their marriage remained a love affair and they were inseparable until she died in July 1988 at the age of 85.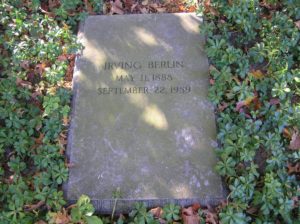 The Final Footprint – Berlin was buried in Woodlawn Cemetery in the Bronx.  His grave is marked by a half ledger granite marker inscribed with his name and the birth and death dates.  On the evening following the announcement of his death, the marquee lights of Broadway were dimmed before curtain time in his memory.  Other notable Final Footprints at Woodlawn include; Miles Davis, Duke Ellington, Fiorello La Guardia, Lionel Hampton, Rowland Macy, Bat Masterson, Herman Melville, J. C. Penney, and Joseph Pulitzer.
Have you planned yours yet?
Follow TFF on twitter @RIPTFF