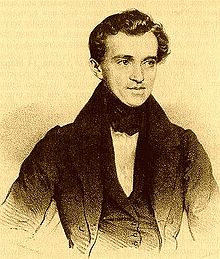 On this day in 1849, Austrian Romantic composer, conductor and one of the kings of the waltz, Johann Strauss died from scarlet fever in Vienna at the age of 45.  Born Johann Baptist Strauss on 14 March 1804 in Vienna.  He was the father of Johann Strauss II, Joseph Strauss and Eduard Strauss.  Together, they formed a dynasty that dominated Vienna's light music scene for almost a hundred years.  His most recognized composition is probably the Radetzky March (named after Joseph Radetzky von Radetz), while his most famous waltz is probably the Lorelei Rheinklänge op. 154.  Strauss married Maria Anna Streim (1825-1844 divorce).  He had six children with his mistress Emilie Trampusch.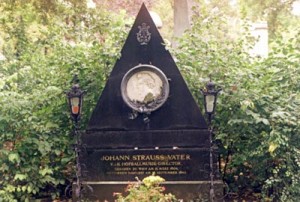 The Final Footprint – Strauss was initially interred at Döblinger cemetery in Vienna beside his friend Joseph Lanner.  In 1904, both of their remains were disinterred and reinterred in the graves of honour at Zentralfriedhof in Vienna.  Strauss's grave is marked with a large black triangular granite monument with a circular carved relief of his profile in marble.  His sons Johann and Joseph are interred nearby.  The Zentralfriedhof (German for "Central Cemetery") is one of the largest cemeteries in the world, largest by number of interred in Europe and most famous cemetery among Vienna's nearly 50 cemeteries.  Other notable Final Footprints at Zentralfriedhof include; Ludwig van Beethoven, Johannes Brahms, Antonio Salieri, Franz Schubert, Johann Strauss II.  In addition, a cenotaph was erected there in honour of Wolfgang Amadeus Mozart.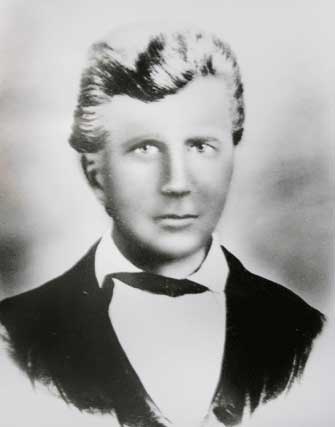 On this day in 1867, cattle rancher and cattle drive pioneer, Oliver Loving died at the age of 54 in Fort Sumner, New Mexico from gangrene.  Along with Charles Goodnight, he formed the Goodnight-Loving Trail.  The Goodnight Loving Trail began at Fort Belknap (Texas), traveling through central Texas across the Staked Plains to Horsehead Crossing, north along the Pecos River and across Pope's Crossing, into New Mexico to Fort Sumner.  The trail then continued north into Colorado up to Denver and was extended on into Wyoming.  In the spring of 1867, Loving and Goodnight returned to Texas, ready to start a new drive.  This third drive was slowed by heavy rains and Native American threats.  Loving went ahead of the herd for contract bidding, taking only Bill Wilson, a trusted scout, with him.  Although he told Goodnight that he would travel at night, Loving became impatient and pushed ahead during the day.  Loving and Wilson were attacked by Comanches and Loving was wounded in the arm.  The weakened Loving sent Wilson back to the herd, eluded the Native American Indians, and reached Fort Sumner.  Loving's arm was amputated but it was too late.  Goodnight arrived in Fort Sumner in time to be by Loving's side as he died and to assure Loving that his wish to be buried in Texas would be carried out. Born in Hopkins County Kentucky on 4 December 1812.  Loving married Susan Doggett Morgan (1833 – 1867 his death).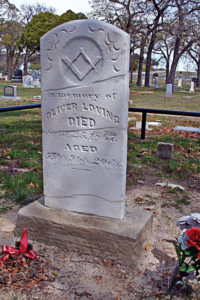 The Final Footprint – After a temporary burial at Fort Sumner, while Goodnight drove the herd on to Colorado, Goodnight had Loving's body exhumed and returned to Weatherford where he was reburied in Greenwood Cemetery on 4 March 1868.  Loving's death and burial apparently served as inspiration to novelist Larry McMurtry for his Pulitzer Prize-winning novel Lonesome Dove.  In the book, Augustus "Gus" McCrae is injured by Indian arrows and sends his companion Pea Eye Parker to find Woodrow F. Call.  McCrae makes it to Miles City, Montana but dies of blood poisoning, despite having one of his legs amputated.  Call, like Goodnight, sat by his friend's side as he died and then brought him back to Texas for burial.
Have you planned yours yet?
Follow TFF on twitter @RIPTFF