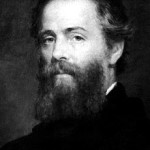 On this day in 1891 author Herman Melville died at his home in New York City at age 72 from cardiac dilation.  Born in New York City on 1 August 1819.  Best known for the novel Moby-Dick.  His first three books gained much contemporary attention (the first, Typee, became a bestseller), but after a fast-blooming literary success in the late 1840s, his popularity declined precipitously in the mid-1850s and never recovered during his lifetime.  It was not until the "Melville Revival" in the early 20th century that his work won recognition, especially Moby-Dick, which was hailed as one of the literary masterpieces of both American and world literature.  In 1919, the unfinished manuscript for his novella Billy Budd was discovered by his first biographer, Raymond M. Weaver, who published a version in 1924.  He was the first writer to have his works collected and published by the Library of America.  Melville married Elizabeth Shaw (1847 – 1891 his death).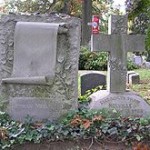 The Final Footprint – He was interred in the Woodlawn Cemetery in The Bronx, New York.  Woodlawn Cemetery is one of the largest cemeteries in New York City and is a designated National Historic Landmark.  Other notable Final Footprints at Woodlawn include; Irving Berlin, Miles Davis (see below), Duke Ellington, Fiorello La Guardia, Lionel Hampton, Rowland Macy, Bat Masterson, J. C. Penney, and Joseph Pulitzer.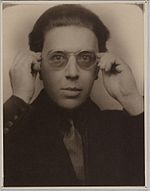 On this day in 1966, French writer, poet, anarchist and anti-fascist, the founder of Surrealism, André Breton died at 70 and was buried in the Cimetière des Batignolles in Paris.  Born on 19 February 1896 in Tinchebray (Orne) in Normandy.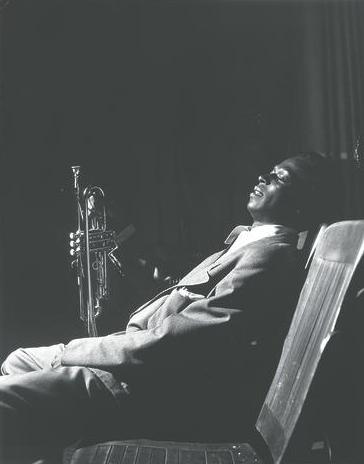 On this day in 1991, multiple Grammy winner, trumpeter, bandleader and composer Miles Davis died in Santa Monica, California at the age of 65.  Born Miles Dewey Davis III on 26 May 1926 in Alton, Illinois.  In my opinion he is one of the most influential musicians of the 20th century.  Davis was, with his musical groups, at the forefront of several major developments in jazz music, including bebop, cool jazz, hard bop, modal jazz, and jazz fusion.  Davis was inducted into the Rock and Roll Hall of Fame in 2006.  On 7 October 2008, his 1959 album Kind of Blue received its fourth platinum certification from the Recording Industry Association of America (RIAA), for shipments of at least four million copies in the United States.  On 15 December 2009, the U.S. House of Representatives passed a symbolic resolution recognizing and commemorating the album Kind of Blue on its 50th anniversary, "honoring the masterpiece and reaffirming jazz as a national treasure".  He was knighted into the Légion d'honneur or Ordre national de la Légion d'honneur in Paris.  In my opinion, Kind of Blue is one of the greatest albums ever recorded.  I heard someone say once, if you do not own Kind of Blue, something is wrong with you.  Yes, I own a copy.  Davis married actress Cicely Tyson on 26 November 1981.  The ceremony was conducted by Atlanta mayor Andrew Young at the home of actor Bill Cosby.  Davis and Tyson divorced in 1988.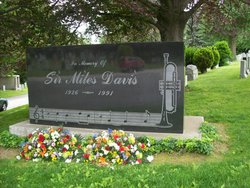 The Final Footprint – Davis is buried with one of his trumpets, in Woodlawn Cemetery in the Bronx.  His grave is marked by a large black granite engraved rectangular monument.  It is inscribed, In Memory of Sir Miles Davis and has a music scale and a trumpet engraved in the granite.  A bronze statue of Davis was erected in Kielce, Poland.  Other notable Final Footprints at Woodlawn include; Irving Berlin, Duke Ellington, Lionel Hampton, Fiorello La Guardia, Rowland Macy, Bat Masterson, Herman Melville (see above), J. C. Penney, Joseph Pulitzer.
Have you planned yours yet?
Follow TFF on twitter @RIPTFF