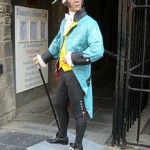 On this day in 1788, Scottish cabinet-maker, deacon of the trades guild and Edinburgh city councillor by day and burglar by night, Deacon William Brodie was hanged in Edinburgh at the age of 47.  Brodie is thought to be the inspiration for Robert Louis Stevenson's novel, The Strange Case of Dr. Jekyll and Mr. Hide (1886).  The Final Footprint – Brodie was interred in an unmarked grave at the Parish Church in Buccleuch.
On this day in 1940 lawman Joe LeFors, best known for the arrest of gunman Tom Horn in 1903 for the alleged murder of 14 year old sheepherder Willie Nickell, died in Buffalo, Wyoming at the age of 75.  Born Joe Shelby LeFors on 20 February 1865 in Paris, Texas.  The Final Footprint – LeFors is interred in Willow Grove Cemetery in Buffalo, Wyoming.  LeFors appears, or is mentioned, in at least two movies: Mr. Horn (1979) a made-for-TV movie starring David Carradine as Horn and John Durren as LeFors and  Butch Cassidy and the Sundance Kid (1969), where LeFors is mentioned as a feared lawman giving chase to Butch and Sundance.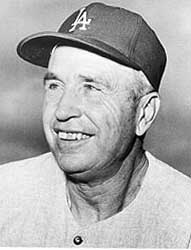 On this day in 1984, baseball Hall of Famer, Brooklyn and Los Angles Dodgers manager, Smokey, Walter Alston died in Oxford, Ohio at the age of 72.  Born Walter Emmons Alston on 1 December 1911 in Venice, Ohio.  Led the Dodgers to their first four World Series Championships, one in Brooklyn and three more after the team moved to Los Angeles.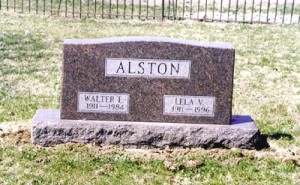 The Final Footprint – Alston was buried in Darrtown Cemetery in Darrtown, Ohio.  His grave his marked with a companion upright granite monument.  His wife Lela is buried next to him.  His number 24 was retired by the Dodgers.
Have you planned yours yet?
Follow TFF on twitter @RIPTFF