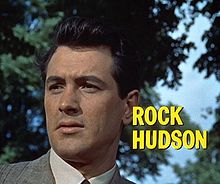 On this day in 1985 Academy Award nominated actor Rock Hudson died at his home The Castle in Beverly Hills, California at the age of 59.  Born Roy Harold Scherer, Jr. on 17 November 1925 in Winnetka, Illinois.  The 6ft 5in tall actor was one of the most popular and well-known movie stars of his time.  He completed nearly 70 films and starred in several television productions during a career that spanned over four decades.  My favorite Rock Hudson movies include: Giant, A Farewell to Arms, and The Undefeated.  Giant, perhaps my all-time favorite movie, is based on the novel by Edna Ferber.  Along with Hudson the movie features Elizabeth Taylor, James Dean, Dennis Hopper and Chill Wills.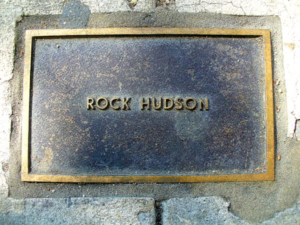 The Final Footprint – Hudson was cremated and his ashes were scattered at sea.  A cenotaph was established at Forest Lawn Cemetery in Cathedral City, California.  He has a star on the Hollywood Walk of Fame at 6104 Hollywood Boulevard.  Taylor purchased a bronze plaque for Hudson on the West Hollywood Memorial Walk.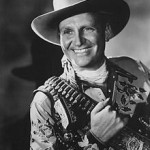 On this day in 1998 singer, actor, The Singing Cowboy, Gene Autry died of lymphoma 3 days after his 91st birthday at his home in Studio City, California.  Born Orvon Grover Autry on 29 September 1907 in Tioga, Texas.  Autry gained fame as a singing cowboy on the radio, in movies, and on television for more than three decades beginning in the early 1930s.  Autry was also owner of a television station, several radio stations in Southern California, and the Los Angeles/California/Anaheim Angels Major League Baseball team from 1961 to 1997.  From 1934 to 1953, Autry appeared in 93 films and 91 episodes of The Gene Autry Show television series.  During the 1930s and 1940s, he personified the straight-shooting hero—honest, brave, and true—and profoundly touched the lives of millions of Americans.  Autry was also probably one of the most important figures in the history of country music.  His singing cowboy movies were the first vehicle to carry country music to a national audience.  In addition to his signature song, "Back in the Saddle Again", Autry is still remembered for his Christmas holiday songs, "Here Comes Santa Claus", which he wrote, "Frosty the Snowman", and his biggest hit, "Rudolph the Red-Nosed Reindeer".  Autry is a member of both the Country Music Hall of Fame and Nashville Songwriters Hall of Fame, and is the only person to be awarded stars in all five categories on the Hollywood Walk of Fame, for film, television, music, radio, and live performance.  The town of Gene Autry, Oklahoma was named in his honor.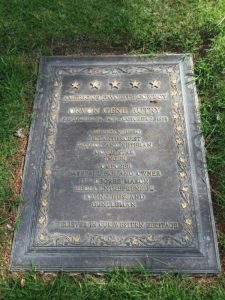 The Final Footprint – Autry is interred in the Forest Lawn Hollywood Hills Cemetery in Los Angeles, California.  His grave is marked by a flat bronze individual marker and is engraved thusly; AMERICA'S FAVORITE COWBOY / AMERICAN HERO PHILANTHROPIST PATRIOT AND VETERAN MOVIE STAR SINGER COMPOSER BASEBALL FAN AND OWNER 33RD DEGREE MASON MEDIA ENTREPRENEUR LOVING HUSBAND GENTLEMAN A BELIEVER IN OUR WESTERN HERITAGE.  Other notable final footprints at Hollywood Hills include Bette Davis, Strother Martin, Ricky Nelson and Bobby Fuller.
Have you planned yours yet?
Follow TFF on twitter @RIPTFF