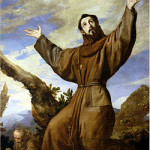 On this day in 1226, Italian Catholic friar and preacher, St. Francis of Assisi died in a hut next to the Porziuncola, a small church located within the Basilica of Santa Maria degli Angeli in the frazione of Santa Maria degli Angeli, situated about 4 kilometres from Assisi, Umbria, singing Psalm 142(141) – "Voce mea ad Dominum", at the approximate age of 44.  Born Giovanni di Pietro di Bernardone, but nicknamed Francesco ("the Frenchman") by his father, in 1181 or 1182 in Assisi.  He founded the men's Order of Friars Minor, the women's Order of St. Clare, and the Third Order of Saint Francis for men and women not able to live the lives of itinerant preachers followed by the early members of the Order of Friars Minor or the monastic lives of the Poor Clares.  Though he was never ordained to the Catholic priesthood, Francis is one of the most venerated religious figures in history.  Francis' father was Pietro di Bernardone, a prosperous silk merchant. Francis lived the high-spirited life typical of a wealthy young man, even fighting as a soldier for Assisi.  While going off to war in 1204, Francis had a vision that directed him back to Assisi, where he lost his taste for his worldly life.  On a pilgrimage to Rome, he joined the poor in begging at St. Peter's Basilica.  The experience moved him to live in poverty.  Francis returned home, began preaching on the streets, and soon amassed a following.  His Order was authorized by Pope Innocent III in 1210.  He then founded the Order of Poor Clares, which became an enclosed religious order for women, as well as the Order of Brothers and Sisters of Penance (commonly called the Third Order).  In 1219, he went to Egypt in an attempt to convert the Sultan to put an end to the conflict of the Crusades.  By this point, the Franciscan Order had grown to such an extent that its primitive organizational structure was no longer sufficient.  He returned to Italy to organize the Order.  Once his community was authorized by the Pope, he withdrew increasingly from external affairs.  In 1223, Francis arranged for what is thought to be the first Christmas manger scene.  In 1224, he received the stigmata, making him the first recorded person to bear the wounds of Christ's Passion.  He is known as the patron saint of animals, the environment, and is one of the two patron saints of Italy (with Catherine of Siena).  It is customary for Catholic and Anglican churches to hold ceremonies blessing animals on his feast day of October 4.  He is also known for his love of the Eucharist, and his sorrow during the Stations of the Cross.  Saint Francis is considered the first Italian poet by literary critics.  He believed commoners should be able to pray to God in their own language, and he wrote often in the dialect of Umbria instead of Latin.  His writings are considered to have great literary and religious value.  The Final Footprint – On 16 July 1228, he was pronounced a saint by Pope Gregory IX (the former cardinal Ugolino di Conti, friend of St Francis and Cardinal Protector of the Order).  The next day, the Pope laid the foundation stone for the Basilica of Saint Francis in Assisi.  He was entombed on 25 May 1230, under the Lower Basilica, but his tomb was soon hidden on orders of Brother Elias to protect it from Saracen invaders.  His burial place remained unknown until it was discovered in 1818.  Pasquale Belli then constructed for his remains a crypt in neo-classical style in the Lower Basilica.  It was refashioned between 1927 and 1930 into its present form by Ugo Tarchi, stripping the wall of its marble decorations.  In 1978, the remains of St. Francis were examined and confirmed by a commission of scholars appointed by Pope Paul VI, and put in a glass urn in the ancient stone tomb.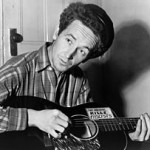 On this day in 1967, singer, songwriter, musician Woody Guthrie died of complications of Huntington's disease at Creedmoor Psychiatric Center in Queens, New York at the age of 55.  Born Woodrow Wilson Guthrie on 14 July 1912 in Okemah, Oklahoma.  His musical legacy includes hundreds of political, traditional and children's songs, ballads and improvised works.  He frequently performed with the slogan This Machine Kills Fascists displayed on his guitar.  Perhaps his best-known song is "This Land Is Your Land."  Many of his recorded songs are archived in the Library of Congress.  Many songwriters including Bob Dylan, Bruce Springsteen, John Mellencamp, Pete Seeger, Billy Bragg, and Tom Paxton have acknowledged Guthrie as a major influence.  Many of his songs are about his experiences in the Dust Bowl era during the Great Depression when Guthrie traveled with migrant workers from Oklahoma to California and learned their traditional folk and blues songs, earning him the nickname the "Dust Bowl Troubadour."  Guthrie was married three times and fathered eight children, including American folk musician Arlo Guthrie.  During his later years Guthrie served as a figurehead in the folk movement, providing inspiration to a generation of new folk musicians, including mentor relationships with Ramblin' Jack Elliott and Dylan.  The Final Footprint – Guthrie is interred in Highland Cemetery in Okemah.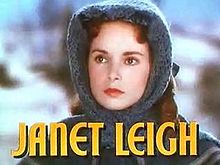 On this day in 2004, Academy Award nominated actress, former wife of Tony Curtis and mother of Jamie Lee Curtis, Janet Leigh died at her home in Los Angeles, California at the age of 77.  Born Jeanette Helen Morrison on 6 July 1927 in Merced, California.  My favorite movies with her are:  Psycho, Angels in the Outfield, The Naked Spur, Touch of Evil, The Manchurian Candidate.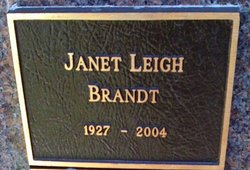 The Final Footprint – Leigh was cremated and her ashes were inurned in a niche at Pierce Brothers Westwood Village Memorial Park and Mortuary (a Dignity Memorial® provider) in Los Angeles, California.  Other notable final footprints at Westwood include; Ray Bradbury, Sammy Cahn, Truman Capote, James Coburn, Rodney Dangerfield, Farrah Fawcett, Brian Keith, Don Knotts, Burt Lancaster, Peter Lawford, Peggy Lee, Jack Lemmon, Karl Malden, Dean Martin, Walter Matthau, Marilyn Monroe, Carroll O'Connor, Roy Orbison, George C. Scott, Dorothy Stratten, Natalie Wood and Frank Zappa.
Have you planned yours yet?
Follow us on twitter @RIPTFF