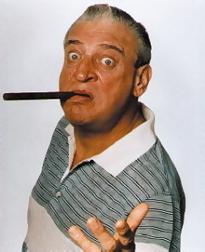 On this day in 2004, actor and comedian Rodney Dangerfield died in Los Angeles, California at the age of 82.  Born Jacob Cohen in Babylon, New York on 22 November 1921.  In my opinion, one of the funniest entertainers.  I saw him in concert in Austin, Texas when I was a student at the University of Texas.  It was non-stop laughter from beginning to end.  He was so funny in Caddyshack.  Upon entering the hospital prior to his death, he was asked how long he would be in the hospital.  He reportedly replied, "If all goes well, about a week.  If not, about and hour and a half."  Dangerfield married three times: Joyce Indig (1949–1962 divorce; 1963–1970 divorce) and Joan Child (1993–2004 his death).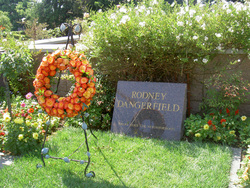 The Final Footprint – Dangerfield was interred at Pierce Brothers Westwood Village Memorial Park and Mortuary (a Dignity Memorial® provider) in Los Angeles, California.  Joan held a memorial in which the word "Respect" had been emblazoned in the sky, while each guest was given a live Monarch butterfly for a Native American butterfly-release ceremony led by Farrah Fawcett, who would pass away in 2009 and be interred in the same cemetery (see below).  His grave is marked by a granite upright marker with his name and the following inscription:  THERE GOES THE NEIGHBORHOOD.  Rodney Dangerfield, funny to the end and beyond.  Other notable final footprints at Westwood include; Ray Bradbury, Sammy Cahn, Truman Capote, James Coburn, Farrah Fawcett, Brian Keith, Don Knotts, Burt Lancaster, Peter Lawford, Peggy Lee, Janet Leigh, Jack Lemmon, Karl Malden, Dean Martin, Walter Matthau, Marilyn Monroe, Carroll O'Connor, Roy Orbison, George C. Scott, Dorothy Stratten, Natalie Wood and Frank Zappa.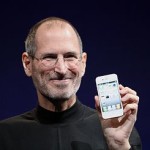 On this day in 2011, American entrepreneur, marketer, and inventor, who was the co-founder, chairman, and CEO of Apple Inc., Steve Jobs died at his Palo Alto, California, home at the age of 56, due to complications from a relapse of his previously treated islet-cell neuroendocrine pancreatic cancer, resulting in respiratory arrest, with his wife, children, and sisters at his side.  Born Steven Paul Jobs on 24 February 1955 in San Francisco and adopted at birth by Paul and Clara Jobs.  Through Apple, he is widely recognized as a charismatic pioneer of the personal computer revolution and for his influential career in the computer and consumer electronics fields.  Jobs also co-founded and served as chief executive of Pixar Animation Studios and became a member of the board of directors of The Walt Disney Company in 2006, when Disney acquired Pixar.  Jobs oversaw the development of the iMac, iTunes, iPod, iPhone, and iPad, and on the services side, the company's Apple Retail Stores, iTunes Store and the App Store.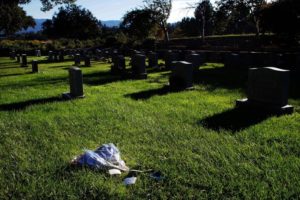 The Final Footprint – Both Apple and Microsoft flew their flags at half-staff throughout their respective headquarters and campuses.  Bob Iger ordered all Disney properties, including Walt Disney World and Disneyland, to fly their flags at half-staff, from October 6 to 12, 2011.  His death was announced by Apple in a statement which read:
We are deeply saddened to announce that Steve Jobs passed away today.  Steve's brilliance, passion and energy were the source of countless innovations that enrich and improve all of our lives. The world is immeasurably better because of Steve.  His greatest love was for his wife, Laurene, and his family. Our hearts go out to them and to all who were touched by his extraordinary gifts.
For two weeks following his death, Apple's corporate Web site displayed a simple page, showing Jobs's name and lifespan next to his grayscale portrait.  Clicking on the image led to an obituary, which read:
Apple has lost a visionary and creative genius, and the world has lost an amazing human being. Those of us who have been fortunate enough to know and work with Steve have lost a dear friend and an inspiring mentor. Steve leaves behind a company that only he could have built, and his spirit will forever be the foundation of Apple.
An email address was also posted for the public to share their memories, condolences, and thoughts.  Over a million tributes were sent, which are now displayed on the Steve Jobs memorial page.  Also dedicating its homepage to Jobs was Pixar, with a photo of Jobs, John Lasseter and Edwin Catmull, and the eulogy they wrote:
Steve was an extraordinary visionary, our very dear friend, and our guiding light of the Pixar family. He saw the potential of what Pixar could be before the rest of us, and beyond what anyone ever imagined. Steve took a chance on us and believed in our crazy dream of making computer animated films; the one thing he always said was to 'make it great.' He is why Pixar turned out the way we did and his strength, integrity, and love of life has made us all better people. He will forever be part of Pixar's DNA. Our hearts go out to his wife Laurene and their children during this incredibly difficult time
A small private funeral was held on 7 October 2011, of which details were not revealed out of respect to Jobs's family.  Apple announced on the same day that they had no plans for a public service, but were encouraging "well-wishers" to send their remembrance messages to an email address created to receive such messages.  Sunday, 16 October 2011, was declared "Steve Jobs Day" by Governor Jerry Brown of California.  On that day, an invitation-only memorial was held at Stanford University.  Those in attendance included Apple and other tech company executives, members of the media, celebrities, close friends of Jobs, and politicians, along with Jobs's family.  Bono, Yo Yo Ma, and Joan Baez performed at the service.  The service was highly secured, with guards at all of the university's gates, and a helicopter flying overhead from an area news station.  A private memorial service for Apple employees was held on 19 October 2011, on the Apple Campus in Cupertino.  Present were Cook, Bill Campbell, Norah Jones, Al Gore, and Coldplay, and Jobs's widow, Laurene.  Some of Apple's retail stores closed briefly so employees could attend the memorial.  A video of the service is available on Apple's website.  Jobs is buried in an unmarked grave at Alta Mesa Memorial Park, the only non-denominational cemetery in Palo Alto.  He is survived by Laurene, his wife of 20 years, their three children, and Lisa Brennan-Jobs, his daughter from a previous relationship.  His family released a statement saying that he "died peacefully".  His sister, Mona Simpson, described his passing thus: "Steve's final words, hours earlier, were monosyllables, repeated three times. Before embarking, he'd looked at his sister Patty, then for a long time at his children, then at his life's partner, Laurene, and then over their shoulders past them. Steve's final words were: OH WOW. OH WOW. OH WOW." He then lost consciousness and died several hours later.
Have you planned yours yet?
Follow TFF on twitter @RIPTFF