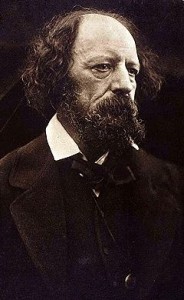 On this day in 1892, 1st Baron Tennyson, FRS and poet laureate, Alfred, Lord Tennyson died in Haslemere, Surrey at the age of 83.  Born Alfred Tennyson in Somersby, Lincolnshire on 6 August 1809.  Tennyson was Poet Laureate of Great Britain and Ireland during much of Queen Victoria's reign and probably remains one of the most popular British poets.  Tennyson excelled at penning short lyrics, such as "Break, Break, Break", "The Charge of the Light Brigade", "Tears, Idle Tears" and "Crossing the Bar".  Much of his verse was based on classical mythological themes, such as Ulysses, although In Memoriam A.H.H. was written to commemorate his best friend Arthur Hallam, a fellow poet and fellow student at Trinity College, Cambridge, who was engaged to Tennyson's sister, but died from a brain haemorrhage before they could marry.  Tennyson also wrote some notable blank verse including Idylls of the King, "Ulysses", and "Tithonus".  A number of phrases from Tennyson's work have become commonplaces of the English language, including "Nature, red in tooth and claw", "'Tis better to have loved and lost / Than never to have loved at all", "Theirs not to reason why, / Theirs but to do and die", "My strength is as the strength of ten, / Because my heart is pure", "To strive, to seek, to find, and not to yield", "Knowledge comes, but Wisdom lingers", and "The old order changeth, yielding place to new".  Tennyson is one of the most frequently quoted writers in The Oxford Dictionary of Quotations.  Tennyson married Emily Sarah Sellwood (1850 – 1892 his death).  One of my favorite poets.  An excerpt from his poem In Memoriam A.H.H.:  I hold it true, whate'er befall;/I feel it when I sorrow most;/'Tis better to have loved and lost/Than never to have loved at all.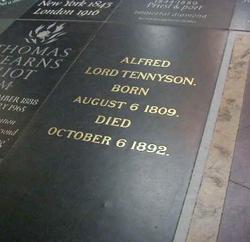 The Final Footprint – Tennyson was entombed in Poet's Corner in Westminster Abbey in Westminster.  A memorial was erected in All Saints' Church, Freshwater.  His last words were; "Oh that press will have me now!"  A statue of Tennyson was erected in Trinity College, Cambridge.  Other notable Final Footprints at Westminster include; Robert Browning, Lord Byron, Geoffrey Chaucer, Oliver Cromwell, Charles Darwin, Charles Dickens, Edward The Confessor, Elizabeth I, George II, George Friederic Handel, James I (James VI of Scotland), Samuel Johnson, Ben Jonson, Charles II, Edward III, Edward VI, Henry III, Henry V, Henry VII, Richard II, Rudyard Kipling, Henry Wadsworth Longfellow, John Milton, Sir Isaac Newton, Laurence Olivier, Henry Purcell, Mary I, Mary II, Mary Queen of Scots, Lord Alfred Tennyson, Dylan Thomas, and William III.
Bette Davis

Studio portrait, 1940s
On this day in 1989, Academy Award winning actress Bette Davis died at the American Hospital in Neuilly-sur-Seine, France from breast cancer at the age of 81.  Born Ruth Elizabeth Davis in Lowell, Massachusetts on April 5, 1908. In my opinion, one of the greatest actresses in Hollywood history.  Davis was known for her willingness to play unsympathetic, sardonic characters and was reputed for her performances in a range of film genres, from contemporary crime melodramas to historical and period films and occasional comedies, although her greatest successes were her roles in romantic dramas.
Davis was the co-founder of the Hollywood Canteen, and was the first female president of the Academy of Motion Picture Arts and Sciences. She won the Academy Award for Best Actress twice, was the first person to accrue ten Academy Award nominations for acting, and was the first woman to receive a Lifetime Achievement Award from the American Film Institute. Her career went through several periods of eclipse, and she admitted that her success had often been at the expense of her personal relationships. Married four times, she was once widowed and three times divorced.
Davis married Harmon Oscar Nelson on August 18, 1932, in Yuma, Arizona. In contrast to Davis' success, Nelson, had failed to establish a career for himself, and their relationship faltered. In 1938, Nelson obtained evidence that Davis was engaged in a sexual relationship with Howard Hughes and subsequently filed for divorce, citing Davis' "cruel and inhuman manner."
Davis began a relationship with her former costar George Brent, who proposed marriage. Davis refused, as she had met Arthur Farnsworth, a New England innkeeper. Davis and Farnsworth were married at Home Ranch, in Rimrock, Arizona, in December 1940.
In August 1943, Davis' husband, Arthur Farnsworth, collapsed while walking along a Hollywood street and died two days later. An autopsy revealed that his fall had been caused by a skull fracture he had suffered two weeks earlier. Davis testified before an inquest that she knew of no event that might have caused the injury. A finding of accidental death was reached.
In 1945, Davis married artist William Grant Sherry, who also worked as a masseur. She had been drawn to him because he claimed he had never heard of her and was, therefore, not intimidated by her.
By 1949, Davis and Sherry were estranged. Producer Darryl F. Zanuck offered her the role of the aging theatrical actress Margo Channing in All About Eve (1950).
During production, she established what would become a lifelong friendship with her co-star, Anne Baxter, and a romantic relationship with her leading man, Gary Merrill, which led to marriage.
On July 3, 1950, Davis' divorce from William Sherry was finalized, and on July 28, she married Gary Merrill. Davis and Merrill lived with their three children on an estate on the coast of Cape Elizabeth, Maine.
The Final Footprint –
She was interred in Forest Lawn—Hollywood Hills Cemetery in Los Angeles, alongside her mother, Ruthie, and sister, Bobby, with her name in larger type size. On her tombstone is written: "She did it the hard way," an epitaph that she mentioned in her memoir Mother Goddam as having been suggested to her by Joseph L. Mankiewicz shortly after they had filmed All About Eve. Other notable final footprints at Hollywood Hills include Lee Van Cleef, Strother Martin, Ricky Nelson and Bobby Fuller.
Have you planned yours yet?
Follow TFF on twitter @RIPTFF