On this day in 1983, Oscar nominated actress Joan Hackett died from ovarian cancer in Encino, California at the age of 49.  Born Joan Ann Hackett on 1 March 1934 in East Harlem, New York City, New York.  In my opinion, her best roles were in Will Penny with Charlton Heston and Support Your Local Sheriff with James Garner.  Hackett was married to actor Richard Mulligan (1967 – 1973 divorce).  The Final Footprint– Hackett is entombed in the Sanctuary of Faith corridor in the Abbey of the Psalms mausoleum at Hollywood Forever Cemetery in Hollywood, California.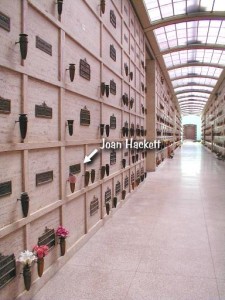 Along with her name and birth and death years, her bronze crypt plate reads:  GO AWAY – I'M ASLEEP.  Other notable Final Footprints at Hollywood Forever include voice actor Mel Blanc (yes, his epitaph is "That's All Folks!"), director/producer Cecil B. DeMille, director Victor Fleming, Judy Garland, director John Huston, actress Hattie McDaniel's cenotaph, actress Jayne Mansfield's cenotaph, mobster Bugsy Siegel, Rudolph Valentino, and actress Fay Wray.
Have you planned yours yet?
Follow TFF on twitter @RIPTFF