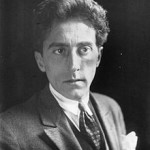 On this day in 1963, French poet, novelist, dramatist, designer, playwright, artist and filmmaker Jean Cocteau died of a heart attack at his chateau in Milly-la-Forêt, Essonne, France, at the age of 74.  It is said that upon hearing of the death of his friend, the French singer Édith Piaf the previous day, Cocteau choked so badly that his heart failed.  Born Jean Maurice Eugène Clément Cocteau on 5 July 1889 in Maisons-Laffitte, Yvelines, a village near Paris.  Perhaps best known for his novel Les Enfants terribles (1929), and the films Blood of a Poet (1930), Les Parents terribles (1948), Beauty and the Beast (1946), and Orpheus (1949).  His circle of associates, friends and lovers included Pablo Picasso, Jean Marais, Yul Brynner, Marlene Dietrich, and Coco Chanel.  Marais was his muse and lover for over 25 years.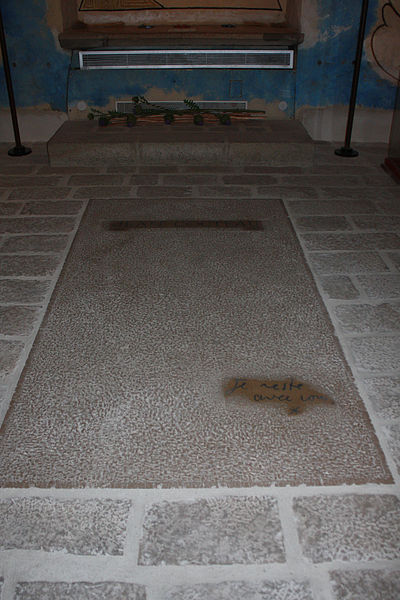 The Final Footprint – He is buried beneath the floor of the Chapelle Saint Blaise Des Simples in Milly-la-Forêt.  The epitaph on his gravestone set in the floor of the chapel reads: "I stay with you" ("Je reste avec vous").
On this day in 2003, father, grandfather, friend, U. S. Army Veteran, golfer, hunter, Texas Longhorn fan, Dallas Cowboy fan, music lover, cowboy, my Dad, Poppa Mac, Mac, MacGregor Christner died in San Antonio, Texas at the age of 70.  Born MacGregor Vaughan Christner on 23 January 1933 in Austin, Texas.  His mother named him after one of his paternal great-grandfathers, McGregor DeGarmeaux.  Vaughan is his mother's maiden name.  I proudly bear his name and one of his grandsons has MacGregor as a middle name.  I learned much from him.  Those that know me and have seen me outside with my hat have seen evidence of that.  I inherited his love of music and his receding hairline.  I always thought he looked a little like Clint Eastwood.  My heroes have always been Cowboys.
"Seeing is believing." For many, those words simply represent a motto. But for MacGregor Vaughan Christner, it summarized in every way who he was. He was modest, quiet and observant, taking in everything around him and always thinking before acting. He was a realist, someone who was efficient and practical in everything he did. He was a friendly person who truly cared about those around him.
Mac was born on 23 January 1933 at Breckinridge Hospital in Austin, Texas. He was the son of James Blaine Christner and Donna Ruby Vaughan Christner. Raised in Shamrock, Texas, he was brought up to be tolerant and trustworthy. His mother named him after his paternal Great Grandfather McGregor DeGarmo. As a child, he learned to be conscientious, responsible and punctual. These were all traits that he would carry with him throughout his life.
As a young boy, Mac was always aware of how others around him felt and this quality served him well. With a deep capacity to tolerate the feelings of others, Mac was generally able to avoid conflicts. It seemed as if Mac was the family member who was always working to keep stress at bay. Preferring a quiet environment where he could concentrate, Mac also had the ability to relate well with his family and friends. Mac was raised with two siblings. He had one older brother, John Hal, and one younger brother Tom Henry. Mac was constantly involved in activities with his family. Mac and his siblings had the typical rivalries while growing up but they deeply cared for each other and shared many life experiences over the years.
Growing up, Mac was one of those children who didn't need to be in the center of a whirlwind of activity. He was content to entertain himself. Mac was never pushy when it came to games and other activities, but rather, he was able to enjoy the pure fun these could bring. In just about everything he did as a child, Mac was intent on pleasing both the adults and the other children around him. Mac took part in a number of activities as a child. He took part in working on the family's dairy farm. He was a member of Future Farmers of America. In his spare time he liked hunting and fishing. Mac's memorable achievements included competing in FFA events.
Mac enjoyed learning. He always had a great memory and was particularly skilled at retaining factual information. Mac was generally quiet in class, learning best through observation. He often showed great concentration and was competent at completing the tasks at hand. Good with details, Mac was painstaking and accurate in his efforts. All of these talents culminated in a successful high school career. He graduated from Shamrock High School in 1951. Mac enjoyed some courses more than others, having favorite subjects and teachers. His favorite class in high school was math.
He attended Texas A&M University in 1951 but left before graduation to join the Army. Mac was a member of the Corp of Cadets.
Most folks would say that Mac was shy until they got to know him. Those who were privileged to know him well learned that he was a solid, good friend. Mac was reluctant to generalize about people, and he based his friendships on his personal experiences. Because of this, Mac best trusted those people that he truly knew. He was concerned about how those around him felt, and he always seemed to uncover the positive side of people. He could relate to others and had the ability to see their point of view, to "walk a mile in their shoes," as the saying goes. The friends that he made, Mac kept. While growing up, some of his best friends were his brothers John Hal and Tom. Later in life, he became friends with Mary Gibson, Mark Frankenberry, Mike Gomez and most of the people in Wheeler, Texas.
Mac was a good father to his children. He had "old fashioned" parental values and could handle typical family conflicts in a fair and calm manner. Because he trusted emotions, Mac was reluctant to force issues and used gentle persuasion to resolve situations. In this way he seemed to radiate an aura of warmth and caring to those around him, always thinking before acting. In addition, Mac was a master planner. No matter how hectic life around him might be, he seemed to know and track everyone's schedule. Mac was blessed with two sons, MacGregor Vaughan Jr. and Jeff. He was also blessed with twelve grandchildren, Lea, Kathryn Azile Vaughan, Kevin, Kate, Darcie, Jeremy MacGregor Faulkner, Darius Charles MacBeth, Quentin George DeGarmeaux, Shaylee Nicole Carson, Chesney, Emily and Katie.
If you gave Mac a deadline, he would meet it. At work, Mac was always on task. Without hesitation, Mac could adhere to any assignment and see it through to its completion. His primary occupation was a cowboy. He was employed with Brainard Cattle Company and Christner Brother's Ranch. He was able to quickly grasp concrete ideas and could organize and plan the best way to accomplish things with remarkable consistency. Mac was good at staying on track and was considerate in listening to what others had to say. In this way, Mac had at true gift for being able to come up with practical resolutions to difficult problems.
Mac was an Army veteran. He seemed to thrive on the routines offered up by the military. Being a literal thinker with a calm exterior helped him handle the rigors of the military. He was stationed in El Paso during the Korean Conflict. Through his hard work and dedication, he achieved the rank of staff sergeant.
Mac liked to experience things first hand, in addition to simply learning about them. This quality influenced Mac's choice of leisure time activities. A methodical and patient worker, Mac preferred to set aside uninterrupted time to work on his hobbies. His favorite pursuits were water skiing, golf, riding motorcycles, fishing and working on cars.
Mac loved music and movies. His favorite artists included Willie Nelson, Ray Price, Waylon Jennings, Hank Williams, Hank Jr., Dean Martin, Frank Sinatra, Johnny Cash, and Jerry Jeff Walker. His favorite actors included John Wayne, Clint Eastwood, and Sophia Loren.
While thorough and measured in his approach to things, Mac often liked to physically do things rather than just think about them. He was like that with sports. Recreational sports included golf, fishing and water skiing. He was an expert mechanic and could fix anything that had a motor. He also enjoyed watching his favorite teams whenever he got the opportunity. Tops on his list were Longhorn football, the Dallas Cowboys, golf (Arnold Palmer and Ben Crenshaw) and auto racing. He enjoyed a cold Coors beer when appropriate and loved to relax in his swimming pool.
Due to his excellent organizational skills, Mac was a welcome addition to the professional and community organizations to which he belonged. Mac could bring established, successful methods to the discussion table, along with a generous helping of common sense. Mac was good at making and keeping schedules and never got bogged down in unnecessary details. In high school, Mac was a member of the Future Farmers of America. In college, Mac joined the Corp of Cadets. Throughout his later years, Mac was an active member of the VFW, American Motorcycle Association, NRA, Texas Exes and the Longhorn Foundation.
Mac was active in the community. He was practical and grounded and based his decisions on first hand experience. He was responsible and liked working to achieve results rather than just chattering about possibilities. Mac was a member of the Wheeler Volunteer Ambulance Service.
Anyone who traveled or went on vacation with Mac had smooth sailing. It was often taken for granted that he was the trip planner. He would start early and examine all of the possibilities, selecting the best and most effective options. Favorite vacations included Lake Travis, Red River, New Mexico, and Colorado.
Mac had His bird dog Ben Bird, who was his best friend for 10 years. Mac was as loyal to his pets as they were to him.
Mac passed away on 11 October 2003 at the Veterans Hospital in San Antonio, Texas. Mac fought a brave lonely battle against Alzheimers. He was predeceased by his parents, his brother Tom Henry and a granddaughter Natalie Kate. He was survived by his children MacGregor Vaughan and Jeff, his 11 grandchildren and his brother John Hal. One of his grandsons proudly carries MacGregor as his middle name. Services were held at the McIntire-Christner Ranch in Texas. Mac was laid to rest in McIntire-Christner Cemetery.
It is said that some people can't see the forest for the trees. Mac was able to focus on each individual tree, tending to its needs, thus making the forest stronger as a whole. Mac was a trustworthy, pragmatic and sympathetic person, the kind of man to whom everyone was drawn. He was thorough and practical. Mac Christner was very literal with his words. You always knew where you stood with Mac. He will be missed.
The Final Footprint –  Daddy was buried in McIntyre-Christner Cemetery on the McIntyre-Christner Ranch in Roberts County in the Texas Panhandle.  His grave is marked by a full ledger granite marker.  Miss you Poppa.
Have you planned yours yet?
Follow TFF on twitter @RIPTFF