On this day in 1945, confectioner, philanthropist and founder of The Hershey Chocolate Company, the town of Hershey, Pennsylvania and the Milton Hershey School for orphans, Milton Snavely Hershey died in Hershey, Pennsylvania at the age of 88.  Born 13 September 1857 in Derry Church, Pennsylvania.  The Final Footprint – Hershey is buried in the Hershey Estate inside Hershey Cemetery in Hershey, Pennsylvania.  The estate is marked by a large granite wall engraved with the name Hershey.
His grave is marked with a full ledger granite marker with his name an birth and death dates.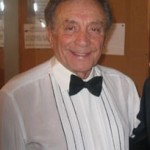 On this day in 2009, singer and actor Al Martino died at his childhood home in Springfield, Pennsylvania, six days after his 82nd birthday.  Born Jasper Cini in Philadelphia on 7 October 1927.  The name Jasper was an anglicisation of his father's name, Gasparino.  His parents were immigrants from Abruzzo, Italy.  He had his greatest success as a singer between the early 1950s and mid-1970s, being described as "one of the great Italian American pop crooners".  He became well known as an actor, particularly for his role as singer Johnny Fontane in Francis Ford Coppola's film versions of Mario Puzo's The Godfather.  The Final Footprint – Martino was buried at Holy Cross Cemetery in Culver City, California.  Other notable final footprints at Holy Cross include; actor John Candy, Bing Crosby, Jimmy Durante, John Ford, the voice of the Los Angeles Lakers Chick Hearn, Rita Hayworth, Bela Lugosi, actress Audrey Meadows, Ricardo Montalbán, actor Chris Penn, Jo Stafford, and Sharon Tate.
Have you planned yours yet?
Follow TFF on twitter @RIPTFF