On this day in 1964 composer and songwriter Cole Porter died of kidney failure in Santa Monica, California at the age of 73.  Born Cole Albert Porter on 9 June 1891 in Peru, Indiana.  In my opinion, one of the greatest contributors to the Great American Songbook.  He wrote both the lyrics and the music for his songs.  My favorite Porter songs are: "Let's do it, let's Fall in Love", "I Get a Kick out of You", "You're the Top", "Don't Fence Me In", "It's De-Lovely", "I've got You under My Skin", "You'd be so Nice to Come Home To", "Too Darn Hot".  Porter met Linda Lee Thomas on 30 January 1918 at a wedding at the Hotel Ritz Paris. They were married on 18 December 1919 in Paris.  They were married until her death in 1954.  The Final Footprint – Porter is interred in the Porter Family Estate in Mount Hope Cemetery in Peru, Indiana between his wife and his father.  His
grave is marked with an upright granite marker.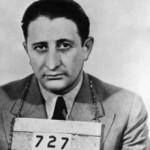 On this day in 1976 mafioso, boss of the Gambino crime family, Don Carlo, Capo di tutti capi (Boss of Bosses), The Godfather, Carlo Gambino died of a heart attack at his home (watching the New York Yankees) in Massapequa, New York at the age of 74.  Born 24 August 1902 in Caccamo, Palermo, Sicily, Italy.  In 1931, Charles "Lucky" Luciano created The Commission to avoid mafia warfare.  The Five Families were formed at this time with Luciano head of the Luciano family, Joseph Bonnano head of the Bonnano family, Joseph Profaci head of the Profaci family, Gaetano Gagliano head of the Gagliano family and Vincent Mangano head of the Mangano family.  In the Mangano family, Albert Anastasia served as underboss and Gambino served as caporegime.  On 19 April 1951 Mangano's brother was found murdered and Mangano vanished and was never found.  Anastasia became boss of the Mangano family with Gambino as his underboss.  Anastasia was murdered on 25 October 1957 and Gambino became head of the Mangano family which was then renamed the Gambino family.  He would later become head of the Commission and thus the Boss of Bosses.  The Final Footprint –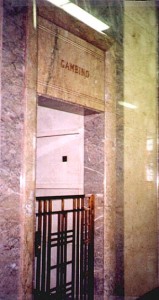 Gambino is entombed in the Gambino private room in the mausoleum at Saint John Cemetery in Middle Village, New York.
Have you planned yours yet?
Follow TFF on twitter @RIPTFF