On this day in 1793 Archduchess of Austria, Queen of France and Navarre, Marie Antoinette was executed by guillotine at the Place de la Revolution in Paris at the age of 37.  Born Maria Antonia Josepha Johanna on 2 November 1755 in Hofburg Palace in Vienna, Austria.  Her father was Francis I, Holy Roman Emperor.  At the age of 14 she was married to the grandson of King Louis XV, Louis-Auguste, Dauphin of France.  At the king's death in 1774, the dauphin became King Louis XVI.  In my opinion, she did not say "Qu'ils mangent de la brioche" ("Let them eat cake"), as has been reported, in response to the wide spread famine in France.  During the French Revolution, Louis was executed on 21 January 1793 and Marie was executed on this day in 1793.  Her last words were reportedly an apology to the executioner for accidentally stepping on his foot.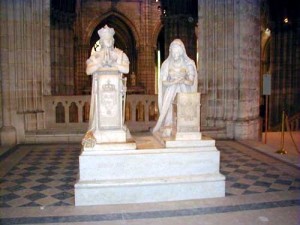 The Final Footprint – Initially, Marie's body, as well as Louis', was thrown into an unmarked grave in Madeleine cemetery, rue d'Anjou.  Their bodies were exhumed on 18 January 1815 and entombed in the necropolis of French kings in Saint Denis Basilique in Saint-Denis, France.  There are funerary sculpture monuments inside the basilique of the former king and queen.  Marie Antoinette has become a part of popular culture and a major historical figure, being the subject of
Funerary statue of Louis XVI and Marie Antoinette
several books, films and other forms of media.  Some academics and scholars have deemed her frivolous and superficial, and have attributed the start of the French Revolution to her; however, others have claimed that she was treated unjustly and that views of her should be more sympathetic.  Perhaps the most famous historical fiction which features Marie Antoinette is the Alexandre Dumas, père novel Le Chevalier de Maison-Rouge (The Knight of the Red House,) which centers on the Carnation Plot.  It is actually the first of a series of six books written by Dumas with Marie Antoinette featured, called the "Marie Antoinette novels", in which the queen is shown in a sympathetic light, particularly during the "Diamond Necklace Affair".  Some novels that have portrayed Marie Antoinette in more recent years include Carrolly Erickson's 2005 novel The Hidden Diary of Marie Antoinette, as well as Elena Maria Vidal's 1998 book Trianon.  Perhaps the two best-known movie portrayals of Marie Antoinette have been in the 1938 film directed by W. S. Van Dyke, in which the Norma Shearer played the queen, and the 2006 film directed by Sofia Coppola and starring Kirsten Dunst.  The Affair of the Necklace was a 2001 film in which Hilary Swank played Jeanne de Valois-Saint-Rémy and Joely Richardson played Marie Antoinette.  Marie Antoinette features prominently in The Ghosts of Versailles, partially an operatic adaptation of Beaumarchais' La Mère coupable with score by John Corigliano and libretto by William M. Hoffman.  In the film Amadeus she is mentioned twice by her brother, Emperor Joseph II as "Antoinette", and her eventual downfall is foreshadowed when the emperor tells Mozart why he has banned the play Figaro.  Marie Antoinette is referenced in the lyrics of the song 'Killer Queen' by the rock band Queen.
Have you planned yours yet?
Follow TFF on twitter @RIPTFF