On this day in 1893, composer Charles-François Gounod died in Saint-Cloud, France.  Born 17 June 1818 in Paris.  Best known for his operas Faust and Roméo et Juliette, his much recorded setting of the Latin text Ave Maria and his Funeral March of a Marionette, known as the theme song for the television series Alfred Hitchcock Presents.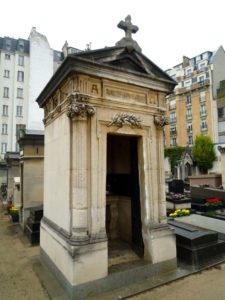 The Final Footprint – Gounod is entombed in a private mausoleum in Cimetiere d'Auteuil in Paris.
Sylvia Kristel

Sylvia Kristel in 1973
On this day in 2012, actress and model Sylvia Kristel died at age 60 from esophageal and lung cancer in Amsterdam.  Born Sylvia Maria Kristel on 28 September 1952 in Utrecht, Netherlands.  She appeared in over 50 films, perhaps best known as the lead character in five of the seven Emmanuelle films.   
Kristel gained international attention in 1974 for playing the title character in the softcore film Emmanuelle, which remains one of the most successful French films ever produced. After the success of Emmanuelle, she often played roles that capitalised on that sexually provocative image, most notably starring in an adaptation of Lady Chatterley's Lover (1981), and a nudity-filled biopic of the World War I spy in Mata Hari (1985). Her Emmanuelle typecasting image followed her to the United States, where she played Nicole Mallow, a maid who seduces a teenage boy in the sex comedy Private Lessons (1981).
In September 2006, Kristel's autobiography Nue (Nude) was published in France. The writing was translated into English as Undressing Emmanuelle: A Memoir, by Fourth Estate, 2 July 2007 (ISBN 978-0007256952), in which she described a turbulent personal life blighted by addictions to drugs, alcohol, and her quest for a father figure, which resulted in some destructive relationships with older men.
She had her first major relationship with Belgian author Hugo Claus, who was more than two decades her senior. The union produced her only child, a son named Arthur who was born in 1975. She left her husband for British actor Ian McShane, whom she had met on the set of the film The Fifth Musketeer (1979). She also had a relationship with French singer Michel Polnareff. After McShane, she married twice, first to an American businessman. That marriage ended after five months, and she later married film producer Phillippe Blot. She spent a decade with Belgian radio producer Fred De Vree, until his death.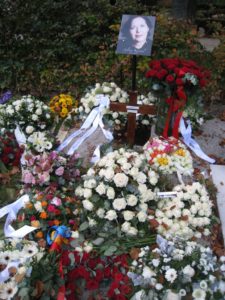 The Final Footprint – Kristel is buried in Utrecht, the Netherlands.
Have you planned yours yet?
Follow TFF on twitter @RIPTFF.