On this day in 1745, satirist, essayist, poet, cleric and Dean of St. Patrick's Cathedral, Jonathan Swift died in Dublin, Ireland at the age of 77.  Born 30 November 1667 in Dublin.  His book Gulliver's Travels is one of my favorite books from my childhood.  The Final Footprint – Swift is entombed next to his friend Esther Johnson in St. Patrick's Cathedral, in accordance with his wishes.
A bust of Swift is on one of the walls and his epitaph is on a plaque on another wall.  This epitaph, written in Latin, translates as:  "Here is laid the Body of Jonathan Swift, Doctor of Sacred Theology, Dean of this Cathedral Church, where fierce Indignation can no longer injure the Heart. Go forth, Voyager, and copy, if you can, this vigorous (to the best of his ability) Champion of Liberty. He died on the 19th Day of the Month of October, A.D. 1745, in the 78th Year of his Age."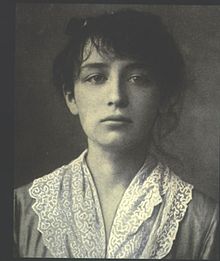 On this day in 1943, French sculptor and graphic artist, elder sister of the poet and diplomat Paul Claudel, Camille Claudel died at the age of 78, after having lived 30 years in the asylum at Montfavet (known then as the Asile de Montdevergues, now the modern psychiatric hospital Centre hospitalier de Montfavet).  Born in Fère-en-Tardenois, Aisne, in northern France on 8 December 1864.  Around 1884, Claudel started working in Auguste Rodin's workshop and became his muse, his model, his confidante and lover.  After 1905 Claudel apparently began exhibiting signs of paranoia and was diagnosed as having schizophrenia.  She destroyed many of her statues and disappeared for long periods of time.  She accused Rodin of stealing her ideas and of leading a conspiracy to kill her.  On 10 March 1913 at the initiative of her brother, she was admitted to the psychiatric hospital of Ville-Évrard in Neuilly-sur-Marne.  In 1914, to be safe from advancing German troops, the patients at Ville-Évrard were at first relocated to Enghien. On 7 September 1914 Camille was transferred with a number of other women, to the Montdevergues Asylum, at Montfavet, six kilometres from Avignon.  The Final Footprint – Her body was interred in the cemetery of Monfavet, in a communal grave.  The film, Camille Claudel (1988), directed by Bruno Nuytten, co-produced by Isabelle Adjani, starring herself as Claudel and Gérard Depardieu as Rodin, was nominated for two Academy Awards in 1989.  Another film, Camille Claudel 1915, directed by Bruno Dumont, premiered at the 63rd Berlin International Film Festival in 2013. The actress Juliette Binoche played Claudel.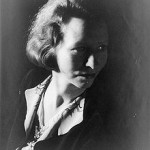 On this day in 1950, lyrical poet and playwright Edna St. Vincent Millay died at her home, Steepletop near Austerlitz, New York, at the age of 58.  She had fallen down stairs and was found approximately eight hours after her death.  Her physician reported that she had suffered a heart attack following a coronary occlusion.  Born on 22 February 1892 in Rockland, Maine.  She received the Pulitzer Prize for Poetry in 1923, the third woman to win the award for poetry, and was also known for her feminist activism and her many love affairs.  Millay married Eugen Jan Boissevain (1923 – 1949 his death).  A self-proclaimed feminist, Boissevain supported her career and took primary care of domestic responsibilities.  Both Millay and Boissevain had other lovers throughout their twenty-six-year marriage.  For Millay, a significant such relationship was with the poet George Dillon, who was the inspiration for Millay's epic 52-sonnet sequence Fatal Interview.  They later collaborated on translations from Charles Baudelaire's Les Fleurs du Mal in 1936.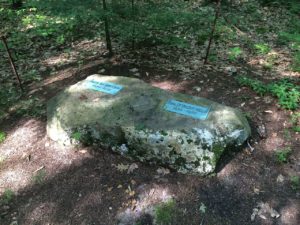 The Final Footprint – Millay is interred next to Boissevain in the Steepletop Cemetery.  Millay's sister Norma and her husband, the painter and actor Charles Frederick Ellis, moved to Steepletop after Millay's death.  In 1973, they established Millay Colony for the Arts on the seven acres around the house and barn.  After the death of her husband in 1976, Norma continued to run the program until her death in 1986.  At 17, the poet Mary Oliver visited Steepletop and became a close friend of Norma.  Oliver eventually lived there for seven years and helped to organize Millay's papers.  Oliver herself went on to become a Pulitzer Prize-winning poet, greatly inspired by Millay's work.  In 2006, the state of New York paid $1.69 million to acquire 230 acres of Steepletop, with the intention to add the land to a nearby state forest preserve.  The proceeds of the sale were to be used by the Edna St. Vincent Millay Society to restore the farmhouse and grounds and turn it into a museum.  The museum has been open to the public since summer 2010, and guided tours of Steepletop and Millay's gardens are available from the end of May through the middle of October.  Parts of the grounds of Steepletop, including the Millay Poetry Trail that leads to her grave, are now open to the public year-round
Have you planned yours yet?
Follow TFF on twitter @RIPTFF