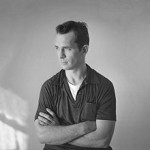 On this day in 1969, novelist and poet Jack Kerouac died at St. Anthony's Hospital in St. Petersburg, Florida at the age of 47, from an internal hemorrhage caused by cirrhosis, the result of a lifetime of heavy drinking.  Born Jean-Louis Kérouac on 12 March 1922 in Lowell, Massachusetts.  He is considered a literary iconoclast and, alongside William S. Burroughs and Allen Ginsberg, a pioneer of the Beat Generation.  Kerouac is recognized for his spontaneous method of writing, covering topics such as Catholic spirituality, jazz, promiscuity, Buddhism, drugs, poverty, and travel.  He became an underground celebrity and, with other beats, a progenitor of the hippie movement, although he remained antagonistic toward some of its politically radical elements.  Since his death Kerouac's literary prestige has grown and several previously unseen works have been published.  His books include: On the Road, Doctor Sax, The Dharma Bums, Mexico City Blues, The Subterraneans, Desolation Angels, Visions of Cody, The Sea is My Brother, and Big Sur.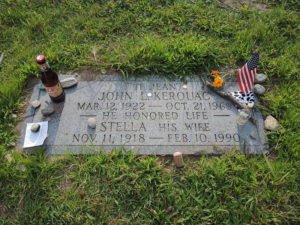 The Final Footprint – Kerouac is buried at Edson Cemetery in Lowell.

On this day in 1992, District Attorney of Orleans Parrish, Louisiana from 1961 to 1973, Jim Garrison died of cancer at the age of 70 in New Orleans.  Born Earling Carothers Garrison in Denison, Iowa on 20 November 1921.  Known for his investigation into the assassination of President John F. Kennedy.  A controversial figure, opinions vary as to whether he uncovered a conspiracy but was blocked from discovering what actually happened, or whether he bungled a chance to uncover a conspiracy, or whether the whole thing was a complete waste of time and resources.  His book, On the Trail of the Assassins (1988),  served as the basis for Oliver Stone's movie JFK, starring Kevin Costner as Garrison.  I believe Lee Harvey Oswald was the only shooter that day, and I believe the conspiracy lies behind his motive.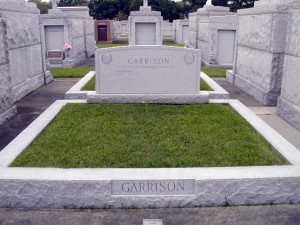 The Final Footprint – Garrison is buried in Metairie Cemetery in New Orleans.  His grave is marked by an upright companion granite marker inscribed with the following;  "LET JUSTICE BE DONE, THOUGH THE HEAVENS FALL".  Other notable final footprints at Metairie include; jazz trumpeter Al Hirt, Hall of Fame baseball player Mel Ott, swing king Louis Prima and poet Stan Rice.
Sidebar – In 1973, Garrison was defeated for reelection as district attorney by Harry Connick, father of Harry Connick, Jr.  Connick, like his famous son, is a singer and has long performed at Tipitina's and other New Orleans clubs as a hobby.  During the filming of the movie Hope Floats, starring the younger Connick and Sandra Bullock, near Austin, Texas, the elder Connick was scheduled to sing at a club on 6th Street in Austin.  I was fortunate enough to be able to attend the show.  Connick and Bullock attended as well and Connick sang a few songs with his father.
Have you planned yours yet?
Follow TFF on twitter @RIPTFF